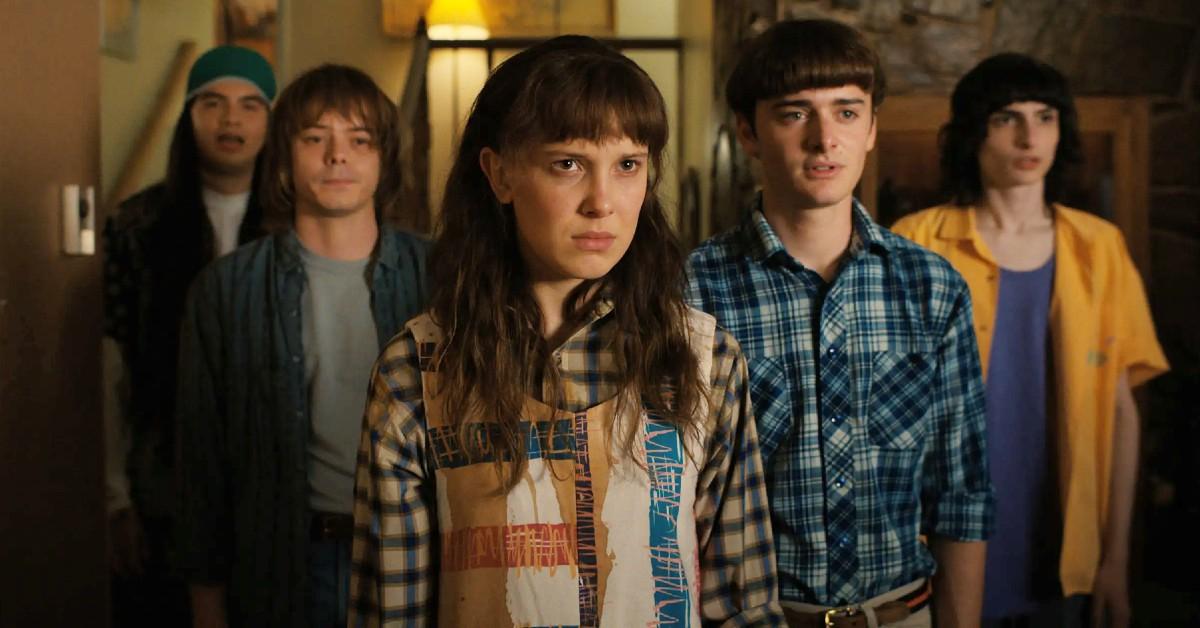 These Nostalgic 'Stranger Things' Product Collaborations Will Get You Prepared for Season 4
'Stranger Things' Season 4 is almost here, and beloved brands are getting in on the fun by dropping 'Stranger Things'-themed collaborations. Here are some of the best.
Fellow Dungeons & Dragons nerds and mouth breathers, Netflix's Stranger Things Season 4 is almost upon us. On May 27, we'll finally get to hang with our beloved buds Mike (Finn Wolfhard), Will (Noah Schnapp), Dustin (Gaten Matarazzo), Lucas (Caleb McLaughlin), Max (Sadie Sink), and, of course, Eleven (Millie Bobby Brown). The Duffer Brothers have created a nostalgic and totally bitchin' '80s-set world that has stolen the hearts of millions across the globe since 2016.
Article continues below advertisement
To celebrate that, as well as the sci-fi series' long-awaited return (it's been three painful years since the release of Season 3) brands we know and love have released Stranger Things-themed merch, makeup, and food. Who knew the Upside Down would be so profitable? Here are some of the best Stranger Things collaborations of 2022.
JanSport's 'Stranger Things' Backpack Collection
Our favorite thing about the JanSport collaboration is that the backpacks — all of which were "built for battle" — feature upside down logos with a note stating that they were "made in the Upside Down." It's genius. Whether you're looking for a backpack fit for Demogorgon hunting, or you simply want to mimic Eleven's signature stripy style, JanSport has a bag for every Stranger Things fanatic.
Article continues below advertisement
Walmart's Surfer Boy Pizza
Though Surfer Boy Pizza is a fictional pizza establishment in the Stranger Things universe, a real version hit the shelves of Walmart in May 2022. With classic red and white packaging, the frozen pizza — which is only available for a limited time — comes in comes in several styles, including pepperoni, multi-meat, cheese, pineapple & jalapeño, and supreme.
You can also get an adorable pillow version of the pizza box at Target.
Article continues below advertisement
MAC x 'Stranger Things'
MAC Cosmetics has been an iconic makeup brand since 1984, releasing delightfully fun limited-edition collab collections — like the Disney Cruella collection and the Aaliyah collection — for countless years. The newest of the bunch is the MAC x Stranger Things launch, which pulls inspiration from Hawkins High and the Upside Down.
Article continues below advertisement
With flashy lip glosses, brushes, blushes, and eyeshadow palettes, the glam Stranger Things fans have something to get excited about. While the Hawkins Class of 1986 Eye Palette comes with green and yellow packaging to represent the school spirit of Hawkins High, the Void Palette boasts red and black packaging and "takes cues from the home of the Mind Flayer itself."
Article continues below advertisement
Quiksilver x 'Stranger Things'
"From a time when surfing was young, loud and shameless. The 1986 Collection puts a modern spin on our iconic archival designs and flips them Upside Down," Quiksilver wrote of its Stranger Things collab in an Instagram post.
From board shorts to rompers to color-blocked windbreakers, Quiksilver's extensive 1986 Collection appeals to the retro surfer bro and chill beach bum aesthetics. Stranger Things newbie Eduardo Franco (Booksmart) is even featured modeling the collection.
Article continues below advertisement
And if you're a Quiksilver loyalty program member, you get access to the uber-cryptic Character Wardrobe, Surfer Boy Pizza, Lenora Hills Surf Club, and Hellfire Surf Club collections. If you're not a member, you'll have to wait for Quiksilver x Stranger Things Drop Two to come out.
Article continues below advertisement
Domino's Pizza x 'Stranger Things'
"Domino's customers and Stranger Things fans can now channel their 'inner Eleven' by using telekinetic powers to order pizza with their mind," Domino's Senior Vice President of Brand and Product Innovation, Kate Trumbull, stated in a press release, per ComicBook.com. That's right, Domino's "Mind Ordering" experience is the company's genius contribution to the sea of Stranger Things collabs.
Article continues below advertisement
"The scientists at Hawkins National Laboratory made a mind-bending discovery, and Dustin and Lucas's trip to Domino's didn't exactly go as planned," the Domino's site states. Stars Gaten Matarazzo and Caleb McLaughlin even appear in the promo video! To try it out, you have to have a Domino's Pizza profile, save an easy order to your profile, and download the Mind Ordering app. Go on, see if you have what it takes. We're just not so sure Domino's delivers to the Upside Down.
Article continues below advertisement
Stranger Things Season 4, Volume 1 premieres on May 27, 2022, on Netflix.