'Stranger Things' Sees Kids Dealing With Otherworldly Horrors — How Kid-Friendly Is It?
Is 'Stranger Things' kid-friendly? The widely-popular Netflix show is known for its nostalgic 1980s setting and follows a group of small-town kids.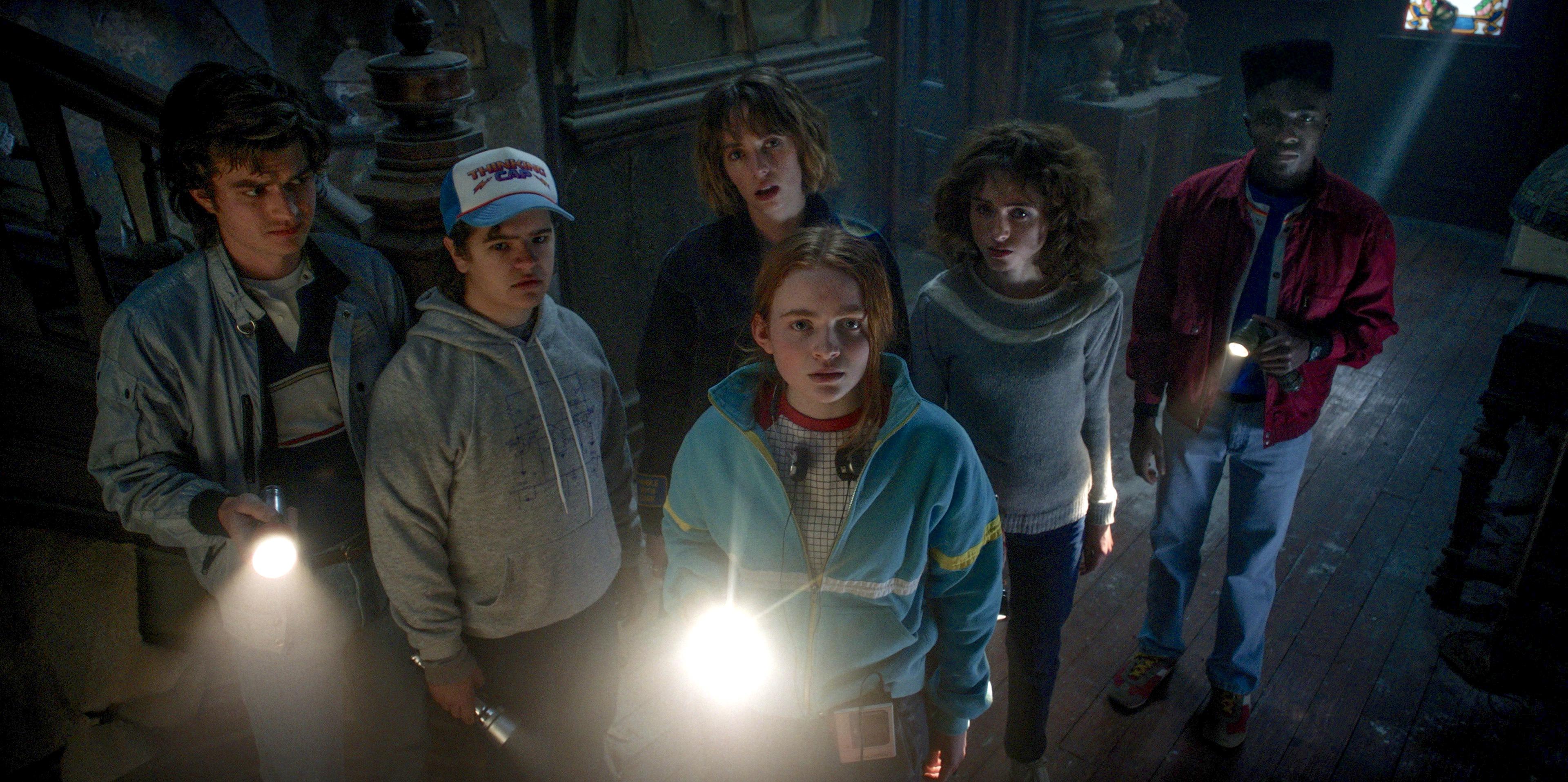 It's no understatement that the fourth installment of Stranger Things is one of the most exciting releases of 2022. After all, the Netflix series made an enormous splash when it first premiered in 2016. Our feeds were filled with 1980s nostalgia and Eggo Waffles jokes for months after the initial release, and the series remains one of the most popular on the streaming service to date.
Article continues below advertisement
There was a period where when you thought of Netflix, you thought of Stranger Things (instead of rampant, unchecked transphobia). As one of the most popular shows on the service, it's reached a wide audience throughout its run. But is the series necessarily kid-friendly? You may want to vet the show for yourself before you gather the family to watch, but we'll let you know now that Stranger Things isn't for the faint of heart.
Article continues below advertisement
Is 'Stranger Things' kid-friendly? The long-running Netflix series has a wide audience.
Stranger Things primarily follows a group of children living in the fictional small town of Hawkins, Ind. A group of children, including the telekinetic Eleven (Millie Bobby Brown), face a number of supernatural events and threats that are spawned from the mysterious otherworldly plane dubbed "The Upside-Down." All the while, Eleven attempts to uncover the secrets behind her mysterious origins.
Each new season presents the kids with a new monstrous threat that tries to exist in their realm.
For the most part, the series centers around a group of nerdy kids who play Dungeons and Dragons, dress up as Ghostbusters for Halloween, and love Star Wars. In fact, one of the show's defining characteristics is the way it accurately depicts childhood for American kids in the 1980s.
But don't let the nostalgic charm and fun kids fool you. Stranger Things is about as far from kid-friendly as you can get with a Netflix show that stars children.
Article continues below advertisement
Stranger Things is rated TV-14 on Netflix, and for good reason. The maturity rating denotes "fear, language, gore, and smoking." There's plenty of that to go around in a sci-fi series about inter-dimensional horrors.
The show is packed to the brim with disturbing monsters, violence, and gross-out body horror that may not be suitable for children under 14. Even as an adult watching the show, it's got the kind of horror imagery that would keep someone up at night.
Article continues below advertisement
Of course, even a TV-14 maturity rating hasn't done much to impact viewership for the show. The first three seasons of Stranger Things each had tens of millions of viewers stream the new episodes. While the ratings tracked an average viewership age of 18-49, it's hard to believe that a series like this has built its popularity without extending even further than those projections. The third season alone broke Netflix viewership records during its first streaming weekend.
It's easy to predict that the fourth season could reach similar popularity, maturity rating be damned. Stranger Things 4 begins streaming on Netflix on May 27.