As a New Trailer for 'Stranger Things' Suggests, Max Might Develop Powers in Season 4
The creators of Stranger Things dropped a mind-blowing trailer teasing new villains for Season 4 on Tuesday, April 12, 2022.
The opening scene captures a pensive monologue delivered by a person or entity blessed with a throaty, positively spine-chilling voice. "You have broken everything," it declares as the camera pans across a dismal underground location.
Article continues below advertisement
An ominous grandfather clock emerges before we cut to Max Mayfield (Sadie Sink) mid-cemetery-visit. Does Max have powers now? Here's what to know.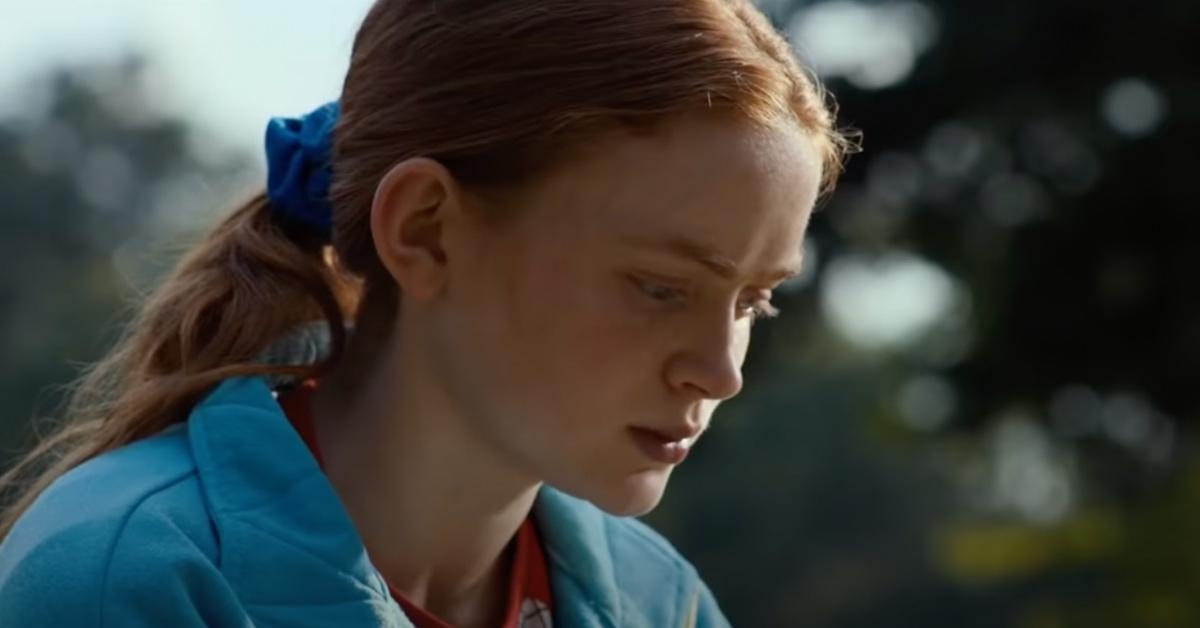 Article continues below advertisement
Does Max have powers in 'Stranger Things' Season 4?
Featuring a remastered version of "Separate Ways (Worlds Apart)," the electrifying tune by Journey, the new trailer for Season 4 of Stranger Things teases complex plotlines more or less simultaneously unfolding in a grimmer than grim Russian prison, sunny California, and of course, in Hawkins, Ind. The trailer shows Billy Hargrove's (Dacre Montgomery) tombstone, a harrowing interrogation, a helicopter chase, and other occurrences.
Plus, Max seems to have powers now.
In the new trailer, the outspoken red-head can be seen floating in the air — with the loyal crew, including Steve Harrington (Joe Keery), Dustin Henderson (Gaten Matarazzo), and Lucas Sinclair (Caleb McLaughlin), looking on in sheer disbelief.
Article continues below advertisement
"Max levitating will haunt my waking days (until the release date)," tweeted @closedbye.
"[Not] being funny, right, but if Max or Steve die in Season 4 of Stranger Things, you can catch me sleeping in the road, xoxo," tweeted @perimowaves.
"Stranger Things, you better get away from Max," tweeted @zoyalaisgf.
Article continues below advertisement
Unlike Max, Eleven (Millie Bobby Brown) definitely does not have powers in the trailer for Season 4 of 'Stranger Things.'
As loyal viewers of Stranger Things recall, Eleven lost her powers during the battle at the Starcourt Mall captured in the Season 3 finale. Eleven burns up the last of her energy to get the Mind Flayer out of her leg.
Season 4 is bound to mark an interesting turn of events. In the trailer, Eleven wears a white vest. Her head is shaved. Behind her are three soldiers. At 2:40, the soldiers are blasted upward. Sparks are flying. What looks like the inside of an airplane is on the cusp of exploding.
Article continues below advertisement
There's bound to be a smorgasbord of new villains in Season 4 of 'Stranger Things.'
A new villain emerges at the tail end of the newly released trailer. With its bare skull, indented skin, and spider-like legs, the new baddie is super creepy.
Article continues below advertisement
Judging by the title of Season 4, Episode 2, "Vecna's Curse," the antagonist might turn out to be a Stranger Things-ified version of the Dungeons and Dragons character Vecna, who boasts an uncannily similar appearance to the chilling being in the trailer.
But don't worry. It gets worse. A gray sweater-clad man who had his eyes gauged out appears at the 2:44 mark of the trailer. This is Victor Creel (Robert Englund). A new character, Victor Creel is described as a murderer who now delights the patients of the Pennhurst Mental Hospital with his undoubtedly petrifying presence.
Season 4, Part 1 of Stranger Things arrives on Netflix on Friday, May 27, 2022.