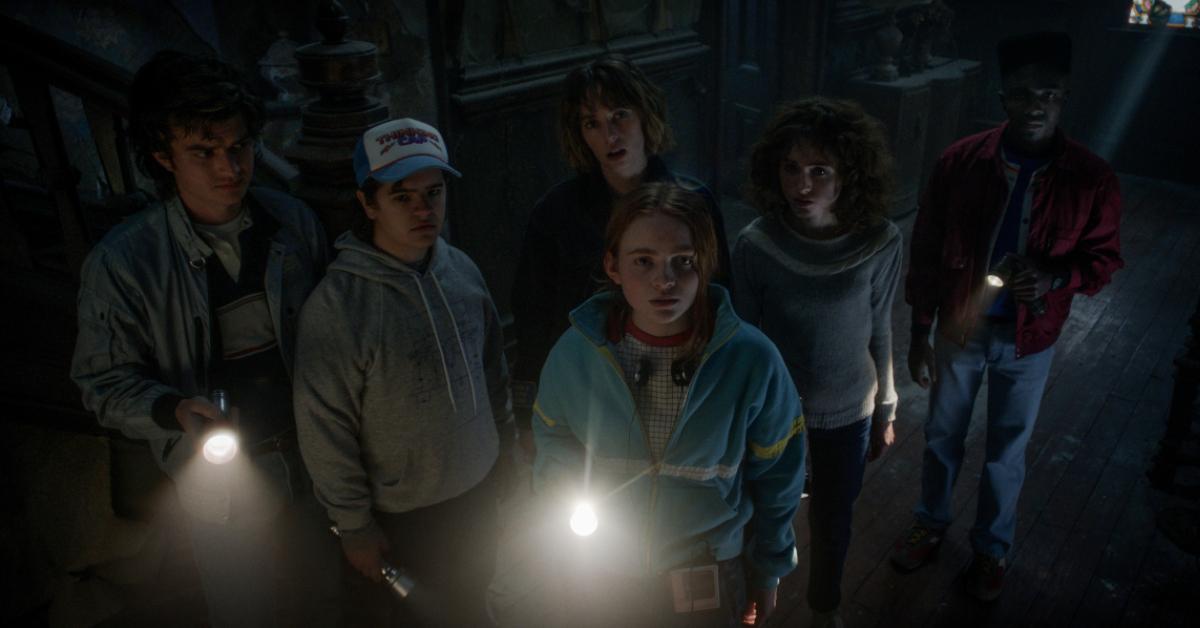 We Just Got a Major Update About Season 4 of 'Stranger Things'
'Stranger Things' Season 4 will return in May 2022, but there's a little more to it than that. Here's what we know about the release of Season 4 so far.
It seems like forever since Netflix confirmed that Stranger Things was renewed for a fourth season.
Season 3 ended as Will Byers' family packed up their belongings and set off for a new home outside of Hawkins, Ind. With Eleven in tow, the Byers family was looking for a fresh start following the supposed death of Hopper. While we don't quite know just yet what will unfold during the upcoming season, viewers have questions that need answers.
Article continues below advertisement
And the only thing that's certain for now: The wait is almost over.
On Feb. 17, series creators released an open letter to viewers that revealed crucial details about the future of the Netflix series, and we have the details. Here's everything we know about Season 4 of Stranger Things.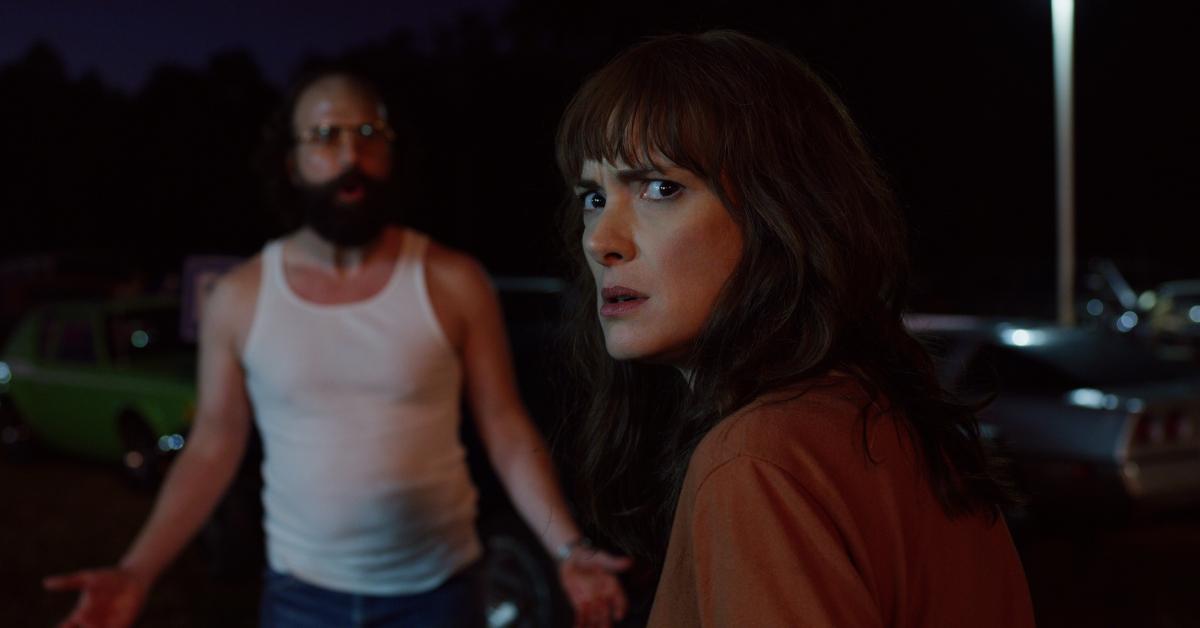 Article continues below advertisement
Season 4 of 'Stranger Things' finally has a release date.
The first trailer for Season 4 of Stranger Things was released in late 2019 and nearly three years later, the series is returning to a small screen near you. After "nine scripts, over eight hundred pages, almost two years of filming" and "thousands of visual effects shots," Stranger Things is set to return this spring.
Because showrunners upped the runtime, making it twice as long as previous seasons, Season 4 will premiere in two parts. Volume 1 will be available to stream on Netflix on May 27, while viewers will have to wait until July 1 for Volume 2.
Brothers Matt and Ross Duffer said that Season 4 has been "the most challenging season yet". However, they assure viewers that the series return will be well worth the wait. In the open letter, the co-executive producers wrote, "Everyone involved is incredibly proud of the results, and we can't wait to share it with you."
They also confirmed that the series is nearing its end. Following Season 4, there's only one more chapter left in the Stranger Things saga.
Article continues below advertisement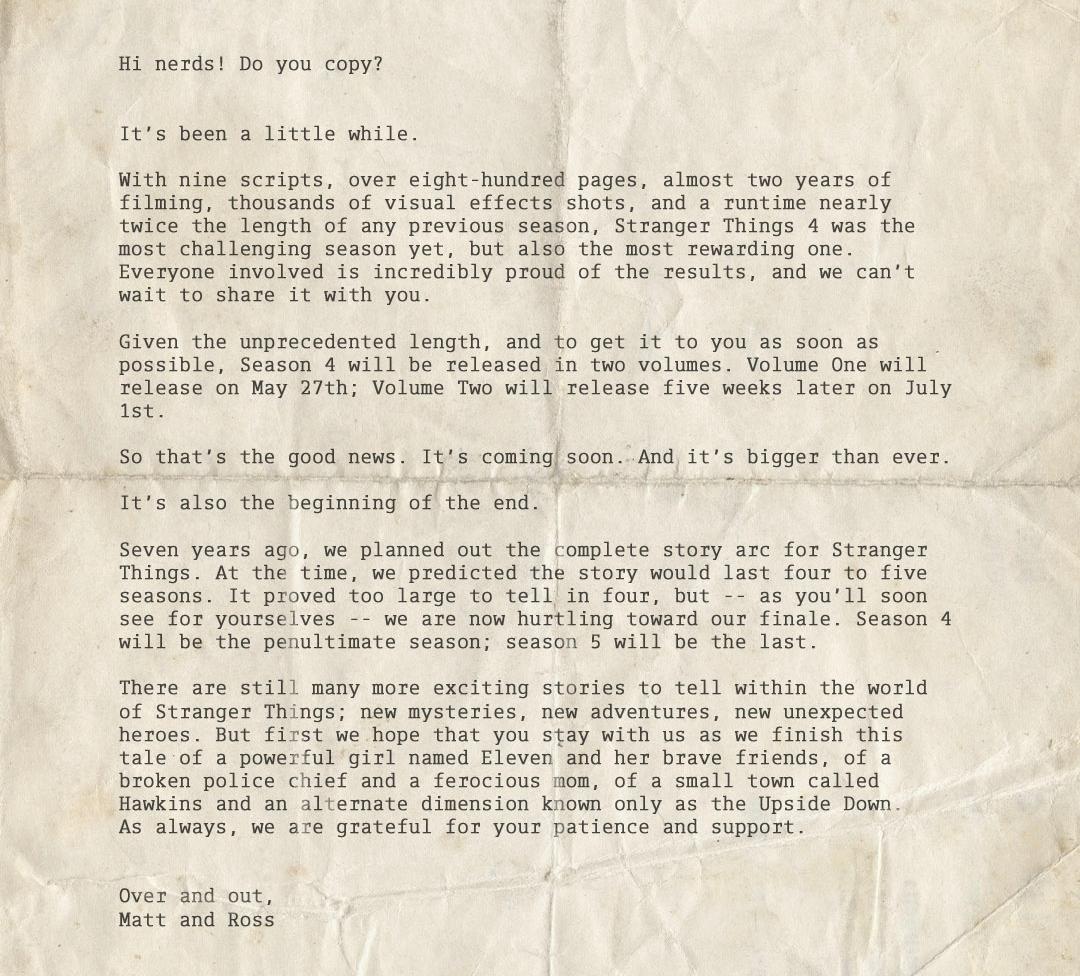 'Stranger Things' was renewed for a fifth and final season.
As they say, all good things must come to an end. That time has finally come for Stranger Things, which was renewed for a fifth and final season. But for Matt and Ross, that was all part of the plan. The duo shared that the entire story arc for the series was planned out seven years ago, so the series end came as no surprise.
"At the time, we predicted the story would last four to five seasons. It proved too large to tell in four, but — as you'll soon see for yourselves — we are now hurling toward our finale," they explained.
It's unclear how long we'll have to wait for an official release date for Season 5, but the brothers teased that a Stranger Things spinoff could be in the works.
"There are still many more exciting stories to tell within the world of Stranger Things: new mysteries, new adventures, new unexpected heroes," the letter hinted. It's no doubt these two have something exciting up their sleeves!