Phoebe Bridgers Said Her First Time Texting Taylor Swift Was a "Total High" — Here's a Look at Their Sweet Friendship
Taylor Swift and Phoebe Bridgers started talking with one another in 2021. Here's how their friendship began and where they stand now.
During the 2023 iHeartRadio Music Awards, we learned that Phoebe Bridgers is the ultimate Swiftie. The "Motion Sickness" singer gushed over Taylor Swift before ultimately bestowing her with the prestigious Innovators Award.
Article continues below advertisement
"Taylor has always told the truth," Phoebe said while introducing her muse. "She's written songs from exactly where she is. Her music shifted genre in the same way life does — in the same way being 16 is totally incomparable to being 18, 22, 25, 28. I'm grateful to have grown up in a world with Taylor Swift in it, or, 'The World: Taylor's Version.'"
But this admiration isn't just one-sided; the women have the utmost respect for one another. When the the Los Angeles Times did an April 2022 profile piece about Phoebe, Taylor remarked on Phoebe's superb songwriting skills.
"I think that the specificity of Phoebe's lyrics, and the vulnerability she expresses in her voice when she delivers them, is what makes her music so deeply impactful and moving for me as a fan," said Taylor in an email to the publication.
Article continues below advertisement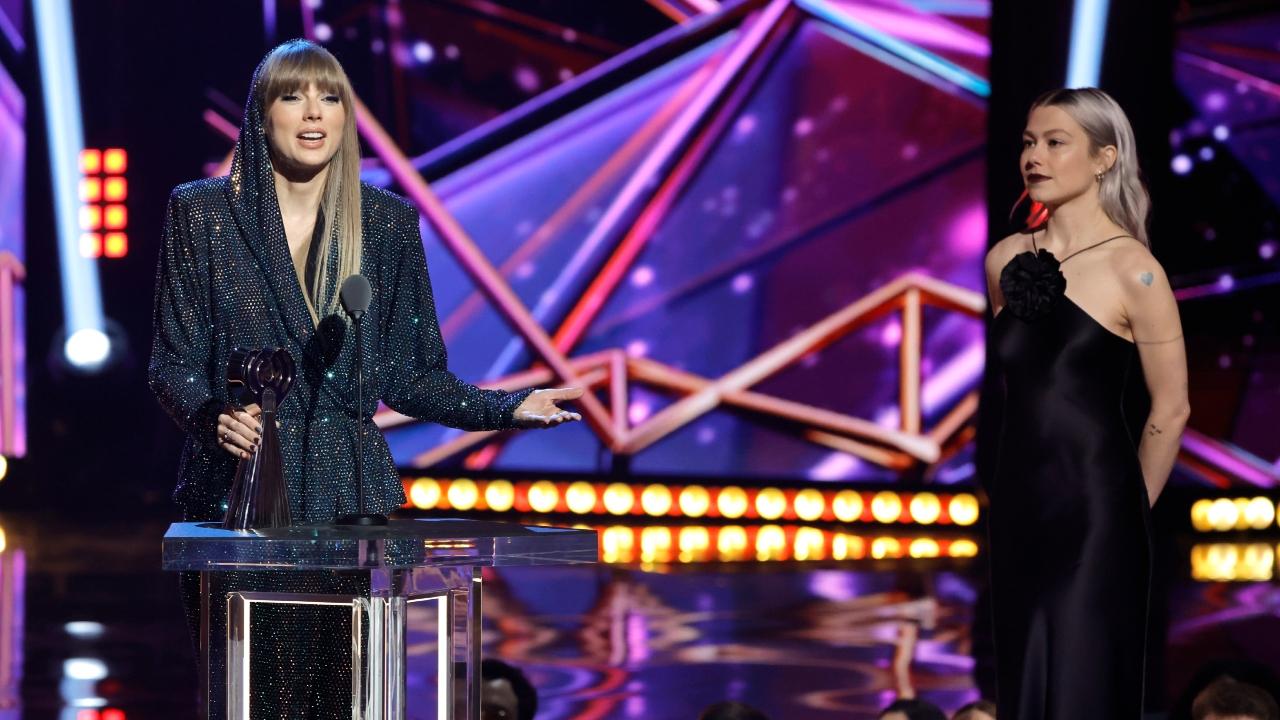 She continued: "You feel like she's reliving a precise memory or delivering a secret message to someone and you get the privilege to read it or hear about it."
Well, we love to see these ladies supporting one another! Here's everything we know about Taylor and Phoebe's budding friendship.
Article continues below advertisement
Taylor Swift and Phoebe Bridgers were online friends for some time.
Believe it or not, Taylor and Phoebe's friendship didn't really begin until 2021 when they collaborated on "Nothing New," a "From The Vault" bonus track that appeared on Taylor's re-recording of her 2012 fourth album, "Red (Taylor's Version)."
In February 2022, Phoebe revealed to Billboard that their musical union came about through text messaging during the pandemic.
Article continues below advertisement
"I got this random text from [musician] Aaron Dessner that was really weirdly worded for him. And I was like, 'What the f--k is this,'" Phoebe told the publication, explaining that at first, she had no idea that it was Taylor.
But when Phoebe finally realized who was on the line, she explained the whole experience of connecting with Taylor was "a total high." She continued: "It felt like when you meet someone at a party and you're in the corner all night being like, 'Me too!'"
Phoebe also noted that they never even met in person (partly due to the pandemic) to record the track. So, for a while, they were just "online friends."
It's unknown when exactly they met IRL, but these ladies definitely got to mingle with one another at the iHeartRadio Music Awards and will be seeing a lot of each other in the near future.
Phoebe will be opening for Taylor during all 12 performances of the Eras tour in May. Here's to hoping their friendship will continue to blossom!