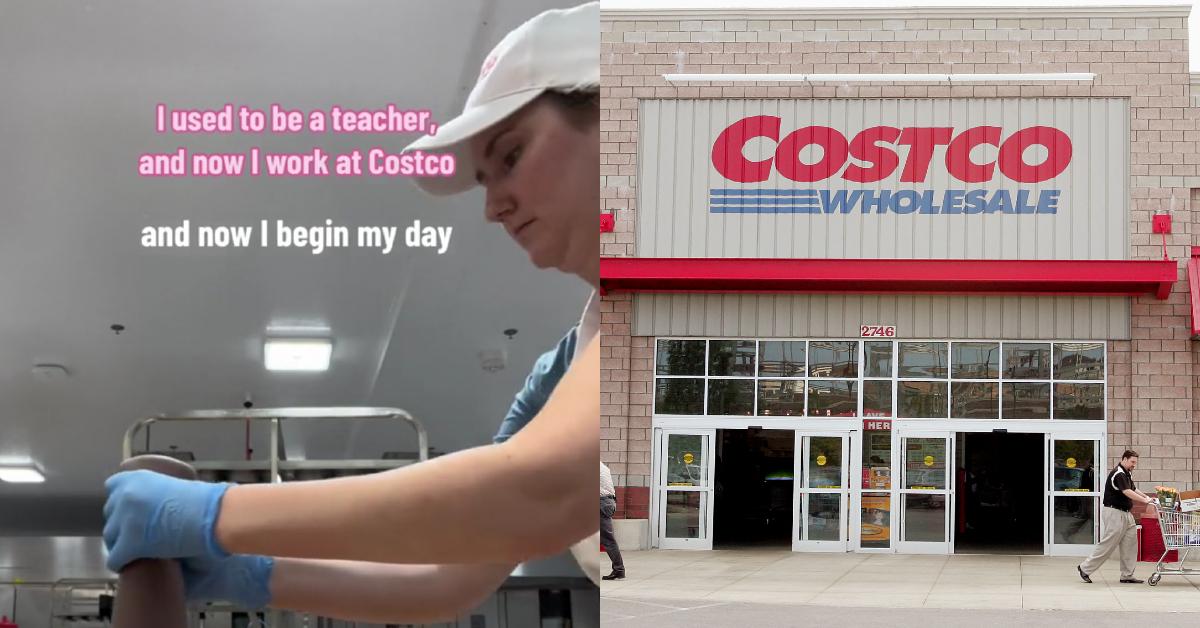 Teacher Who Quit To Work as Costco Baker Says She Has Zero Regrets on Decision
A teacher continues to post about their decision to leave the profession for Costco and that they're not looking back.
When it comes to retailers, there's one store that stands heads and shoulders above others when it comes to positive employee experiences: Costco.
Article continues below advertisement
Chain Store Age reference Indeed's rankings of the popular US franchise, writing that in this space, the brand's combination of benefits, pay, and raises are unmatched: "Costco Wholesale Club claims the top spot in the ranking by Indeed, a job review site. The warehouse club chain took the No. 1 spot by paying well above the typical salary that other retail companies pay, even for entry-level workers, according to Indeed."
The outlet even quoted a review from one employee who extolled the company's "graduated wage program" that offers salary increases to workers who just show up and complete their shift hours. The more time you put into the company, the more your salary automatically goes up.
Article continues below advertisement
It's why it's probably not surprising that former teacher and TikToker Millennial Ms. Frizzle (@millennialmsfrizz) said she was happy that she trusted her "gut" and decided to leave the teaching profession to work in retail for Costco.
Article continues below advertisement
She says that her days as a Costco worker are much less stressful. She's posted several videos about her transition — she doesn't seem to regret it at all.
Article continues below advertisement
In a recent video that shows Costco's muffins being made, she says: "I used to be a teacher and now I work at Costco as a teacher I would often begin my day with an armful of warm fresh made copies."
In the clip, she begins to drizzle the muffins with what appears to be chocolate topping before continuing, "Worksheets, or a new project we were starting. And now I begin my day with warm muffins, baguettes, croissants, if I had seen a video of myself a year ago doing what I do now, I would be so proud of myself and so happy."
Article continues below advertisement

She provided further context in her video, stating that while she knew she wanted "out" of working in the classroom, she ultimately had no idea where she was going to end up.
Article continues below advertisement
"A year ago I knew I was on my way out of the classroom but I had no idea where. Trust yourself, trust your future. I don't know where you're going to be a year from now, but I do know teachers have a knack for making something out of nothing."
Article continues below advertisement
According to McKinsey statistics, more and more teachers are leaving the profession, citing that "an increasing share of attrition can be attributed to quitting, which accounted for 64 percent of separations in 2022—up 8 percent since 2019."
And a recent expose posted by local news outlet WSLS 10 states that "more teachers are quitting across the country."
Viewers who saw the TikToker's clip thought it was "really tragic" that working in retailer is a better employment option than working in education.
Article continues below advertisement

"I know costco is a great employer but the fact that working there is sooo much more appealing than teaching is really tragic :(," one commenter wrote.
Article continues below advertisement

Another TikTok user said that they too were leaving the teaching profession in order to go and work for Costco instead: "I'm a teacher, and I have an interview with Costco on Tuesday!!"