Why 'The Bachelor's Deandra is So Good at Standing Out in a Crowd
Peter Weber's season of 'The Bachelor' is already off to a drama filled start and Deandra Kanu is not about to let anyone forget her name in it all.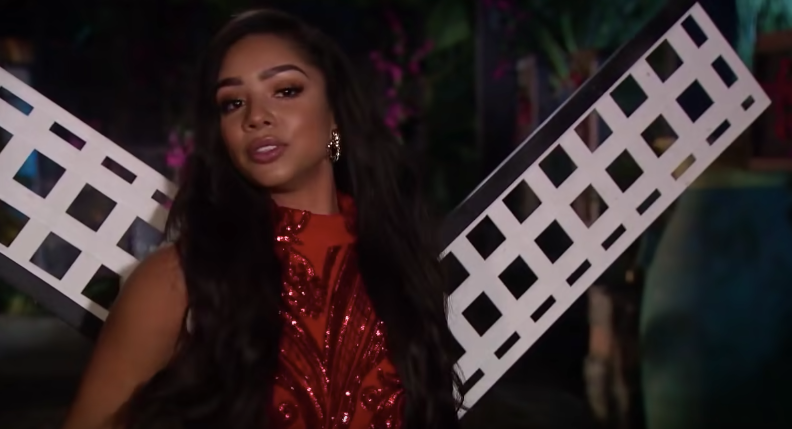 Season 24 of The Bachelor is underway and the contestants are all already making waves. Or should we say taking flight? Hey, if The Bachelor get to lean into all the aviation puns this season, so do we! While we're going to be hearing all about taking flight all season long, it's also pretty likely that we're going to be hearing puns not only about air or wind travel but also about wind power harnessing. Yup, those windmill jokes aren't going away anytime soon.
Article continues below advertisement
'The Bachelor's Deandra Kanu kicked off the windmill jokes with a bang.
When Deandra showed up with a windmill on her back, it's a little hard not to laugh.
"I have one question for you?" she said. "Are you ready for round 5?"
The Texas native showed her true colors right off the bat. She's funny, sarcastic, and bound to be a fan favorite because she's just so fun to watch on screen. She admitted in a talking head interview that she knows that "him and Hannah had some fun in a windmill, like four times. So I thought I would take it to the next level."
Article continues below advertisement
Deandra's introduction to Peter may have been filled with windmill references, but her introduction to the world also caused quite a bit of laughter. During this season's "Meet the Women" livestream, Chris Harrison introduced Deandra next to a video of her dancing, more importantly, flossing, leading to laughter among the crew.
Article continues below advertisement
Chris went on to say about Deandra, "Very expressive eyes, facial reactions, something you're going to want to watch this season with yonder." He laughed and pulled an expressive face himself, adding on, "Very expressive."
Article continues below advertisement
Deandra is used to fighting for the limelight.
Deandra has a decent following on Instagram, but it's not the platform where she truly shines. She started making videos on YouTube just about a year ago and, since then, she's been steadily building her brand there. She usually posts lifestyle and health videos. But she did uploaded a video showing the viewing party that her family threw for her for the season premiere of The Bachelor.
For Deandra, family is a big deal. In her Bachelor bio, she says that "any man she commits to must be willing to spend the holidays with her family, as that time of year is non-negotiable".
Article continues below advertisement
That being said, any man she brings home must also be prepared to handle all 10 of her siblings. She says that, growing up with a family that big, "she knows how to stand out in a crowded room. Her favorite feeling in the world is being the center of attention and, according to her mom, she thrives in the spotlight."