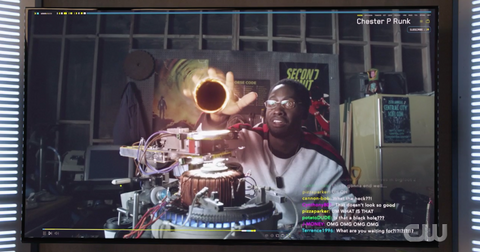 Here's What You Need to Know About 'The Flash's New Character, Chester
By Pippa Raga

Updated
Season 6 of The Flash has arrived to The CW and it's better than ever. Team Flash is still coping with the loss of Nora West-Allen and is preparing for a deadly battle.
But the season premiere also introduced a new character: Chester P. Runk.
So, who's The Flash's Chester? Keep reading for everything you need to know about the supervillain.
The Flash's Season 6 premiere introduced us to Chester P. Runk, who fans of the comic books might recognize as "Chunk," an overweight scientist who needs to consume nearly 50 times his body weight to stay "fueled."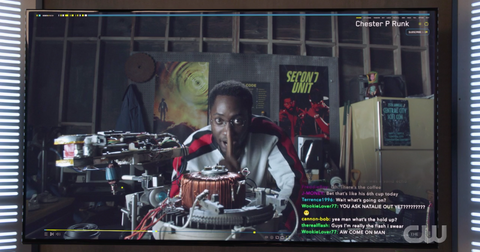 While the show ditched the fat jokes and puns the comics employed, it kept Chester's superpowers: the uncontrollable ability to create black holes. That's how we come upon him in The Flash — when black holes start randomly appearing throughout Central City.
Suddenly, Team Flash comes across a catatonic Chester, who was rendered this way after an encounter with a black hole that split his consciousness, which is partly in his body and partly in a sentient black hole. 
In his comatose state, Chester's ability to create black holes grows more powerful and therefore dangerous, so Team Flash must find a way to save him by bringing together the two parts of his consciousness. Enter M.A.C., aka the Mental Augmentation Chamber, which comes to the rescue.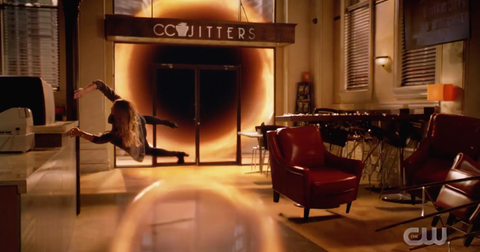 While the chamber was created so that Barry could boost his cognitive abilities, Team Flash ends up employing MAC to contain synaptic energy, which allows Chester to merge his consciousnesses back together again.
"Chester is doing so much better," Cecile reveals. "I mean, don't get me wrong. He's still glowing in the eyes with orange dark energy, but he's in really good spirits." Cisco chimes in to add, "Caitlin said his molecules need to re-stabilize at the subatomic level. My guess is he'll need to cook in the M.A.C. for another four to six weeks, maybe more, to get back to normal."
Since this is a new use for M.A.C, we can't wait to see if Season 6 will bring even more novel ways to make the most of the Mental Augmentation Chamber. And because he's still "more than happy to chill at STAR Labs," as Cecile puts it, we are certain we'll see more of Chester this season.
Who plays Chester in The Flash?
Showrunner Eric Wallace is very excited to show audiences more of Chester, played by actor Brandon McKnight. "Chester P. Runk was one of my favorite characters from the late-'80s run of the Flash comics," Eric said in an interview with TVLine.
"I was a young, African-American comic book reader, always looking for my own face in the comic books," he continued, "and here was a character who, even though he was presented as villainous at first, eventually becomes not only an ally but a friend of The Flash."
And as soon as he saw Brandon's "absolutely wonderful performance," he couldn't wait to "get this guy back." "We want to get to know him a little better and let him interact with Team Flash a second time, very soon." "He's got to ask Natalie out," he adds, "and I want to see that story."
Watch new episodes of The Flash on Tuesdays at 8 p.m. ET on The CW.