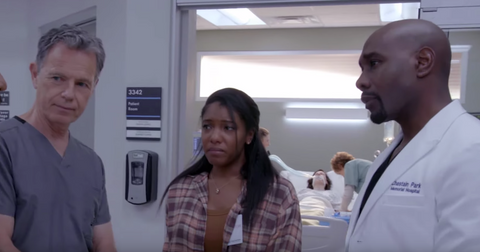 'The Resident's New Cast Members Are Shaking Things up at Chastain
By Michelle Stein

Updated
The Resident is filled to the brim with a regular cast of memorable characters. There's Devon, the idealistic young doctor who is toward the beginning his journey as a resident at Chastain Park Memorial Hospital. There's Conrad, the intense but brilliant senior resident who has mentored Devon from day one. There's also Mina, a Nigerian surgical bada**.
These are just a handful of the regular cast member on The Resident. In addition to the seasoned series regulars and revolving door of guest stars. it looks like the Fox drama series has recently added a few new recurring roles.
Let's take a look at some of the new cast members viewers have met during Season 3 of the medical drama.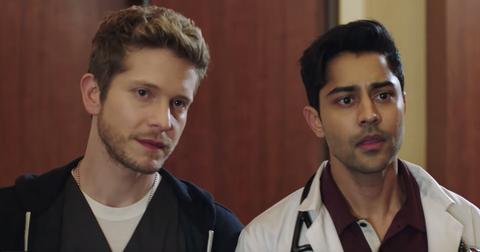 Ezra (Eli Gelb)
Following its winter break, Season 3 of The Resident picked right back up where it left off with episode 11 on Jan. 7. And with it came two new characters in a single scene: Devon's new interns. One of them is a young male doctor named Ezra.
As Devon launched into an inspirational, first-day pep talk, Ezra cut him off, saying, "Before you go all William Wallace on us, I'm highly allergic to any form of nut or dairy. If I come into contact with either, I will drop dead ... Sorry, please continue." Ezra's nerdy quirkiness was sure to make viewers instantly love him.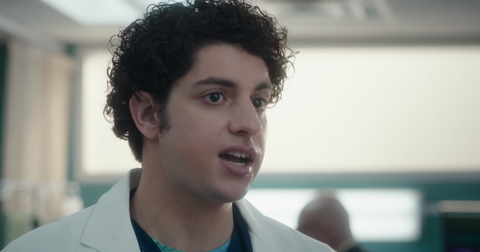 Eileen (Erika Slezak)
The other new intern is a decidedly older female doctor named Eileen — and viewers were introduced to her in the same scene during which they met Ezra. Except Devon initially mistakes her for Ezra's mother — making for a rather awkward introduction.
"I'm Eileen, " the graying-haired woman said while shaking hands with Devon, following Ezra's introduction.
"Oh, you didn't have to come. Your son's in good hands," a friendly Devon replied, to which Ezra awkwardly corrected, "Uh, she's not my mother."
"I'm also your intern," Eileen clarified.
"Sorry, I wasn't expecting ..." Devon started, before Eileen playfully interjected, "You thought I'd be older?"
LOL. Honestly, I can't wait to see what kind of perspective Eileen brings to the table as an intern at Chastain Park Memorial Hospital.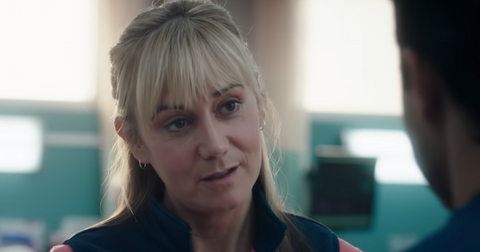 Dr. Barrett Cain (Morris Chestnut)
Dr. Cain is portrayed by actor Morris Chestnut. And it was exceedingly clear from the get-go that he's going to be the center of plenty of drama to come.
"He's an elite surgeon — he thinks highly of himself," Chestnut said during an interview posted to The Resident YouTube channel. "Now he cares about the patients. But he also cares about the money ... He's definitely more focused on the money."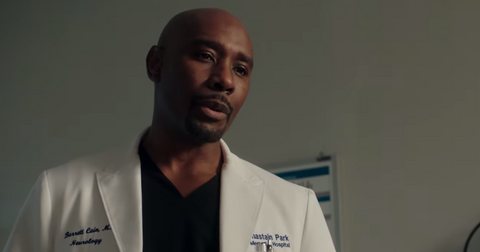 Adaku (Erinn Westbrook)
Adaku Eze is played by actress Erinn Westbrook. She's a friend of Mina's and was previously a cancer patient at Chastain Park Memorial Hospital. Deadline refers to Adaku as Mina's "strong-willed friend with an adventurous spirit."
Oh, and Adaku is also heavily pregnant. In Episode 10, Mina — who will also be the baby's godmother — is a little anxious about the little one's impending arrival.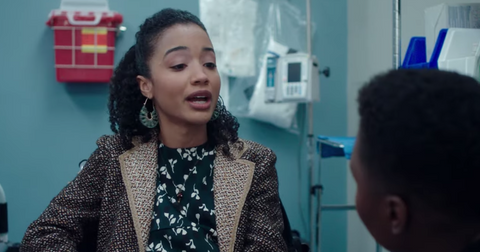 Andrea Braydon (Kearran Giovanni)
Andrea Braydon is played by Kearran Giovanni. She's a fitness teacher who is trying to find investors for her supplement product — which is why viewers met her at Chastain Park Memorial Hospital. Or rather, how AJ ended up meeting her there.
After Andrea met AJ in the hospital's hallway — and unsuccessfully tried to pique his interest in her supplement — Andrea handed him a business card. "I tell you what, if you change your mind give me a call. I'll hook you up," she told the cardiothoracic surgeon. "And if you don't change your mind, you should still call me." (It looks like Mina has some competition!)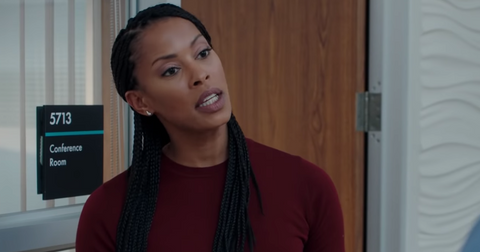 And there you have it! Whether or not these new characters stick around for the long run, one thing's for sure: The new aces of Season 3 of The Resident are bound to shake things up at Chastain Park Memorial Hospital And some of them already have.
Watch The Resident Tuesdays at 8 p.m. EST on FOX.