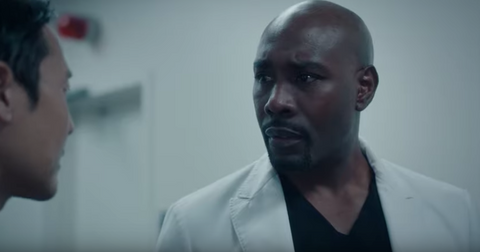 Yes, 'The Resident' Really Just Mentioned the Coronavirus and No, They Didn't Predict a Pandemic
By Jacqueline Gualtieri

Updated
Did 'The Resident' predict the coronavirus pandemic with their superbug storyline?
The Resident didn't base their superbug on the current real-life pandemic. The first cases of COVID-19 were in Wuhan, China in 2019, but the government only went public with the virus on Dec. 31, 2019. It took until Jan. 11 for China to report its first fatality. It took until late January for more countries, including the U.S., to announce their own cases of the virus.
But The Resident began filming Season 3 in early September 2019. Like many shows, it was still filming when most shows began halting production due to the virus. But nearly all of the season had already been completed. It seems likely and nearly definite that the superbug storyline was both written and filmed before the coronavirus became a worldwide fear and a pandemic.
But wait, then how did they directly say "coronavirus" in the March 24 episode?
In the March 24 episode, "Support System", the doctors are facing a superbug called Candida auris. When Cain (Morris Chestnut) is asked by Logan (Rob Yang) to cover the virus up so that the hospital doesn't come under fire and go bankrupt because of it, Cain warns him of the dangers of Candida auris.
"Candida auris is highly dangerous in immunocompromised patients," he says. "Half the people who get it die. We're lucky it's not airborne like the coronavirus. The staff is not at risk, but the patients could be."
So how did Cain know to mention the coronavirus if this was filmed months ago. Well, for one thing, coronaviruses are a kind of virus. The COVID-19 virus is just a kind of coronavirus, not the only coronavirus. In fact, SARS, which we experienced a violent outbreak of in the early 2000s, is another coronavirus. Also, as a side note, the superbug on The Resident is a deadly fungus, not a virus.
However, Cain specifically said the coronavirus, not a coronavirus, which seems to be a reference to the currently pandemic. As one Twitter user noted, what actually most likely happened was that The Resident utilized automated dialog replacement, or ADR, to change the line after it was filmed.
The Resident *ADR*-ing coronavirus references into its ill-timed superbug episode, we have no choice but to etc.

— Rob (@r0bwatson) March 25, 2020
The best way to prevent contracting or spreading coronavirus is with thorough hand washing and social distancing. If you feel you may be experiencing symptoms of coronavirus, which include persistent cough (usually dry), fever, shortness of breath, and fatigue, please call your doctor before going to get tested. For comprehensive resources and updates, visit the CDC website. If you are experiencing anxiety about the virus, seek out mental health support from your provider or visit NAMI.org.