These Third-Graders' Notes to God Will Really Make You Think
These third graders had a lot of questions for god, questions that even some adults have never thought to ask.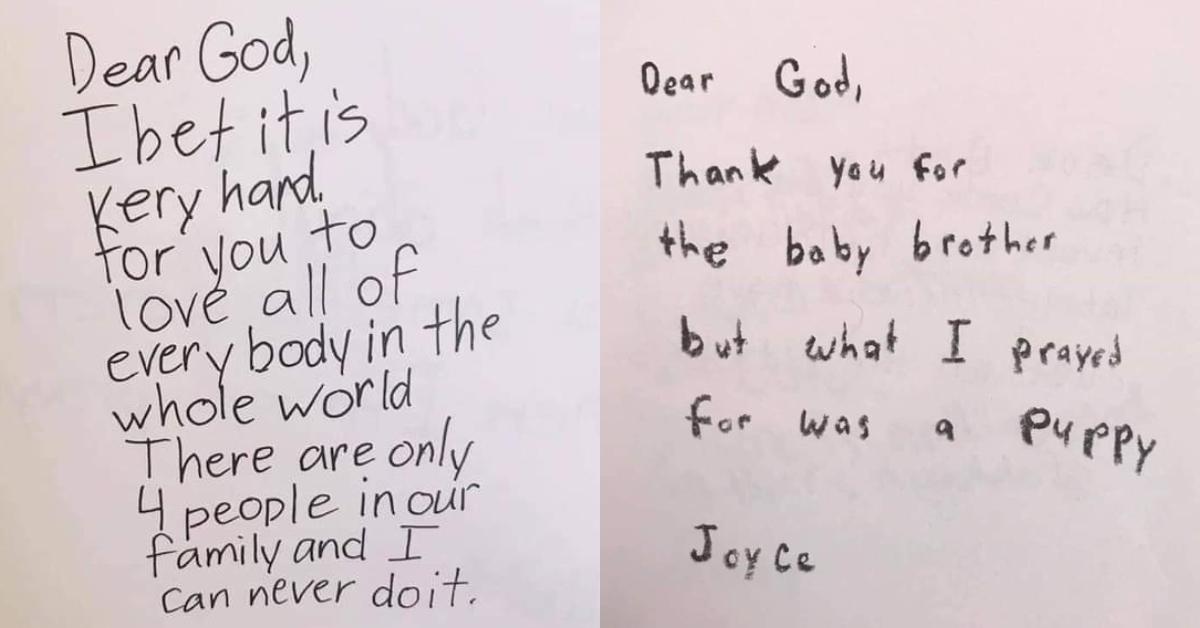 Little kids are curious beings. They love to ask questions. So when a teacher asked her third-grade students to write letters to God, she knew they'd be cute. But did she know that these little kids would ask questions that some adults have never thought to ask? Twitter user @GospelJosiah shared these letters in a viral Twitter thread, and they will be the most adorable, most thought-provoking things you'll read all day!
Article continues below advertisement
Norma, this is such a good question. There are several animals that seem to have been designed as a joke. Giraffes are certainly one of them. Hammerhead sharks too. Also, kangaroos.
Whoa. This question really got me. Because how did God know that they were God? It's kind of arrogant to just assume you're the most powerful being.
Article continues below advertisement
I hope Marnie wears her devil costume even if she doesn't hear back from God with permission. We all need to let our inner devil out sometimes!
Lucy isn't convinced that God's actually invisible. And in fact, it's much more likely that the idea of an invisible, all-powerful being is just a nice story we like to tell ourselves. Kids gotta learn the truth at some point!
Article continues below advertisement
Nan, that's a very good question. I don't know about you, but when I was born, most country lines were already drawn! Who decided them? And they're all squiggly and specific. Who decided that France looked like that?
Neil is quite suspicious of these church rules that seem to be contradictory. Why can people kiss right there at the altar when you're generally told good, religious people don't do that sort of thing? Seems like something's up.
Article continues below advertisement
I think Reverend Coe and God's relationship is somewhere in the middle. They're like work friends. They hang out all day at work, but sometimes they call each other at night to gossip or complain about their days.
I love the euphemistic way Dennis asked God for his age. I think whenever you want to know how old someone is from now on, you should ask, "How far back do you go?" It's just perfect.
Article continues below advertisement
If God is all-powerful and rules over everyone than they might not be American! Where does God have her headquarters? Canada has a lot of open space. Greenland is mostly ice, but that's pretty sparsely populated too. Where do you think God lives?
I relate to this letter so hard, Joyce. The thing about puppies is that they're way cuter than little brothers. I know. I have one of each.
Article continues below advertisement
I'm picturing God slowly backing away as Susan keeps asking more and more questions. God is probably like, "Um, maybe you should ask your parents? I think they can tell you. It's like, complicated, and, when you're old enough..." I love imagining God being too scared to have the sex conversation with a little kid.
Ooh, Tom got God! This is such a good point. Sunday is supposed to be the day of rest, not the day you are forced to gather in a church basement with warm fruit juice and grocery store cookies and get yelled at about religion.
Article continues below advertisement
We've been operating with the same zoo animals for a long time now! I agree. I think it's time to invent a few ones. We've seen all the spiders, and hippos are cool, and God nailed it with giant tortoises, but give me a winged horse pig or something. We deserve it.
Larry's very smart. Sometimes all it takes for people to get along better is to make sure they don't have to share a space. How do we know that Cain and Abel's argument didn't start over who gets the top bunk?
Article continues below advertisement
Danny's really banking on the fact that God has a sense of humor, which is quite brave. I bet he'd feel terrible if he woke up and his brother actually had a tail.
This sounds like a good deal to me. Raphael gets a genie lamp just like in Aladdin, and God gets anything they want as long as it's not money or his chess set. Legos? Sure. Lincoln Logs? Absolutely. Grandma got those for him and he barely plays with them. Name your price, God!
Article continues below advertisement
OK, but first we need to know what Marsha's brother told her because boys say a lot of things. I'm going to go out on a limb and say older brothers should not necessarily be the ones to give their little sisters the sex talk.
It is hard to love everybody all the time, and I think the truth is probably that if there is a God, they don't actually love everybody the same amount at the same time. It's impossible! Sometimes people are just unloveable!
Article continues below advertisement
It really should be a thing that we get acknowledgment from God when we wear something new! I think that would lift everyone's spirits!
God is pretty good at getting the stars in the right spots. It's kind of weird how that happens every single night, isn't it?! Seems like a lot of work.
"I am not just saying that because you are God." Hilarious. "No really, I mean, you are the best at being God, and I'm not just saying that because you are literally the only God that has ever existed. I'm sure if there were more gods and I belonged to a different religion, you'd totally still be my favorite god."