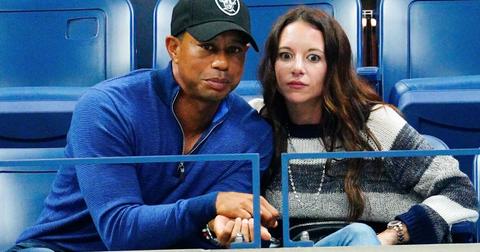 Erica Herman Was Tiger Woods' Employee Before She Was His Girlfriend
By Katie Garrity

Updated
Professional golfer Tiger Woods announced recently that he is going to play in the 2020 Memorial Tournament on July 16, 2020, at Muirfield Village Golf Club in Dublin, Ohio. This news has left fans in a tizzy over the speculation that he may return to competitive golfing officially.
Article continues below advertisement
Golf Digest's Daniel Rapaport tweeted some fair facts about Tiger's announcement to calm fans down but also left a little hope. He wrote, "It's a charity match, he's playing with his buddies, it's his home course, so we're not going to overreact...but we've seen three swings which is MORE THAN ENOUGH and yeah, Tiger looks healthy and his swing looks v good."
So, if Tiger is coming back, who will be by his side? There is no doubt that one supporter will be his girlfriend, Erica Herman.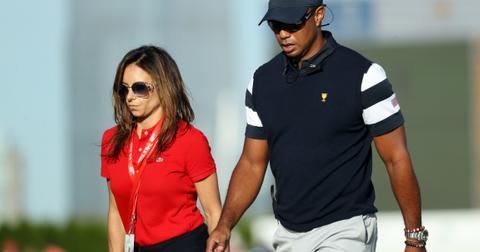 Article continues below advertisement
Erica Herman worked at Tiger Woods' restaurant The Woods Jupiter.
Erica was the former general manager of Tiger Woods' Florida restaurant, The Woods Jupiter, which opened in 2015 and touts itself as "Tiger's flagship restaurant" in Jupiter.
According to sources, this is where the two met and started their relationship. She has not worked at the restaurant since February 2018, according to TMZ.
Article continues below advertisement
The couple stepped out together publicly in 2017.
The two were first seen together as a couple at the Presidents Cup in 2017. According to Golf.com, the beans were spilled when some noticed that Erica was wearing a "player spouse" credential around her neck in some photos, a badge that is only reserved for wives and girlfriends of the players.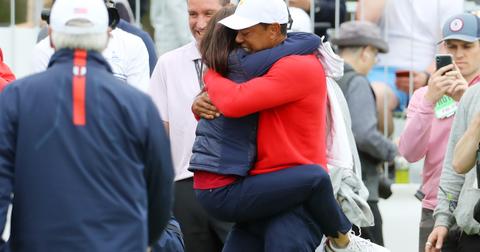 Article continues below advertisement
Then in 2018, Erica made waves when she kissed Tiger on came and patted him on the behind. The moment went viral and many speculated who Erica was. One Twitter user asked, "America, who is Tiger's new girl?"
Article continues below advertisement
Since then, Erica has been a staple of Tiger's support system. She and Tiger also enjoy spending time with his children. Recently, Tiger posted a photo of himself, Erica, and his children on Twitter writing, "Masters Champions Dinner quarantine style. Nothing better than being with family."
Tiger Woods' love life has been nothing short of dramatic since his divorce in 2010.
It's no secret that Tiger's love life has been somewhat of a circus since his messy divorce from his ex-wife, Elin Nordegren. So it makes sense that people would be chomping at the bit to know who his new girl was.
Article continues below advertisement
In December 2009, Tiger Woods and his ex-wife, Elin, were at the center of extensive media coverage after Tiger admitted to infidelity, which had been revealed following his car accident near the family's Florida home that made headlines. Tiger announced he would be taking a break from golf to focus on his marriage and family, but the two finally called it quits in 2010.