TikTok Users Are Loving This Two-Ingredient "Candy Grapes" Recipe
Meet the newest star of TikTok: grapes. Yep, the vine-grown fruits are getting their moment in the social media spotlight, thanks to a recent video by TikTok user @courty_lea.
Article continues below advertisement
That user — who goes by Court on the platform and identifies herself as a cat mom, a coffee lover, a wife, and a foodie — shared a recipe for "candy grapes" in a May 31, 2021 TikTok upload.
Don't get sour grapes, people — just read on for the instructions!
The recipe for the TikTok candy grapes is foolproof.
"Have you guys ever made candy grapes?" Court asks in the video. "It's one of my favorite snacks. I don't know if that's what they're really called, but that's what I call them."
And the recipe only requires two ingredients, grapes and Jell-O powder. "Get yourself some grapes," Court says in the video. "I like to use green grapes because they're not super sweet. Wash them up, put them in a gallon bag. The water on the grapes is going to help the Jell-O powder stick."
Article continues below advertisement
Sure enough, the only labor involved is combining up the grapes and the Jell-O powder in the Ziploc bag. "Shake them up real, real nice. … Now that they look like green olives, they're good to go in the freezer, and you've got yourself a perfect little summertime snack. So good."
But the Jell-O flavor matters, as Court explains. "The store only had sugar-free strawberry Jell-O powder, so I thought that was kind of rude," she quips in the clip. "My favorite is blue raspberry."
TikTok commenters are blown away — and sharing their own variations.
This frozen treat is nothing new — the Group Recipes website has a 2008 post for "magic grapes" with similar instructions — but TikTok users are still impressed with Court's video.
"Sooooooooo gooooooooood," one commenter said.
Another wrote, "Oh my gosh, this is so good. However, my fingers are all red now." (Court's response: "I tried using a fork the other day, and it didn't go so well.")
Article continues below advertisement
And other TikTok users are sharing variations on the theme, with ideas for other powders to add to the grapes.
"I do mine with Country Time lemonade powder, then freeze them," one person said. "Ice cubes for summer drinks!"
Another wrote, "OMG, the Jolly Rancher [gelatin] powder is awesome."
A third user commented, "They're also good with Crystal Light packets. Pink Lemonade is awesome."
Article continues below advertisement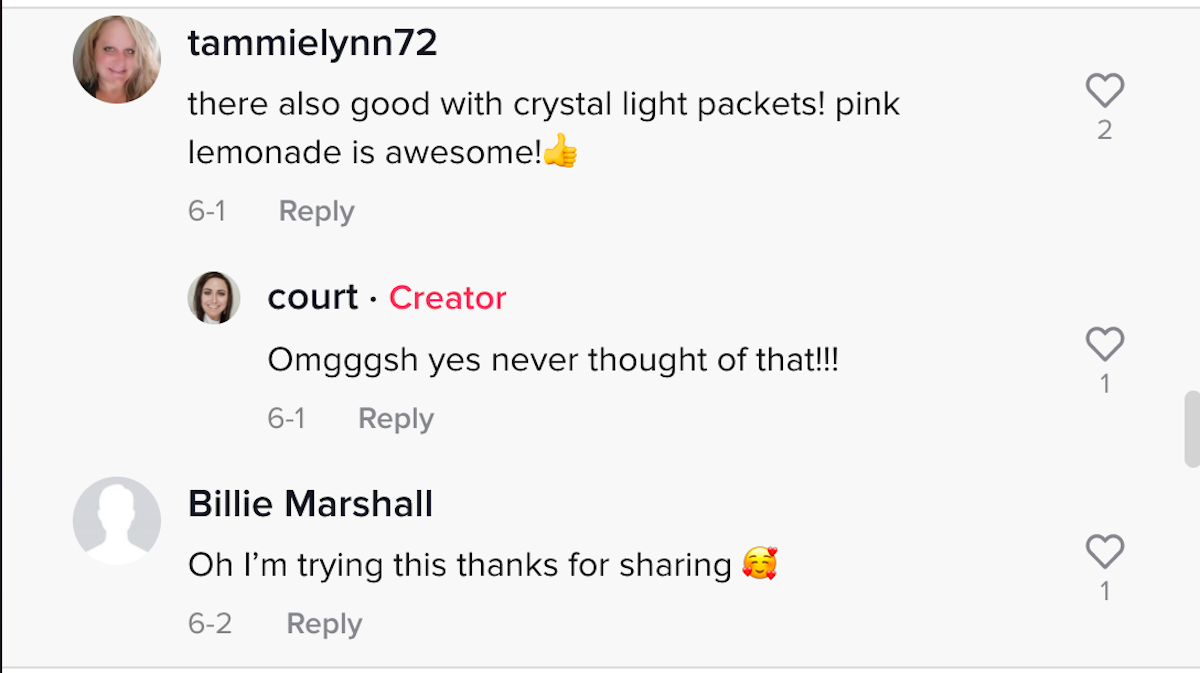 And a fourth commenter suggested another type of dessert mix, writing, "Vanilla pudding works great, too, and you can add other fruits."
For an adult version of the idea, you could take this user's suggestion:" Instead of having water on them, soak them in alcohol and then do the Jell-O and freeze it."
You could also try cotton candy grapes.
Multiple users, meanwhile, hyped up cotton candy grapes, a variety of grape that researchers at the International Fruit Genetics in Bakersfield, Calif., created by hybridizing two grape species, according to NPR.
"They really do taste like cotton candy," a commenter wrote on Court's TikTok post.
Seems like plain old grapes are so yesterday!