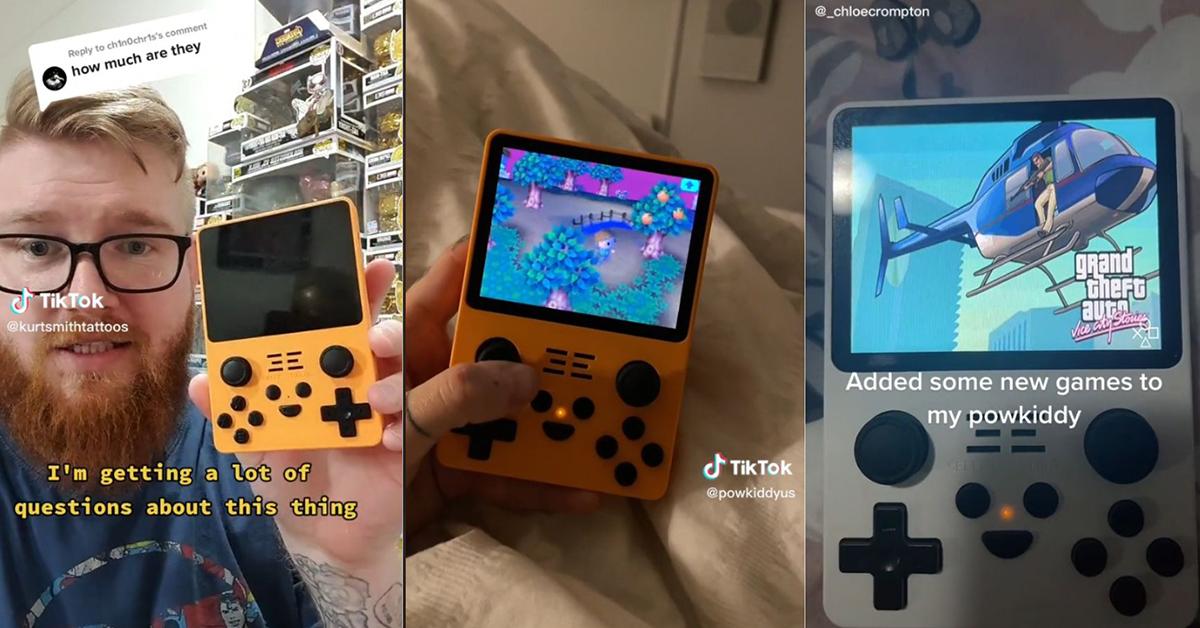 Check Out the Powkiddy Is a Handheld Game Emulator That's Been Viral on TikTok For Months
As of the end of 2022, the latest gaming consoles are still rather difficult to obtain. Semiconductor chip shortages during the COVID-19 pandemic severely impacted in-store stocks for the PlayStation 5 and the Xbox Series X/S. The pre-order queue for a Steam Deck can last for several months as supply works to meet demand.
But while these systems have proven to be elusive, TikTok has been obsessed with a handheld game emulator that may just be up your alley.
Article continues below advertisement
A handheld game emulator is viral on TikTok.
Gamers and parents of gamers alike have some interesting things to say about this handheld game emulator. The system is called the "Powkiddy," and it may just be a retro gamer's dream come true.
At first glance, the Powkiddy looks strikingly similar to a Game Boy with analog sticks and even shoulder buttons on the back of the device. Surprisingly enough, the Powkiddy holds tons of gaming potential.
Article continues below advertisement
As an open source console designed around emulation, the Powkiddy can fit several games from older systems onto itself. The system can reportedly store and play games from retro consoles like the SNES, Sega Saturn, and even the Game Boy Advance. It can also play games from the PlayStation 1, the Nintendo DS, and more. Using its dual TF card system, you can load up and play as many games as the system's storage will allow.
Most TikTokers are raving about the Game Boy-looking version of the Powkiddy, which goes for anywhere between $80 and $95 on their official site, depending on how much space you want. There are also several other models of Powkiddy that feature bigger screens, foldable designs, or even Powkiddys with designs similar to the Nintendo Switch or an old-fashioned Game & Watch handheld. The site also has several accessories and add-ons for sale.
Article continues below advertisement
Regardless of the version they pick up, TikTokers have great things to say about the little handheld that can do it all. Gamers have loaded their Powkiddys with games like older Grand Theft Auto installments, old Mario Kart titles, and even Little Big Planet for the PlayStation 3. The UI even lets you organize games by console and series so you can easily pick out your Sonic games from your Pokémon games.
Article continues below advertisement
Is the Powkiddy worth it?
Viral trends on TikTok tend to run the gamut, and the PowKiddy is no different. While many people are fans of the tiny system, it's not without its caveats. According to @rainbowgrading, the Powkiddy will struggle to run certain Dreamcast games, which are supposedly subject to lagging on the console. Other users also have issues with disappearing save files. Another user on Reddit also had some complaints about some games not appearing properly.
As of this writing, though, it seems that the general consensus is that the Powkiddy has plenty of bang for your buck. Despite some hiccups with the system, the Powkiddy looks to be a very decent little emulator for the nostalgic gamer in all of us.