Customer Catches Tire Shop Employee "Painting Tires Black" While Waiting for New Ones
A customer at a tire shop was waiting for new tires when they saw an employee doing something suspicious with spray paint. Read on for the full story.
Over on TikTok, a user named @blackbeauty_305 shared a 12-second video that inspired a flood of comments.
The creator's clip came to us live from a tire shop where something shady looked to be going on.
Article continues below advertisement
In the TikTok, we watch as a tire shop employee sprays paint on a stack of tires. The thing is, the TikToker — whose name is Denise — was waiting for new tires, and felt she may have been about to get swindled!
Why would a tire shop employee spray paint tires?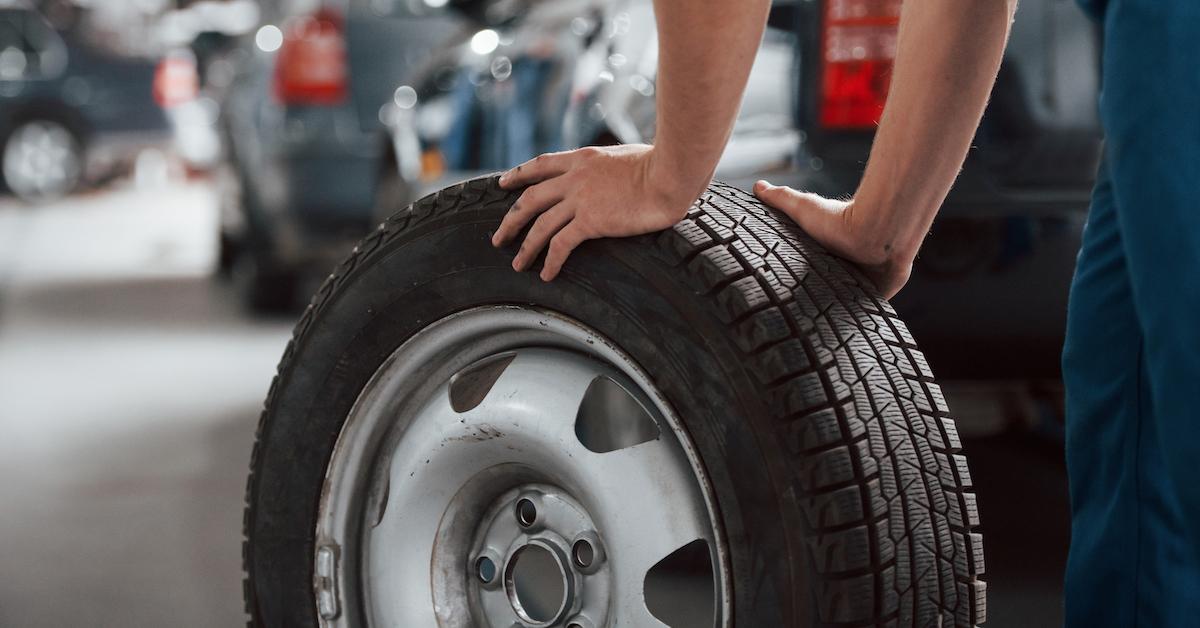 In the TikTok creator's viral video, which shows the employee spray a stack of six tires with black paint, the caption reads, "Imagine going to buy new tires and you see this guy doing this."
Article continues below advertisement
Sure, it looks shady, but we did a little research to see if spray-painting tires is a normal practice.
It turns out that some people do like the look of spray-painted tires for aesthetic reasons.
Just consider a Reddit thread where a user shared a photo of their custom car with gold tires. But as a commenter pointed out, painting your tires can deteriorate the rubber if you don't use the proper kind of paint.
Article continues below advertisement
So, say you wanted to paint your tires to add a bit of bling to your ride. You'd need to use the right paint that would bond to the rubber and not cause damage.
Article continues below advertisement
Let's say the tire shop employee is using tire paint. Is he still pulling one over on customers, since a reason you'd paint tires is to make them look newer?
Commenters on TikTok were divided on whether the employee was doing anything wrong, with someone pointing out that since he wasn't trying to hide what he's doing, it's likely OK.
Article continues below advertisement
Someone noted that the employee could have been painting the tires for display — and not with the intention to sell those specific tires. Many other commenters said that all tire shops do this.
The main takeaway from commenters was that customers need to check the tread on tires to see if it's in good or new condition, regardless of whether the tires have been painted to potentially make them look nice.
Article continues below advertisement
Painting tires is seemingly OK, but the takeaway is to do your research before choosing a tire shop.
Hey, some people may be into painting their tires to make them look better. And tire shops may employ this tactic for displays, and not because they are trying to deceive customers buying new or even used tires.
But if you are looking to buy tires, Denise's TikTok, which may or may not have documented any wrongdoing, serves as a PSA that doing your research before choosing a vendor is key.
Article continues below advertisement
Consumer Reports recommends going with a well-known retail chain such as Discount Tire, or a branded chain like Firestone.
You're probably also safe if you choose Walmart or Costco for your tire needs.
Another option is to go to a car dealership.
When it comes to an independent tire shop, the reliable consumer guide warns that quality can vary. That said, perhaps going with the recommendation of a friend, family member, or neighbor is advisable.
Ultimately, we hope Denise checked the tread on her tires before paying up. And we thank her for posting this TikTok, which prompted us to learn a lot more about tire practices!