The Heartwarming Tale of Tom Schwartz and His Triplet Brothers
Reality A-Lister Tom Schwartz is returning to 'Winter House' without his "better half," Tom Sandoval. But who are Tom Schwartz's brothers?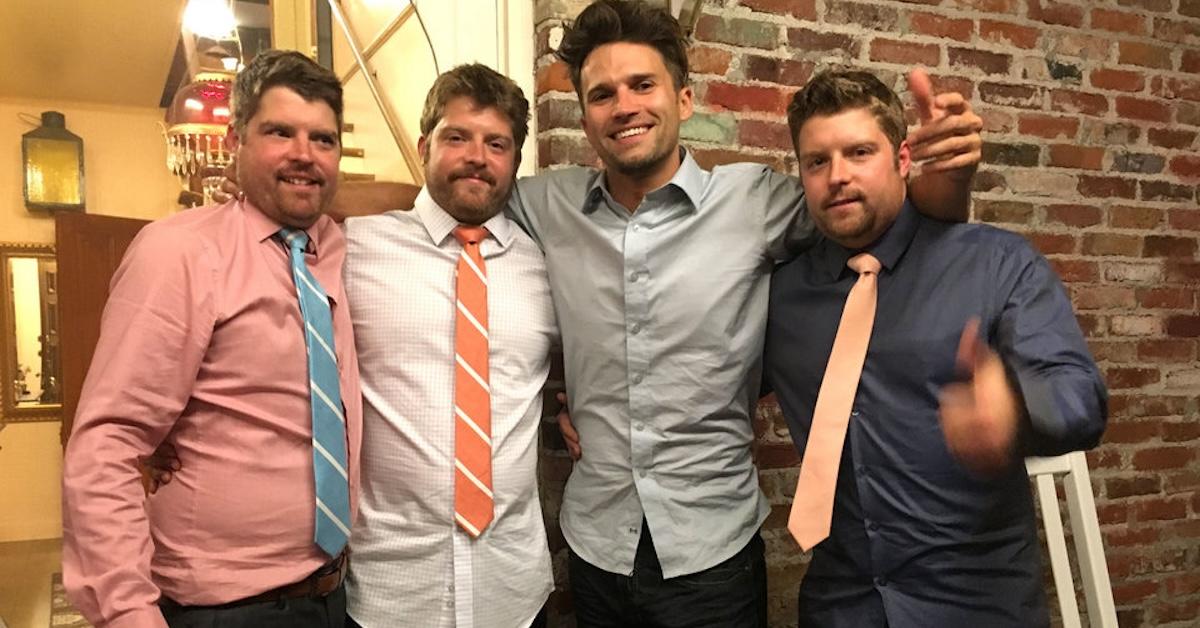 The Gist:
Tom Schwartz, a reality TV star, is returning to Winter House without his friend Tom Sandoval, and viewers are curious about his family, especially his brothers.
Tom Schwartz has three triplet brothers: Billy, Bert, and Brandon. They are known for their close bond and unique dynamic, having even appeared on Vanderpump Rules.
One of Tom's brothers, Brandon, has been battling cancer, which has been a significant challenge for the family. Tom has shared some personal moments about his brother's journey on social media.
Article continues below advertisement
Every season of Winter House is even more dramatic than the last, and after the Vanderpump Rules Scandoval, we cannot wait to see Tom Sandoval's bestie, Tom Schwartz, in action. He has to address the cheating scandal in Winter House Season 3 as he returns solo, but that's not the only drama in his life.
Tom Schwartz's brother, Brandon Schwartz, has been on a cancer journey for several years, which Tom will likely talk about on Winter House in addition to the rest of his complicated life. But Tom actually has several brothers, so who are his brothers and will they appear on Winter House?
Article continues below advertisement
Tom Schwartz has three brothers who are triplets, Billy, Bert, and Brandon.
Every reality star has a family that appears from time to time, but no one is as adorable as Tom Schwartz's triplet brothers. In 2017, Tom spoke with The Daily Dish about his little brothers: "The ballad of Billy, Bert, and Brandon. They're the best. I love my brothers so much … They're such sweet kids. They have such a great dynamic. It's a dynamic that only triplets can have. They have so much history and chemistry."
Article continues below advertisement
In fact, the Schwartz triplets even appeared on Vanderpump Rules and got makeovers! They've always been close, although Tom said they didn't take advantage of their similar looks to cause mischief. "They didn't fully utilize the fact that they were triplets because, in the beginning, they did look identical," he said.
Article continues below advertisement
"They weren't technically identical, but they looked identical for a long [time], but now their weights have fluctuated a little bit or they have different facial hair. They're really easy to distinguish now."
Describing their dynamic, Tom explained, "They're like the three stooges, and I mean that in an endearing way, not in a judgmental way. I love hanging out with them. It's non-stop entertainment and they have huge hearts. They're such good kids. I like to bust their balls. I do give them a hard time, but ultimately I love them." It's clear that he loves them since he posts about them from time to time to celebrate them.
Article continues below advertisement
Tom also has a sister, two half-sisters, and a half-brother.
While Bravo fans might be most familiar with Tom's triplet brothers, his family extends far and wide. He and his older sister, Natalie, used to dress up together for Halloween. He shared a throwback pic of the two of them on his Instagram with the caption, "Me and my sister 10/11/1989 edition. I think I'm hipster Freddy, no clue who Natalie is here."
Much less is known about Tom's half-siblings, who have managed to stay out of the spotlight, but perhaps 2023 is their year!
Article continues below advertisement
One of Tom Schwartz's brothers, Brandon, has been dealing with cancer.
Enough of Tom's life has been in the spotlight thanks to his reality television career. In an April episode of Watch What Happens Live discussing Vanderpump Rules Season 10, Tom shared how he was going through a tough time. "I was going through some real-life, high-stakes stuff," he said. "I was in the middle of a divorce, I was going bankrupt, my dad almost died, my brother got cancer … I was consumed in my own little world."
While Tom hasn't revealed much to the public about Brandon's bout with cancer, he shared a pic on Instagram of Brandon in Oct. 2022 with the caption, "My brother Brando got his hair back post chemo. Send this man some love." This was Tom's first public announcement about his brother's cancer, and since then, he's just mentioned it shortly in interviews.
Article continues below advertisement
In a more recent Oct. 22, 2023, post, Tom shared a selfie with Brandon in a hospital bed throwing up the peace sign. Hopefully, this means that Brandon is on the up and up!
New episodes of Winter House air every Tuesday at 9 p.m. EST on Bravo.