Vanderpump Rules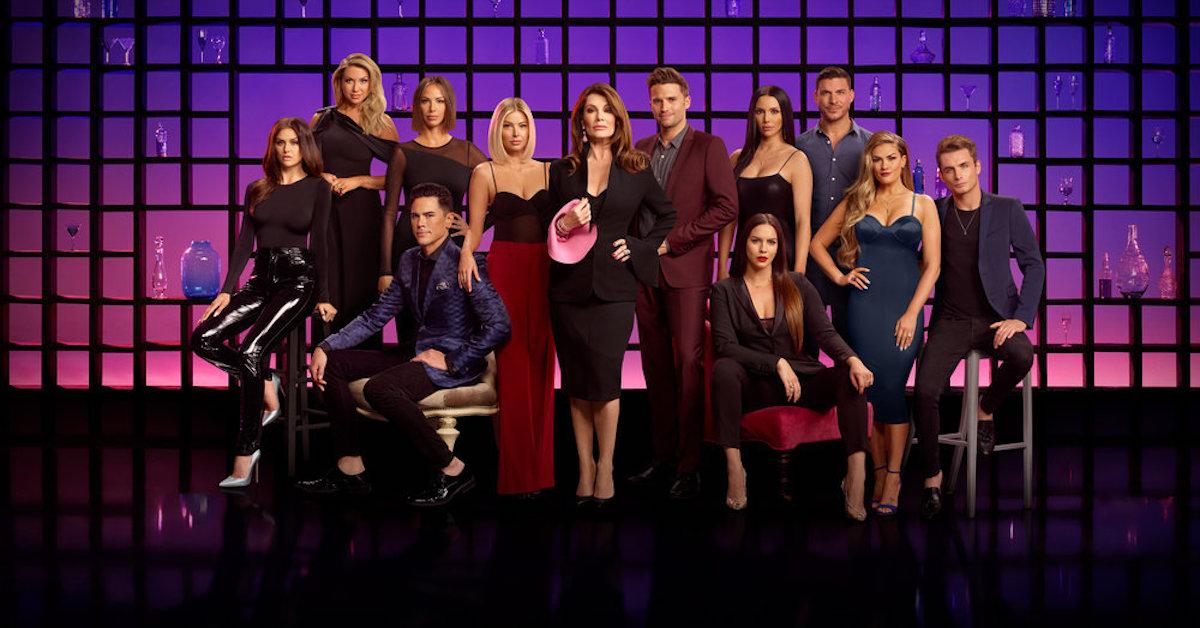 What is Vanderpump Rules about?
The hit reality series began in 2013 as a spinoff of The Real Housewives of Beverly Hills. The show centers around the waiters and waitresses at Lisa Vanderpump's West Hollywood restaurant SUR (Sexy, Unique Restaurant). Many of the Season 1 cast members were trying to make it in Hollywood as actors, and there was no shortage of drama.
The first season focused on Scheana Shay's switch from being a waitress at LVP's other eatery, Villa Blanca, to working at SUR. While Scheana wanted to fit in, co-stars Stassi Schroeder, Kristen Doute, and Katie Maloney-Schwartz made her start less than easy.
Who is in the cast of Vanderpump Rules?
Jax Taylor (Season 1-Present) — As the resident bad boy of SUR, bartender Jax Taylor started off on the show as the cheating on-and-off boyfriend of Stassi Schroeder. He pined for Stassi for months after their breakup, and he even got a tattoo of her signature on his bicep before it was revealed that he slept with her best friend, Kristen Doute. After the death of his father, Jax quickly matured and proposed to longtime love Brittany Cartwright. The two wed in June of 2019. He is one of the only original cast members who still works at SUR.
Brittany Cartwright (Season 4-Present) — The Kentucky native is one of the most beloved Pump Rules stars because of her bubbly personality and ability to calm Jax down. She joined the show after moving to WeHo in order to be with Jax. The couple now lives in the Valley in a home that eerily resembles Sandoval and Schwartz's houses.
Tom Sandoval (Season 1-Present) — When viewers first met Tom, he was living with Kristen Doute, hi stars because of her bubbly personality and ability to calm Jax down. She joined the show after moving to WeHo in order to be with Jax. The couple now lives in the Valley in a home that eerily resembles Sandoval and Schwartz's houses. Throughout the early seasons, he defended his close friendship with fellow bartender Ariana Madix, and the two have since begun a relationship. Sandoval is now a 5% owner of Lisa's restaurant/bar TomTom.
Ariana Madix (Season 2-Present) — Ariana was one of the only cast members to be unafraid to roll her eyes at Stassi, and she had no issues being on the outs with the other female servers. Since she first appeared on the show, Ariana has been vulnerable with viewers about her depression issues, her bisexuality, and her past sexual assault. She no longer works full-time at SUR, and she also co-authored a cocktail recipe book with Tom called Fancy AF. She's set to host a podcast as well.
Tom Schwartz (Season 1-Present) — When the show began, Schwartz wasn't actually an employee of SUR, and he was instead making money as a model. After trying to give his Bubba, Katie, a ring on a string, he tied the knot in Season
Katie Maloney-Schwartz (Season 1-Present) — As the only witch of WeHo still standing, Katie is one of the only O.G. female cast members left. She's been an advocate for body positivity, and she's recently vowed to bring out Tequila Katie less frequently.
Scheana Shay (Season 1-Present) — Scheana was all about her music career and relationship to future ex-husband Mike Shay when the show began. She hosts the Scheananigans podcast, and she just moved to San Diego with her boyfriend Brock Davies.
Lala Kent (Season 4-Present) — Lala has come a long way from her early days as a villain on the show (and as a frequent body shamer). She's now engaged to producer Randall Emmett, who brings her on the P.J. (private jet). She is no longer the host at SUR, but she is the host of a podcast called Give Them Lala. She also has a makeup brand with the same name.
James Kennedy (Season 3-Present) — D.J. James Kennedy describes himself as the white Kanye, and he's been fired and rehired at SUR multiple times. His battle with alcoholism was explored at length on Season 8, and he lives in West Hollywood with girlfriend Raquel.
Dayna Kathan (Season 8-Present) — On her first and only season of the show, Dayna got involved in a love triangle with fired cast members Brett Caprioni and Max Boyens. In her off time from SUR, she does stand-up comedy.
Recurring Cast Members:
Danica Dow (Season 8-Present) — Though Danica got 86'd from TomTom by Max Boyens, she didn't get 86'd from the show (he did).
Charli Burnett (Season 8 — Present) — Known as the one who has never tried pasta.
Raquel Leviss (Season 5-Present) — Known as the girlfriend of the guy who said, "It's not about the pasta."
Peter Madrigal (Season 1-Present) — Peter dated both Stassi and Katie before the series began, and he appears to be one of the only employees at SUR who actually does work during a shift.
Is Vanderpump Rules scripted?
The cast members have made it clear over the years that their drama is unscripted, and that it often proves to be so juicy because they are a real group of friends.
"I pride myself on [the fact that] we have a real show and I'm not going to sit there and sugarcoat things. With cameras there or not, this is how I am. Do I regret some things? Yeah, of course," Jax told InTouch in 2018.
"It's pretty not-scripted, you see our relationships are real. We all have our history. There are plenty of shows out there that are kind of casted in ways where people don't have any kind of history prior. But it's also hard when making a show as they can't show everything and they don't show everything that's positive but they definitely show everything that's negative and that can paint people in certain lights that aren't true to form but it's still is real," Katie said in 2016 to Galore.
Who got fired from Vanderpump Rules?
In June of 2020, Bravo confirmed that original Vanderpump Rules stars Stassi Schroeder and Kristen Doute and Season 8 additions Max Boyens and Brett Caprioni had been fired from the show for past racist words and sentiments. Stassi and Kristen were criticized for calling the police on former co-star Faith Stowers, who is Black, in 2018.
A clip from Stassi's podcast, Straight Up with Stassi also began making the rounds. In the 2017 episode, Stassi criticized speeches from the Academy Awards for being focused on diversity and racial equality.
Brett and Max were fired because a slew of past racist tweets resurfaced.
How much does the Vanderpump Rules cast make?
Though LVP doesn't have to get involved in the drama too often, she is the highest-paid cast member on the show (which makes sense, considering the fact that much of the filming takes place at her restaurants). She reportedly earns $500,000 per season, but with an estimated net worth of $75 million, that's just a drop in the bucket for her.
It's been reported that the core original cast members began making around $25,000 per episode after Season 6. These cast members would likely include Stassi, Katie, Kristen, both Toms, Scheana, and Jax.
As for Brittany, James, and Lala, it's been estimated that they make somewhere between $10,000 and $25,000 per episode.
Where can you watch Vanderpump Rules?
You can catch up on old episodes of the Bravo series on BravoTV.com, the Bravo app, Sling TV, fuboTV, or on Hulu.
Latest Vanderpump Rules News and Updates