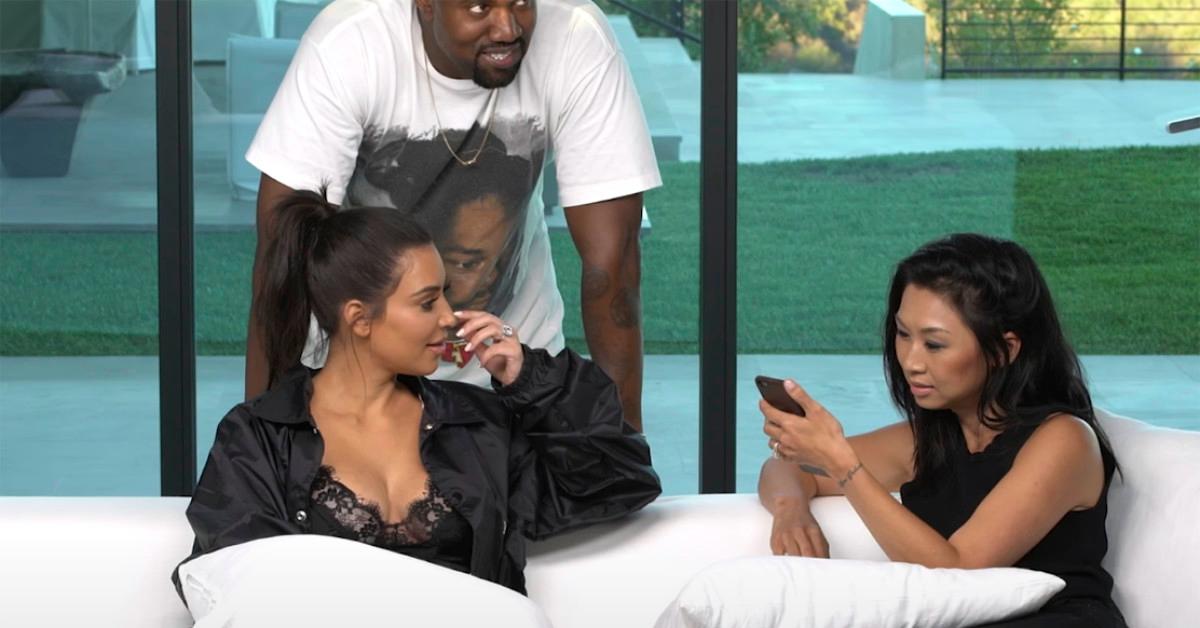 Kanye West Tells Tracy Romulus to "Stop Manipulating" Kim Kardashian
Tracy Romulus' husband, Ray, is a Grammy-winning producer. Read more about the KKW Brands chief marketing officer and her talented hubby.
Now that she's been name-dropped in Kanye West's war of words with estranged wife Kim Kardashian, we've got the skinny on Tracy Romulus — including her friendship with Kim, her career and net worth, and her relationship with husband Ray Romulus.
Kanye mentioned Tracy in an Instagram caption on Friday, Feb. 4, as he hit back at Kim for calling herself the "main provider" of their four kids — and for allegedly withholding the address of daughter Chicago's birthday party, as Us Weekly reports.
Article continues below advertisement
"What do you mean by main provider?" Kanye wrote on Instagram. "America saw you try to kidnap my daughter on her birthday by not providing the address. You put security on me inside of the house to play with my son [sic] then accused me of stealing. I had to take a drug test after Chicago's party 'cause you accused me of being on drugs. Tracy Romulus, stop manipulating Kim to be this way."
So who is this Tracy Romulus? Read on, Kardashi-fans…
Tracy Romulus is a KKW Brands exec with a reported $1.5 million net worth.
Article continues below advertisement
Tracy Nguyen Romulus
KKW Brands executive
Net worth: $1.5 million (reported)
Tracy Romulus is the chief marketing officer of KKW Brands and the founder of Industry Public Relations.
Birthdate: December 18, 1979
Birthplace: Indonesia
Spouse: Ray Romulus (m. 2014)
Children: Ryan, Remi, and Raf
As she told People last year, Tracy was born in a refugee camp in Indonesia in 1979 after her mother fled Vietnam. Eventually, the family moved to the United States — first to California and then to Washington — and after high school, Tracy studied fashion design at the Fashion Institute of Technology and worked as assistant to publicist Kelly Cutrone.
Article continues below advertisement
Tracy launched Industry Public Relations in 2006 but closed the boutique agency a decade later when her second daughter, Remi, was born. She then joined KKW Beauty, and she's been working with Kim ever since. "I think people would be surprised to know that even though we are always very busy with 100 things going on at once, things are incredibly calm and under control most days, which is reflective of Kim's leadership as the CEO," she told People.
According to online reports, Tracy has a net worth of $1.5 million.
She feels "blessed" to work with Kim.
As Tracy explained to the magazine, joining forces was Kim marked a "perfect moment" in their lives, since they had been longtime friends by that point. "We also had a lot of respect for each other on a professional level. What makes work so incredibly fulfilling for me is that I get to work alongside such brilliant, inspiring, creative women — like Kim and Kris Jenner — and the most talented, hardest working team in the world," she added. "I feel incredibly blessed."
Article continues below advertisement
Tracy's husband is a Grammy-winning music producer.
Since 2014, Tracy has been married to Ray Romulus, a music producer who's part of the production team The Stereotypes. Ray is also the co-founder of the Beach Wave Sound record label. For his contributions to the Bruno Mars song "That's What I Like," Ray shared wins for Best R&B Song and Song of the Year at the 60th Annual Grammy Awards.
Ray was also surprised to be nominated for the Producer of The Year (Non-Classical) category. "You just can't believe that it's happening," he told Vibe in 2017 after the nominations were announced. "You're a part of the conversation of being a top producer. You work hard to make great stuff and hope that people appreciate it, but you never think that people are watching and paying attention, so when you hear that, that's stunning."