Kitchen Floor Royalty Trisha Paytas Just Revealed Their Baby's Name, and the Internet Has Some Thoughts
YouTube drama is nothing without legend Trisha Paytas, and they just had a baby! What's their baby's name?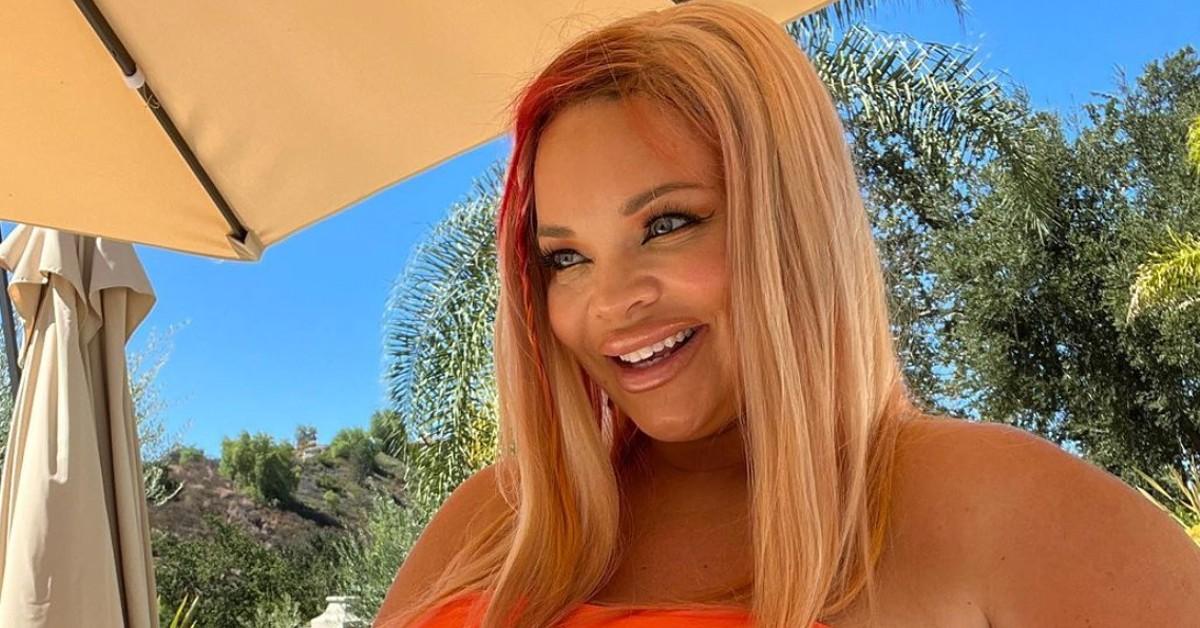 Honestly, we can't even look at our kitchen floors without thinking of internet and reality TV legend Trisha Paytas — and we mean that in the best possible way. Whether it be their sporadic kitchen floor meltdowns, affinity for all things pink and sparkly, laundry list of scandals, so to speak, and coming out videos — not to mention when they dipped their toe into the world of Christian pop music — Trisha Paytas has managed to entertain the YouTube world for more than a decade. They never fell off!
Article continues below advertisement
In 2022, however, the chicken nugget icon's life is much less dramatic (we said less dramatic — it's never drama-free). After wildly messy breakups with past boyfriends Jason Nash (who's famous for his role in disgraced YouTuber David Dobrik's Vlog Squad) and Sean van der Wilt, Trish married Moses Hacmon — an Israeli photographer and YouTuber — in December 2021 after meeting through the H3 Podcast.
Not long after that, the duo announced they were pregnant, despite Trish thinking they could never get pregnant naturally (peep their 2016 video "WHY I CAN'T HAVE CHILDREN | STORYTIME").
"Love at first heart beat #happyvalentinesday," Trish wrote in an Instagram post on Feb. 14, 2022. Now that they're about nine months along, the eccentric duo must have a list of baby names they're considering. We're here to share the deets.
Article continues below advertisement
What's Trisha Paytas' baby's name?
Though Trish identifies as gender-fluid, they threw a gender reveal party for their bun in the oven. "IT'S A GIRL," Trish wrote in an Instagram post on April 11, 2022.
They've shared much of their excitement throughout the baby-growing process. And while some mothers dread the pregnancy journey with all of its aches and pains, Trish is having a blast.
Article continues below advertisement
"Never taking 'you look pregnant' as an insult again. Because I never felt sexier this way. Never glowed like I do being pregnant. Best time of my life and it's going so fast," they gushed in an August 2022 post.
Their caption continued: "34 weeks pregnant today!!!! Greatest gift of all will be here so soon. I'm already so grateful for her - she's already changed my whole life, mind, and energy. As much as I love being pregnant with her and feeling her in my tummy every day, I can't wait to hold her in my arms and be her mommy forever."
Considering Trish and Moses' baby is due in September 2022, the mama-to-be finally posted a video entitled "BABY NAME REVEAL, OLD FRIENDS I MISS, LIP INJECTIONS WHILE PREGNANT?!" on Aug. 10, 2022.
But, of course, knowing how click-baity YouTube titles often are, Trish didn't actually reveal the name of their unborn child.
Article continues below advertisement
"We have a baby name picked out. It's done, it's solidified. The only reason we're not saying it is — like, honestly, you know me, I'd love to blurt it. I'd love to be like 'the baby's name is this.' But, like, I'm not superstitious, but I want to announce her name when she's here. It just seems fitting," Trish said in their video.
Article continues below advertisement
Trish clarified that it's possible said mystery chosen name might not strike them as fitting when their daughter is born. But they don't foresee that happening. "I really do feel like this is our baby's name," Trish said.
"Ultimately we want to see her, and have her into the world and have her energy here," Trish continued.
Article continues below advertisement
Trisha's daughter is officially here, and her name is ... Malibu Barbie Paytas-Hacmon!
On Sept. 15, 2022, Trisha took to social media to announce that their daughter had been born the previous day. Trisha also announced that the little bundle of joy's name is Malibu Barbie Paytas-Hacmon! As you might expect, the people of the internet had some real THOUGHTS about the name. For the record, we think it's kind of cute (and goodness knows there are plenty of not-so-cute names out there), but we couldn't resist sharing some of our favorite social media reactions to the announcement:
Article continues below advertisement
Article continues below advertisement
Article continues below advertisement
In case you're confused about why people are talking about the queen, that's in reference to the conspiracy theory that had Twitter buzzing when Trisha announced she was in the early stages of labor on the same day that Queen Elizabeth II died. The internet took that info and decided that — obviously — Trisha's baby must be the reincarnation of the queen. Trisha dispelled the myth on Sept. 9 by revealing in an Instagram post that she was still pregnant after all.
Article continues below advertisement
Honestly, it's been a wild week in the land of the internet, but now that all is said and done, we're thrilled for Trisha, Moses, and little Malibu!