Dreading the Presidential Debate? These Drinking Games Should Lighten the Mood
If you're looking to lighten the mood or pass the time amid the upcoming presidential debates, make your friends play this Trump-Biden drinking game.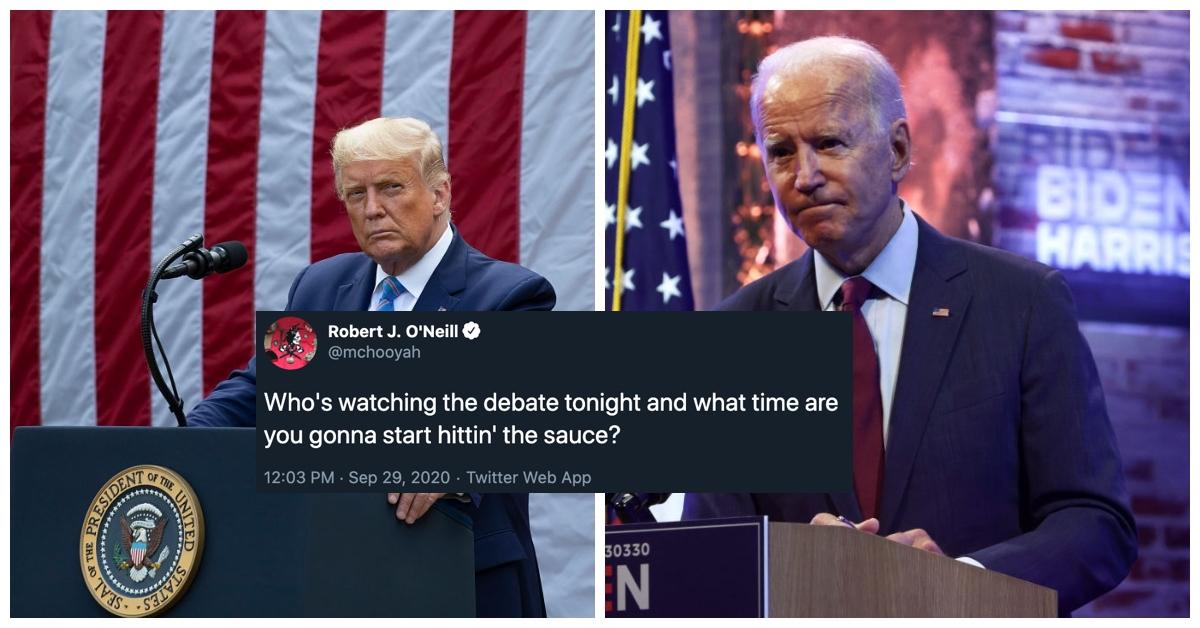 While it's undeniably vital to stay informed ahead of the 2020 presidential election, playing a drinking game to lighten the mood and pass the time during the upcoming debates is somewhat necessary for — well — the sake of our well-being.
Article continues below advertisement
That's why we did a little digging, and found a few Biden-Trump drinking games to play with your friends, regardless of whose team you're on this year. Scroll down for essential rules to follow while you watch.
Red and Blue Jell-O shots, anyone?
Twitter user @bluedotbirb posted this extensive drinking game, that mandates players to take a red Jell-O shot when a rule concerns Trump, a blue Jell-O shot when a rule concerns Biden, as well as sips of beer or cider to simply keep drinking. A few of the rules concerning Trump include when he mentions Antifa, China, or utters the phrase "fake news." Rules concerning Biden include saying "c'mon man" or telling a story from his youth. This is definitely a fun one if you have the materials.
Article continues below advertisement
Feeling a little snarky? Here's a hilarious set of rules for a Biden-Trump debate drinking game:
Twitter user @BrandonPonzio posted this light-hearted drinking game with slightly snarkier rules. While Biden is speaking, for example, players must drink when he mentions his friendship with Obama, when he mispronounces Kamala Harris, when he cites statistics, and when he attempts to dunk on Trump.
When Trump is speaking, a few rules include drinking when Trump interrupts Wallace, when he reminds viewers he beat Hillary, and when he blames Biden for COVID-19. Thank you for this gem, Brandon.
Article continues below advertisement
Those looking for something simpler should try this debate drinking game:
Twitter user @mmk_inc74 posted this drinking game idea that simply requires participants to drink every time Trump makes the expression he often makes, when he is scoffing at someone for simply making a point that contradicts what he's saying. This isn't much of a game, per se, but let's face it — you'll definitely get drunk on this one.
Article continues below advertisement
Drunk political bingo is also a fun and fabulous option.
Twitter account, @APSUPoliSci, posted a debate version of Bingo, which won't get participants quite as drunk as the others, but is entertaining nonetheless. There are spaces for "MAGA," when Biden says "folks," when Trump makes a false COVID-19 claim, when Trump doubles down on not conceding, and when the post office is mentioned. Oh, and there's also a space for "yuge," which will definitely be uttered by the current POTUS at some point or another.
Article continues below advertisement
Fans of the drinking game 'Kings' should definitely try this one:
For something a little more interactive like the popular drinking game Kings, Twitter user @amyacc posted the above rules, which not only mandates drinking, but also cheering, shouting, and various movements. For example, when Trump says "bigly" players have to widen their hands like an accordion, and when Biden says "come on, man" players have to cheers their beverages. Then, like Kings, last player to follow the rule has to drink.
Article continues below advertisement
There are so many drinking games to play during the upcoming debates, so get ready, and of course, drink responsibly.