The Cast of 'Twin Love' Is Wearing Mysterious Bulbous Necklaces — Are the '90s Back?
Amazon Prime's reality dating show is a feast for the eyes as the cast is made up of identical twins. But we can't stop looking at their necklaces.
The Gist:
It feels like no one is wearing necklaces anymore.
However, the cast of Twin Love are sporting some unusual necklaces.
Twin Love is produced by the people who brought us Love Island, and they also have odd necklaces.
The necklaces are actually sneaky microphones.
Article continues below advertisement
I am convinced that necklaces have sadly become a forgotten accessory. What with the rise of Taylor Swift's friendship bracelets and the ability to pierce just about anything, it seems as if folks are less interested in adorning their necks. When I was growing up in the 1990s, our best decade, chokers were all the rage. In fact, I still own one and bust it out from time-to-time when my skin is looking particularly taut.
Gone are the days of the roaring '20s when women would repeatedly loop a single pearl necklace around their necks. Anne Boleyn, one of my favorite monarchs, infamously wore a necklace with a gold B dangling from it. To me that said, I'm that B.
That's why I couldn't help but notice the enormous round necklace worn by the entire cast of Prime Video's reality dating show Twin Love. Either clay bead necklaces are back, or they serve a different purpose. Here's what we know.
Article continues below advertisement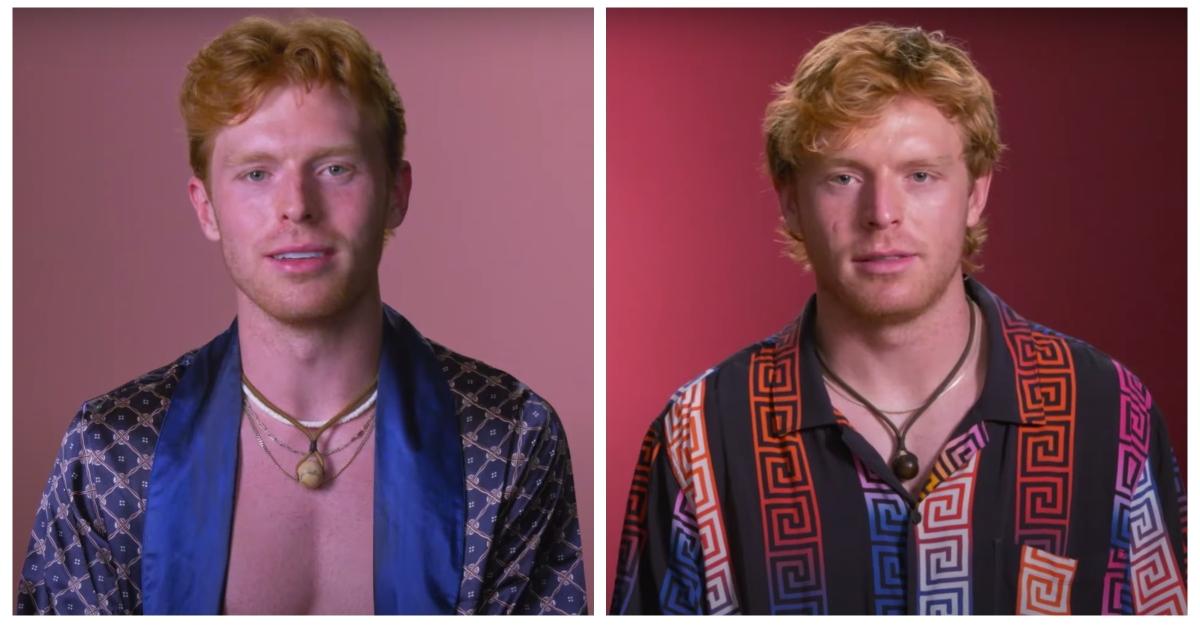 This 'Twin Love' necklace is hard to miss.
Beyond the fact that these necklaces are rather unwieldy, it's easy to pick up on an aesthetic choice in a show built around twins. Hosted by Nikki and Brie Garcia, formerly known as the Bella Twins, this dating show dares to find out how identical are identical twins. Ten sets of genetic doppelgängers are split between two houses in order to figure if these indistinguishable siblings are attracted to the same kind of person.
Article continues below advertisement
Because we're dealing with identical twins, it's easy to find one's self searching their faces for any differences. Some twins choose to look as similar as possible, right on down to their clothing. Others have differing haircuts and gravitate toward contrasting styles. Despite what everyone is wearing, one thing on the show remains constant: the huge bulb hanging around their necks.
What is up with the necklaces on 'Twin Love'?
In order to drill down into this mystery it's important to know that the same people responsible for Twin Love also produce Love Island. Taking a quick peek at that show yields a familiar result. The contestants on Love Island are also wearing necklaces with a single round ball, except theirs aren't quite as camouflaged.
Article continues below advertisement
Over on Twin Love, the necklaces come in different colors and hang a little more naturally, while the Love Island baubles are black and stand out against their bathing suits. In case you haven't guessed, the necklaces aren't weird GPS devices used to keep track of the cast. They are actually microphones, and in all likelihood, the same company is responsible for both.
Article continues below advertisement
Productions Headroom is a Canadian "highly specialized sound company with over 20 years of experience," which offers a "personalized service for the rental, planning, installation and recording of all types of projects: series, television, commercials, movies, to name a few," per its website, which also states that its microphones were used on Love Island. This company designed what they call the Point Source Audio microphone which is intentionally meant to look like a necklace.
Article continues below advertisement
Jean-Sébastien Roy, founder of Productions Headroom, addressed an ongoing issue of microphone breakage. Because reality television shows are constantly filming, mics were heavily manipulated and as such were in constant need of repair. The cost started to add up. "I was using Point Source Audio waterproof mics a couple of years ago for another TV show so decided to reach out," he said. Together they created this necklace microphone.
"People who've used them have said they are perfect and sound great," Roy said. "Everybody has been super-happy with these mics." He's not wrong. They are mildly distracting for a moment but not nearly as bad as an errant boom mic wandering into a shot. We sure have come a long way since those days!