Tyron Woodley Just Got a Whole Lot Richer Thanks to Jake Paul
Learn about Tyron Woodley's net worth and how much richer the former UFC welterweight champion is thanks to YouTuber turned boxer Jake Paul.
Both Jake Paul and Tyron Woodley will add to their already-sizable net worths with their highly anticipated boxing match on, Sunday, Aug. 29, at the Rocket Mortgage FieldHouse in Cleveland, Ohio.
Jake, who rose to fame as a YouTube star before starting a boxing career, has already defeated YouTuber AnEsonGib, NBA alum Nate Robinson, and ex-MMA star Ben Askren.
But the 24-year-old will face stiff competition with Tyron, a former UFC champ known as The Chosen One.
Article continues below advertisement
"This is the first real person with knockout power who can box that I'm going up against," Jake said in an Instagram video. "This is the ultimate chance. This is the make-or-break fight."
And Tyron is certainly confident about his chances. "I'm gonna be faster. I'm going to be stronger, I'm gonna be more accurate," the 39-year-old said in the clip. "I'm the alpha man, I'm the lion in the jungle. Anything I wanna do, I'm gonna do."
What is Tyron Woodley's net worth?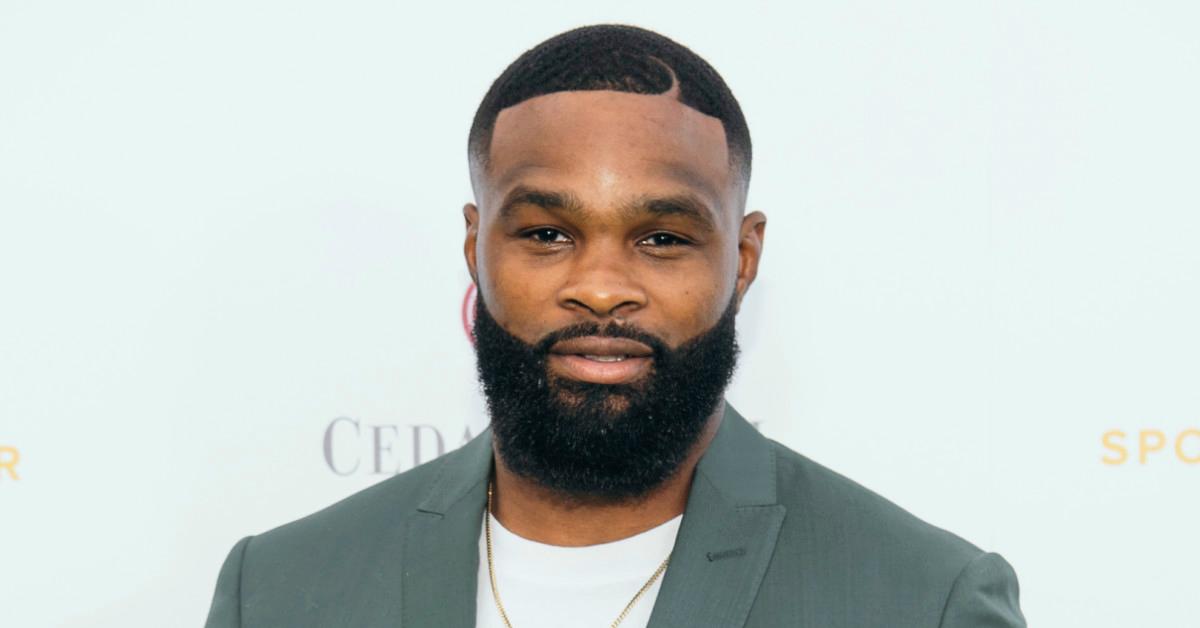 Article continues below advertisement
Tyron has been a professional fighter since 2009, competing for Strikeforce before making his UFC debut in 2013. "I started training after I graduated college," he revealed in a UFC Q&A, adding that he previously worked as a college wrestling coach. "I started watching some of the wrestlers that were doing well in the sport and I thought my wrestling translated well, so I wanted to get in there and give it a try."
The Missouri native became UFC's welterweight champion at UFC 201 in 2016 after defeating Robbie Lawler, and he held on to that title until 2019, fending off challengers Stephen "Wonderboy" Thompson, Demian Maia, and Darren Till.
Tyron is also an actor, having appeared in the films Straight Outta Compton, Kickboxer: Vengeance, and Escape Plan 2: Hades, and the TV shows The Night Shift and Hawaii Five-0. And he did stunts for the films Olympus Has Fallen and Straight Outta Compton.
Article continues below advertisement
How much will Tyron earn for fighting Jake Paul?
The Evening Standard reports Tyron will earn at least $500,000 for during it out with Paul, while the YouTube star is reportedly guaranteed a payday of at least $1 million.
"Woodley certainly offers Paul's sternest test in the ring to date and is unquestionably a better striker than Askren, boasting proper power in that right hand when he lands it," says the Standard's George Flood. "But he's still not a boxer or puncher by trade and, despite his vastly superior fighting resume, will enter Sunday's contest as the underdog against a bigger opponent 15 years his junior who undeniably packs a punch and has looked impressive so far despite the calibre of his opponents."