15 Underrated Celebrity Twitter Accounts You Should Follow Right Now
These aren't the Chrissy Teigens or the Ryan Reynolds. These are the actors, musicians, and other celebs who don't have as big a following but are still super funny and poignant on Twitter.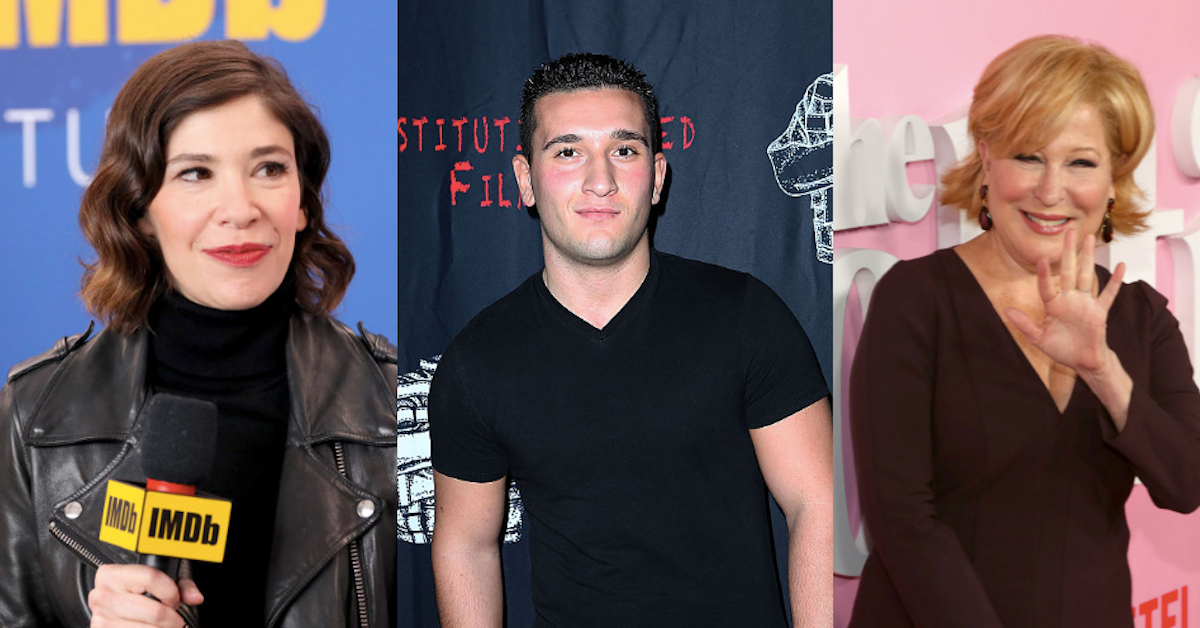 There are the Chrissy Teigens of the world, the Ryan Reynoldses, the Neil Patrick Harrises. Those celebrities, in addition to being known for their careers, have made names for themselves in the internet Wild West that is Twitter. But some, while they may be at least sort of famous is real life, haven't quite gotten the Twitter clout of their peers. That doesn't mean they don't deserve it, though. These are the celebs on Twitter who aren't often celebrated for their hilarious, poignant, and otherwise clever musings on life but definitely should be.
Article continues below advertisement
Diedrich Bader
Known for his roles on The Drew Carey Show, Veep, and Better Things, actor Diedrich Bader is just delightful on Twitter. He's clearly got good relationship advice, he brings the jokes, and he seems like a genuinely nice person that I would like to be friends with.
Carrie Brownstein
Carrie Brownstein is a legit rock star when she's playing with Sleater-Kinney, but she's also proven her comedy chops on Portlandia with Fred Armisen. And yeah, she's hilarious on Twitter. Her tweets are full of quirky observations that are super specific and super universal at the same time.
Article continues below advertisement
Dolly Parton
There is possibly no celebrity as beloved as Dolly Parton, but she doesn't get as much credit as she should for being absolutely brilliant on Twitter. She recently started her own meme. That's a big deal! She's consistently funny, shares incredible photos from her past, and will be like a ray of sunshine on your timeline.
Article continues below advertisement
Ken Jennings
The Jeopardy! champion — in fact, the official GOAT — might have a second career as a one-liner comedian. Seriously, he's so funny it's annoying. You can't be that good at trivia and at jokes. You should have to pick one.
Article continues below advertisement
Kyle MacLachlan
Kyle MacLachlan is like if your dad joined Twitter, participated in every single meme he saw, reveled in all his past dad jokes, and was generally very silly. He's just a bundle of joy, and he appreciates his fans like none other. Kyle is constantly retweeting fan art and sharing in the excitement people have for his roles in everything from Twin Peaks to Portlandia.
Article continues below advertisement
Cole Sprouse
Cole Sprouse has come a long way since he played Ben on Friends. Now he plays Jughead on Riverdale and has once of the most entertaining Twitter accounts out there. He's not just a pretty face! He's smart and sarcastic and knows how to rile up his fans. I'm kind of mad that I like him as much as I do. I don't know why.
Article continues below advertisement
Bette Midler
I'm going to print out this tweet by Bette Midler, hang it above my bed, and pray to it every night before bed. I mean, come on. And she's definitely not a one-hit wonder. She's a legend of stage and screen and Twitter, and you should stop sleeping on her account because it provides endless guffaws.
Article continues below advertisement
Zoe Kazan
If there's one actor that I genuinely think I could be really good friends with, it's Zoe Kazan. She's smart and thoughtful and nerdy in all the best ways, and her Twitter account is great. She's extremely eloquent and able to articulate her feelings on tough ideas really well. Plus, she's married to Paul Dano, and I love when she talks about "Paul" on her timeline.
Article continues below advertisement
Carl Reiner
Carl Reiner is one of the most hilarious comedians of all time. He's also 97 years old (literally), and when he's not eating spaghetti and "meal balls" with his old pal Mel Brooks, he's tweeting incredible nonsense. He's a vocal Trump critic and he's got that grandpa, all-caps, typo-ridden writing style that's so much more endearing than it sounds. You are definitely missing out if you're not following him.
Article continues below advertisement
Hozier
I know I didn't expect Hozier, the one-named man behind "Take Me to Church," to have such a funny, goofy Twitter presence, but that just goes to show that people can surprise you. He's got such a good sense of humor about himself, so it's official. Hozier joins the ranks of famous musicians like James Blunt and Diplo who are known for their Twitter skills.
Article continues below advertisement
Wendy Molyneux
OK, she's not exactly a "celebrity," but this Bob's Burgers writer is one of my favorite people on Twitter, period. Her jokes are absurd and incredible, and you can totally tell how her sense of humor makes its way into the show. Do yourself a favor and follow Wendy Molyneux now.
Article continues below advertisement
Loren Bouchard
Speaking of Bob's Burgers, you should also follow the show's creator, Loren Bouchard. Especially if you're a Bob's fan (which, why wouldn't you be? It's literally the best). Not only does he tweet out funny and relatable jokes, but he also tweets out a ton of Bob's Burger thoughts, answers fan questions, and retweets fan art.
Article continues below advertisement
Carla Lalli Music
Carla is my favorite member of the Bon Appetit test kitchen, and her Twitter account lives up to the hype. She tweets her thoughts on everything from cooked grapes (don't do it) to plane snacks (pack your own) to other things that don't have anything to do with food. So head to Twitter and join the Carla Music hive today.
Article continues below advertisement
Joey Sasso
Yeah buddy!! The breakout start of Netflix's The Circle is Uncle Joey Sasso, and you simply have to follow him on Twitter. The Italian dude who loves his mom, loyalty, and (apparently) his toothbrush, is just as full of personality and love on Twitter as he was on the show. I swear, you can hear his tweets in his voice.
Article continues below advertisement
J. Smith-Cameron
You might recognize J. Smith-Cameron as Gerri on Succession, but she's also so fun to follow on Twitter. She's a true fan of acting and is always tweeting about her new favorite show or movie or play. She's super interactive, super appreciative of the attention Succession gets, and just seems like a wonderful, positive person.