Velma Dinkley Is a Confirmed Lesbian in the Latest 'Scooby-Doo' Animated Flick
Velma Dinkley is now a canon lesbian in the all new 'Scooby-Doo' animated film. The character's sexuality has been questioned for several years.
Jinkies! After years of speculation and pointed efforts to illustrate her sexuality, Velma Dinkley was recently confirmed to be lesbian in the latest animated Scooby-Doo film. The character has been around since 1969 as part of the Mystery Inc. gang in Scooby-Doo! As the brainiest member of Mystery Inc., she's an invaluable part of the team as she helps unmask nefarious old-timers in ghoulish costumes.
Article continues below advertisement
Fans have long coded her as lesbian based on her outward presentations and mannerisms. But the latest home animated film made it official. Velma is an out and proud lesbian who's crushing super hard on a female character in Trick or Treat Scooby-Doo!
Surprisingly enough, this isn't even the first time that the series has tried to bring her sexuality into the canon. Let's break down her latest appearance and what this means for Velma as a lesbian.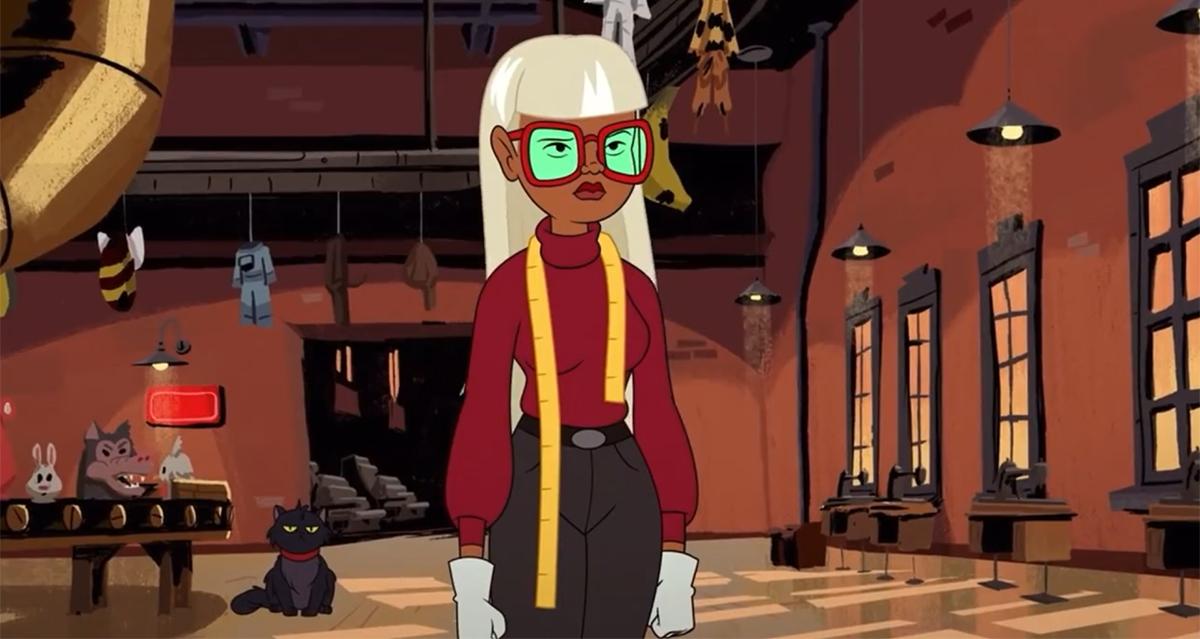 Article continues below advertisement
Velma is now lesbian within the canon of 'Scooby-Doo' lore.
Velma had her latest appearance alongside the rest of the Scooby gang in Trick or Treat Scooby-Doo! The new animated film follows the gang as they are stalked and haunted by a creepy collection of their classic foes. It's going to take everything they've got to unmask the true perpetrator and solve this latest mystery.
At the beginning of the film, Velma (Kate Micucci) and the gang send antagonistic costumer designer Coco Diablo (Myrna Velasco) to prison.
But not before Velma openly fawns over her. She immediately takes note of her "incredible glasses," "amazing turtleneck," brilliant mind, and love for animals. With all of this taken into account, Velma's glasses literally steam up as she crushes hard on Coco as she's taken away.
Fans on YouTube and Twitter have uploaded other scenes from the movie that depict Velma's feelings only intensifying over time. Daphne (Grey Griffin) even confronts Velma on these feelings, getting her to openly admit her crush.
Article continues below advertisement
Scooby fans everywhere are celebrating Velma's unfettered and uncloseted crush.
"I love the animation," one person tweeted. "But not as much as I love Velma being who she truly is!!! Unapologetically lesbian. Perfection."
Though she's proudly gay in Trick or Treat, this is far from the first time that her sexuality has been called into question in the official canon. Velma was previously depicted to be out and gay in the 2010 animated series Scooby-Doo! Mystery Incorporated.
Article continues below advertisement
According to a 2020 report by Out, showrunner Tony Cervone stated on Instagram that Velma was intended to be gay in his series, though it was canceled before she could explore it.
Director James Gunn even wanted to have Velma express her queerness in the live-action films.
James tweeted in 2020 (per Variety): "In 2001, Velma was explicitly gay in my initial script. But the studio just kept watering it down and watering it down, becoming ambiguous, then nothing, and finally having a boyfriend [in the sequel]."
The LGBTQ community has claimed Velma as lesbian for several years, but Trick or Treat Scooby-Doo! has finally let Velma come out!