All the Spellbinding Easter Eggs You Missed in the Long-Awaited 'Hocus Pocus 2'
After 29 years, 'Hocus Pocus 2' has finally graced our screens! The sequel includes several Easter eggs referencing the original. Here are the best.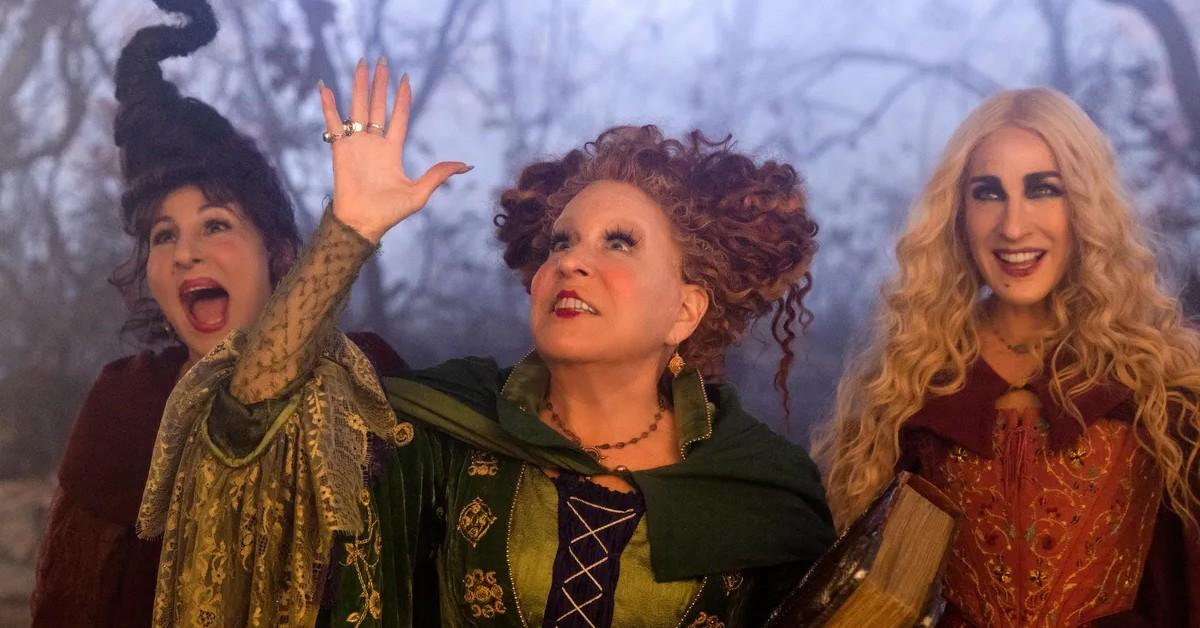 Have you been waiting 29 years to conjure up some campy, spellbinding fun? We certainly have. Cue the tune of Elton John's "The B--ch Is Back," because the Sanderson Sisters have returned to gift us with another bewitching adventure. Almost three decades after the arrival of Kenny Ortega's poorly received film Hocus Pocus — which is considered a joyous holiday cult classic by today's standards — Anne Fletcher's Disney Plus sequel, Hocus Pocus 2, premiered on Sept. 30, 2022.
Article continues below advertisement
"It's been 29 years since someone lit the Black Flame Candle and resurrected the 17th-century sisters, and they are looking for revenge. Now it is up to three high-school students to stop the ravenous witches from wreaking a new kind of havoc on Salem before dawn on All Hallow's Eve," the official synopsis of Hocus Pocus 2 reads. When witchy teen virgins Becca (Whitney Peak) and Izzy (Belissa Escobedo) light said homemade Black Flame Candle on Halloween night, Winifred (Bette Midler), Mary (Kathy Najimy), and Sarah Sanderson (Sarah Jessica Parker) make their haunting presence known — via song, obviously.
Despite its mediocre Rotten Tomatoes score of 60 percent (which is worlds better than its predecessor's score of 38 percent), superfans welcomed the second coming with open arms, basking in the joy of the nostalgia, the kitschy costumes, the familiar cast, and of course, the handful of references to the original. In case you missed them, we're here to break down all of the '90s-esque Easter eggs included in Hocus Pocus 2.
Article continues below advertisement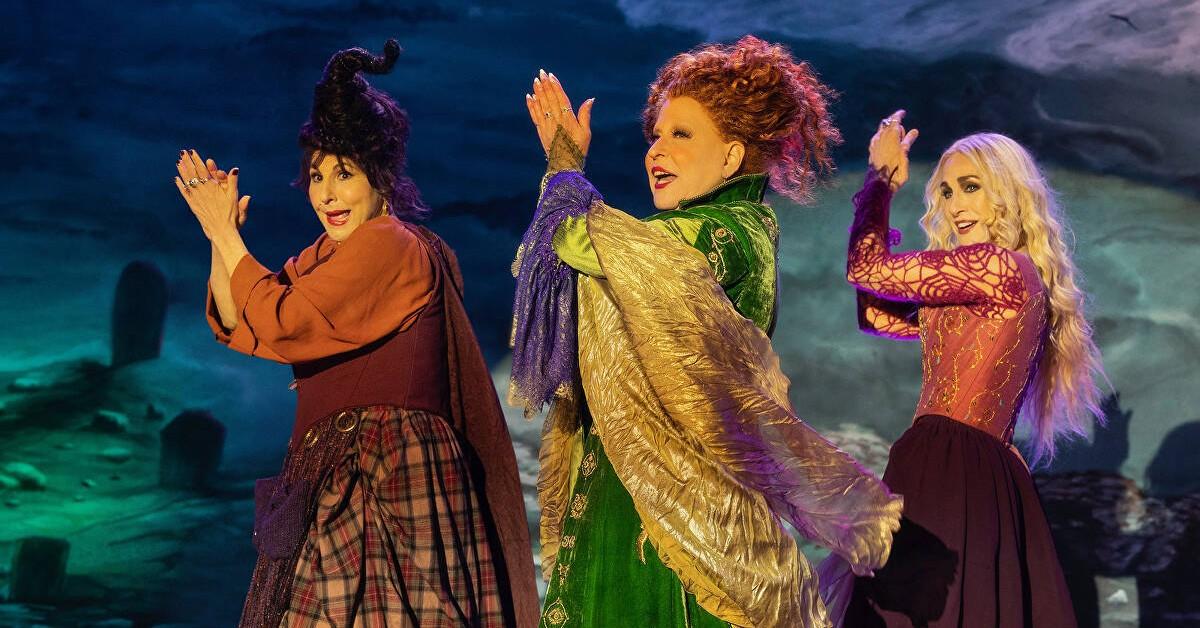 The "Come Little Children" song was cooed once again.
In the original Hocus Pocus, the adorable yet ditzy Sarah sings a song to put the children of Salem in a trance-like state, all as a ploy to eat their souls.
"Come, little children / I'll take thee away / Into a land of enchantment / Come, little children / The time's come to play / Here in my garden of magic," the lyrics read.
In Hocus Pocus 2, we learn in the Sanderson Sisters' 1600s origin story scene that Sarah adopted the song from Hannah Waddingham's intimidating Mother Witch. She's the one who gave the girls the anthropomorphic Manual of Witchcraft and Alchemy in the first place.
Article continues below advertisement
Calming circles, anyone?
"Since this promises to be a most dire and stressful evening, I suggest we form a calming circle," Mary suggests in the original film upon Winifred losing her temper.
Adorably, during Hocus Pocus 2's origin story flashback, little Mary — played by Nina Kitchen — suggests that the girls form a calming circle after they escaped the wrath of Reverend Traske (Tony Hale) and fled to the woods. Together, while walking in a circle, the girls think soothing thoughts, including those of fresh mud and the Reverend's scream after seeing a spider. Ah, what angels.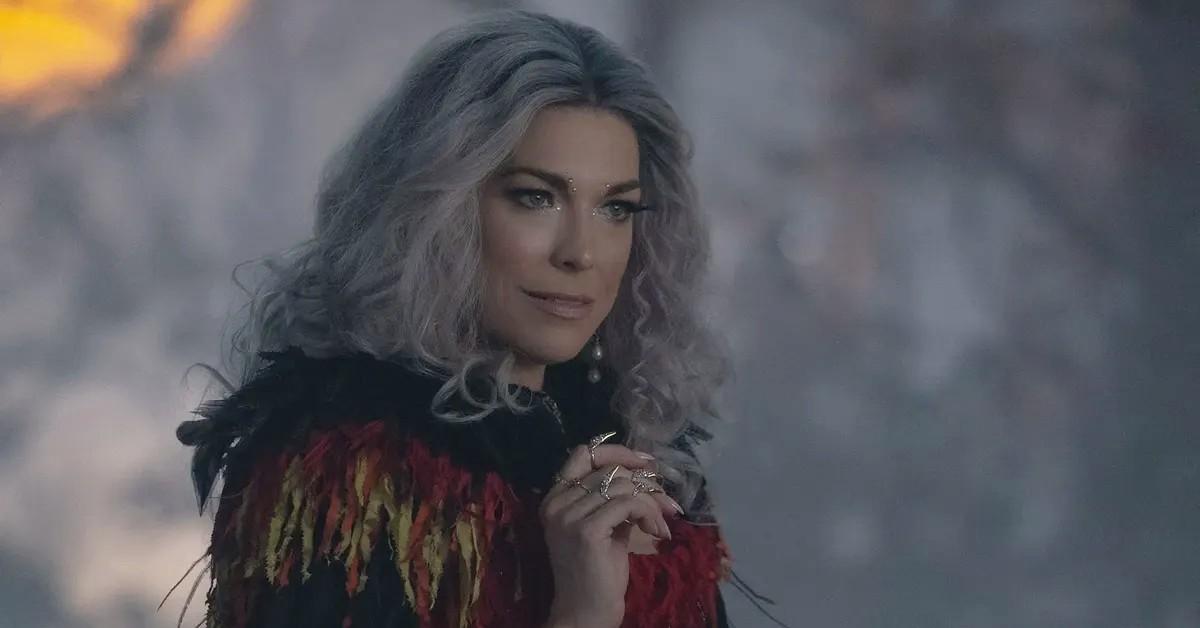 Article continues below advertisement
Salt continues to deflect the powers of dark magic.
In the original 1993 film, Allison (Vinessa Shaw) sprinkles salt around herself as protection against the sadistic Sanderson Sisters. "It says to form a circle of salt to protect from zombies, witches, and old boyfriends," Allison tells Max (Omri Katz) in Hocus Pocus.
In Hocus Pocus 2, the girls attempt the same method, even trapping the witches in a circle of salt at one point, stripping them of their powers.
"Seeing that you're basically dark magic in human form, you're trapped," Becca explains.
Household cleaning tools once again serve as flying devices.
One of the silliest moments of Hocus Pocus (though there are many) occurs when the Sanderson sisters are forced to soar through the air on regular ol' cleaning instruments. Truthfully, this makes them a bit less intimidating. Winnie finds a broom (which is fitting), Sarah nabs a mop, and Mary is stuck with an old vacuum.
Article continues below advertisement
In Hocus Pocus 2, however, the sisterly enchantresses upgraded. They have no choice but to look for flying devices in a local Walgreens, which is hysterical in and of itself. Once again, Winnie grabs a broom — which is laughably a cheap Halloween decoration — Sarah finds a Swiffer WetJet of all things, and Mary struggles to balance on a couple of robotic Roombas. One for each foot, of course! Oh the campiness of it all.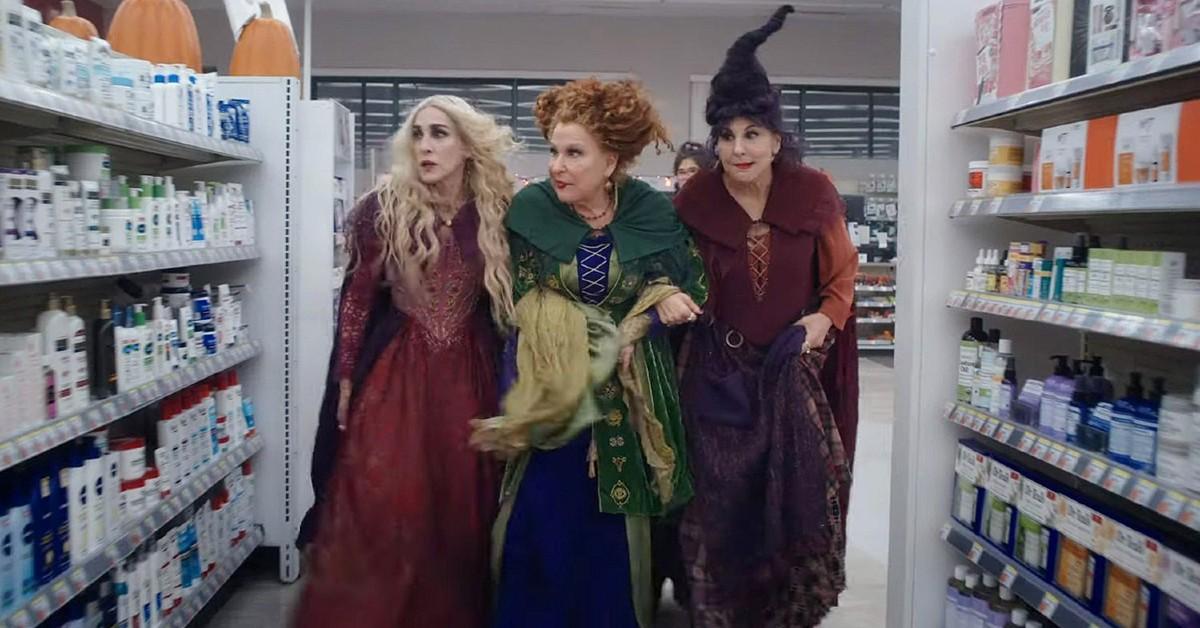 Article continues below advertisement
A memorable scene from 'Hocus Pocus' actually appears in 'Hocus Pocus 2.'
Things get pretty meta about an hour into the sequel, as a beloved Hocus Pocus scene featuring now-late siblings Garry and Penny Marshall — actors and directors known for their work on iconic projects like Laverne and Shirley — appears on a television screen.
While the witches fly around Salem in search of the mayor, Jefry Traske (Tony Hale), hoping to use his blood for the Magicae Maxima spell, Winifred peers through the window of a home. In the house, we see a couple cozying up on the couch with a bowl of popcorn while watching, you guessed it, Hocus Pocus. It's one of those "if you know, you know," scenes.
So, even in the Hocus Pocus universe, the 1993 film is a Halloween staple. Hocus Pocus and chill, anyone?
Article continues below advertisement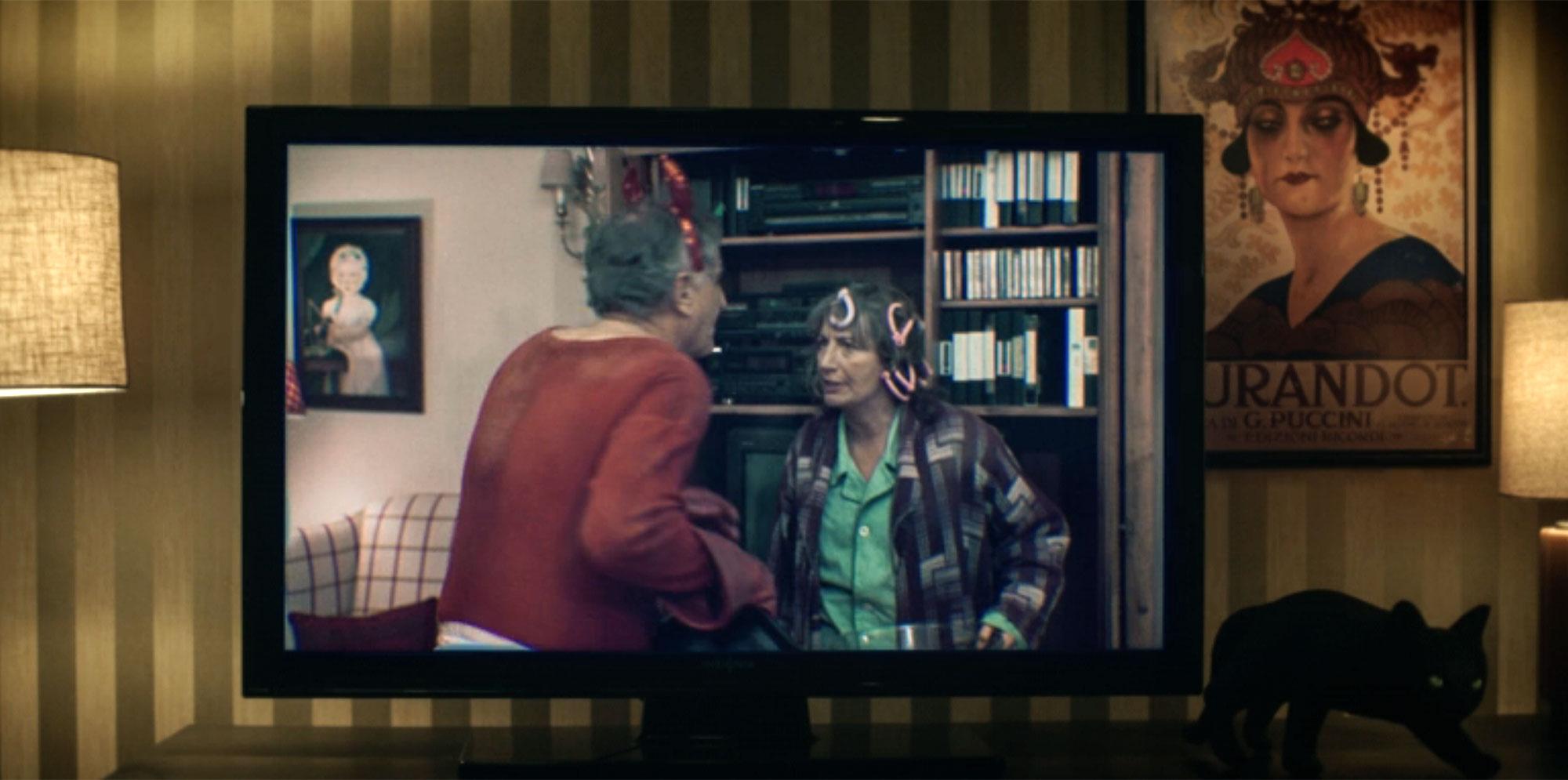 Some awfully familiar Halloween costumes appear during the Sanderson Sisters' musical number.
During Bette Midler's Hocus Pocus 2 rendition of Blondie's "One Way or Another," the sisters cast a spell on the townspeople of Salem, demanding that they lead the way to Mayor Traske. In the midst of the musical number (which calls back to the "ah say ento pi alpha mabi upendi" spell), the camera pans over the dancing zombie-like townspeople, revealing a few familiar Halloween costumes.
Article continues below advertisement
While one person dons a cone-bra Madonna costume, just as Max's mom did in the original Hocus Pocus, a couple can be seen wearing a devil costume and pajamas, once again referencing Garry and Penny Marshall's OG cameo. You might have to rewind the dance mob scene to spot the Easter eggs!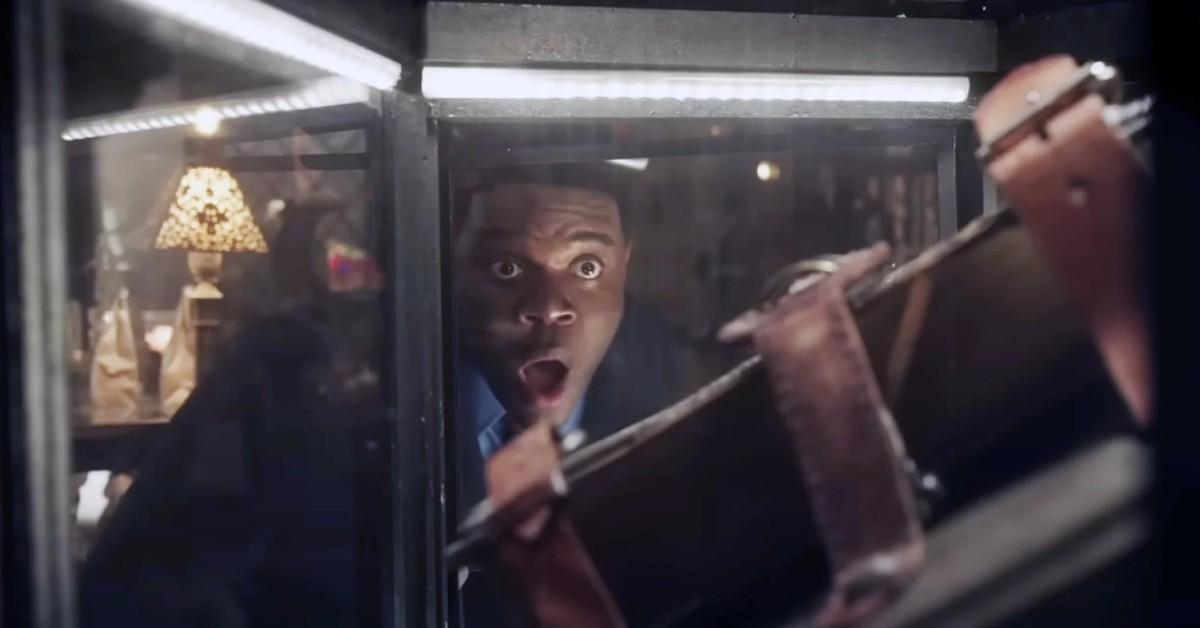 Article continues below advertisement
Gilbert's black cat pays homage to Thackery Binx.
While the adorable Thackery Binx's spirit was set free at the end of Hocus Pocus, he spent most of the film trapped in the body of a black cat. Of course, this was a result of a curse put on him by the Sanderson Sisters.
In Hocus Pocus 2, Olde Salem Magic Shoppe owner and occult nerd Gilbert (Sam Richardson) — who caught a glimpse of the Sanderson Sisters on Halloween night circa 1993 — has a feline of his own. The sweet black cat is named Cobweb. And though the Sanderson Sisters themselves believe Cobweb to be Thackery Binx, he's just a regular ol' kitty.
"The Binx boy, he lives?" Sarah questions. Nope, just Cobweb.
Sarah once again utters the ridiculous words "Amok, Amok, Amok, Amok!"
It's no secret that SJP's Sarah can be kind of, well, simple, and we love her for it.
"All Hallow's Eve has become a night of frolic where children wear costumes and run amok!" an angry Winifred says in a Hocus Pocus scene. A lighthearted Sarah couldn't help but jump up and down and repeat the word "amok" over and over again, only to be hit in the gut by her sister Winnie.
In the sequel, Winnie announces her devious plan to her sisters before saying "And then we run amok in Salem!" We bet you can guess how Sarah responded.