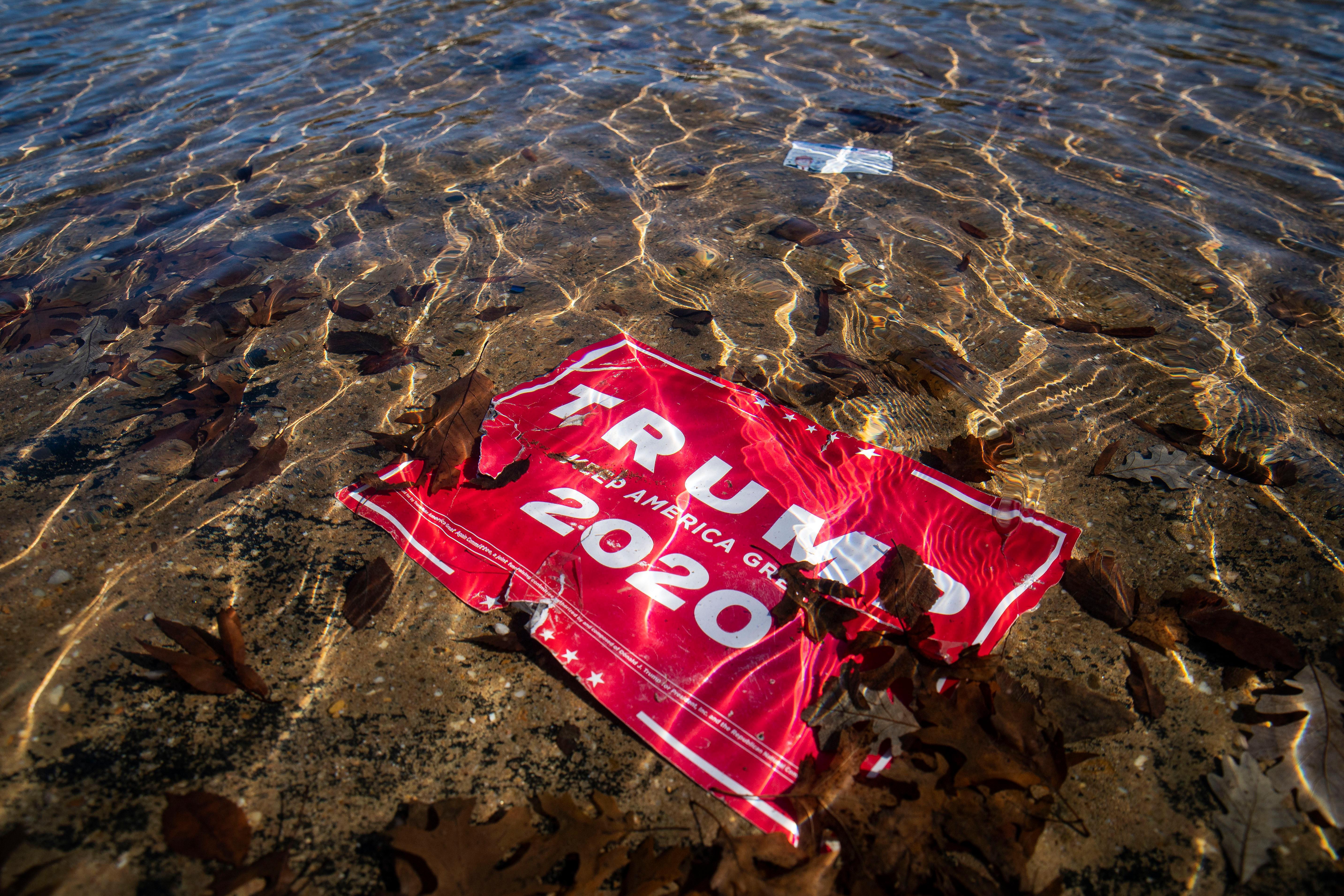 Trump's Only Option Was OnlyFans — Now He Might Not Even Have That
Because President Trump was banned from Twitter, Facebook, and then even more social media platforms, people began joking he was going to start an OnlyFans. Once those jokes made the rounds, more people joked that Trump already made an OnlyFans and was banned from it! In case you aren't familiar, OnlyFans is a platform for people to share content that's typically too raunchy for Instagram, while not always being straight up porn.
Article continues below advertisement
While Trump having his own OnlyFans account adjacent to sex workers, influencers, and porn stars seems ridiculous, it is an effective way to communicate with followers. Since followers pay anything from $5 to $20 to access one creator's content and then the creator can send mass DMs to their followers, this type of information-sharing model doesn't seem too out of character for Trump. And at this point, we're all trying to figure out what social media Trump even has left.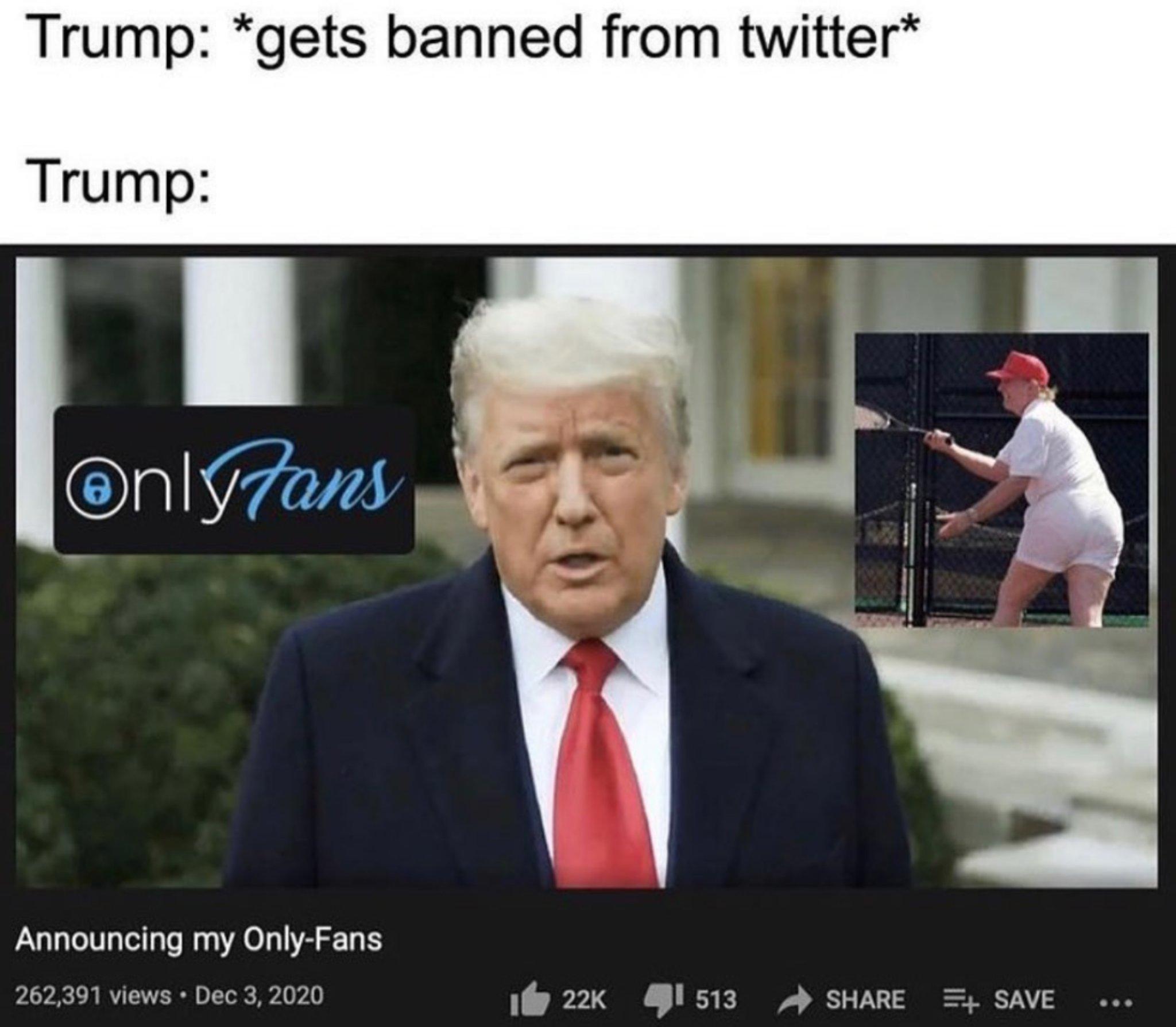 Article continues below advertisement
People are asking if Trump was banned on OnlyFans because of jokes on Twitter.
Trump was banned from Twitter for inciting violence, and pretty quickly, Twitter users started making jokes that Trump would have to make an OnlyFans to communicate with his followers. Freddie Gibbs, a rapper, suggested that Trump would have to create an OnlyFans and post nude photos as a bid for subscribers on the platform.
David Hughes, a writer, tweeted, "Who had Donald Trump as the first president most likely to start an onlyfans?" However, it seems there is some validity to this! It's been hard to find, because if you search Donald Trump on OnlyFans now, the link to what appears to be his account seems to be broken. But, thanks to TikTok, we were able to get a bit of a peek into evidence of Trump's alleged stint on OnlyFans.
Article continues below advertisement
@heyimdeadbye posted a video on TikTok laughing about Trump getting an OnlyFans after being banned on Twitter, but not only that, he claims that Trump had three posts! The story keeps unraveling. On Twitter, tweets transformed from jokes about Trump getting an OnlyFans account to serious questions of if he was already banned from the platform.
Article continues below advertisement
The account on the TikTok was @realdonaldtrump, but now if we check out that OnlyFans page, it says, "The link you followed may be broken, or the page may have been removed." If he really did have an OnlyFans, then it seems that yes, Trump may have been banned on OnlyFans.
However, Truth or Fiction was able to get in touch with a spokesperson for OnlyFans who confirmed that although an account did exist claiming to be Donald Trump, it was not legitimate. At this point, those impersonator accounts have been removed from OnlyFans.
Article continues below advertisement
What social media does Trump even have left?
Trump has now been banned from Twitter, Facebook, Instagram, Snapchat, Shopify, and Twitch. Meanwhile, Reddit has gotten rid of subreddits around him, and Discord banned servers centered on him. Trump does not have a known TikTok or Pinterest account, but both sites are attempting to limit content that include right-wing conspiracy theories tied to him, like #StopTheSteal. Stripe also will no longer be processing payments for Trump's campaign, which has continued to fundraise.
At this point, Trump has very few social media options left. He does still have his YouTube account, which many are calling to be banned as well.
According to Reuters, Trump's supporters encouraged other Twitter users to deactivate their Twitters and migrate to Parler.
Article continues below advertisement
Even though Rush Limbaugh joined in on the mass Twitter exodus, because Parler was a platform that incited Jan. 6's events at the Capitol, Apple, Google, and Amazon banned Parler from their servers, so there is now no easy way to access it. Trump is now left with platforms like Gab and MeWe, which are both primarily considered to have a far-right userbase, but experts believe Trump is more likely to create his own platform so that he would answer to no one, but can still speak to everyone.