These Wedding Shaming Posts Will Make Your Entire Body Cringe
From COVID-19 wedding colors to wedding guests wearing bridal gowns to someone else's wedding, these Wedding Shaming posts will make your whole body cringe.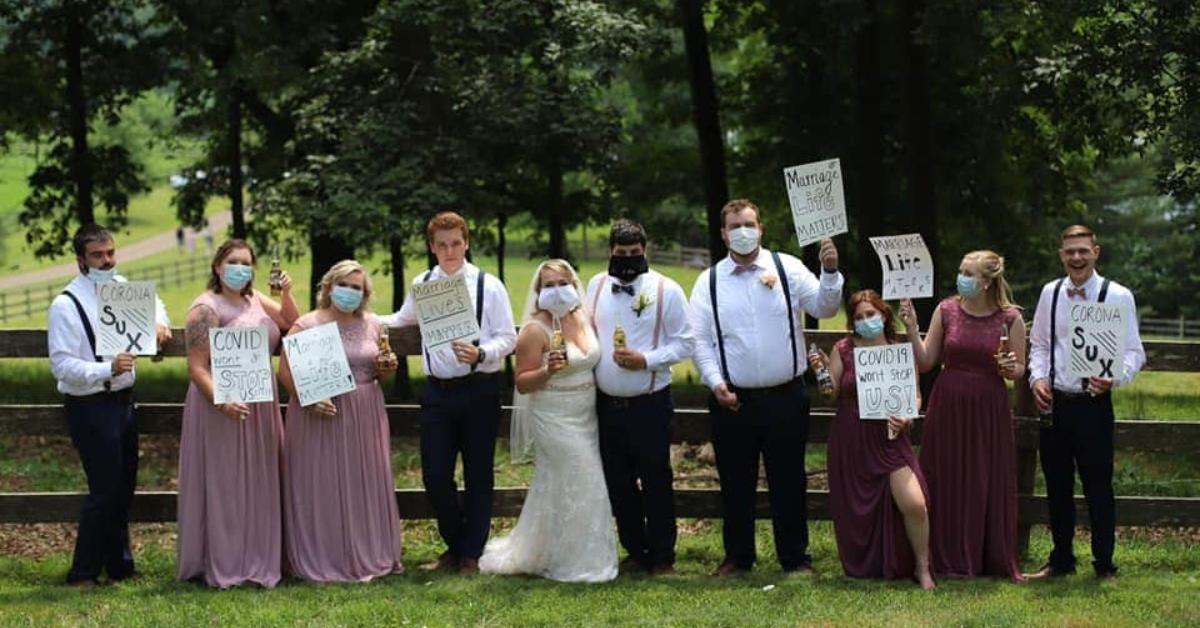 If you ever want to get immediately angry, head to the Wedding Shaming subreddit. I swear, the second you start scrolling, there will be flames on the side of your face. People are absolutely ridiculous. Some posts on Wedding Shaming center on bridezillas or persnickety wedding couples, others on guests who quickly wore out their welcome. But all posts on Wedding Shaming has one thing in common: They are completely infuriating. Here are some of the most egregious we could find.
Article continues below advertisement
My mouth is hanging wide open, but you probably can't see it behind the mask I've been wearing every single time I step outside. Not only did this couple not cancel their wedding, but they're making people pay $100 to get in for insurance purposes in case anyone gets sick at the wedding! And on top of that, guests have to wear something in the "Corona color palette," which is just...a picture of a virus. Just incredible.
It seems responsible to limit your wedding guest list because of the virus, and the first half of this card seemed reasonable! But you simply cannot expect people who can no longer come to your wedding to still give you money. Chances are they lost out on travel and clothing expenses already!
Article continues below advertisement
This woman looks lovely! Why is this picture in the wedding shaming group? Well, because she isn't the bride, that's why! You can't wear a white gown to someone else's wedding! You just can't!
You cannot set a gift limit! I don't understand this. People have to pay a lot just to be a guest at a wedding between travel and hotels and outfits and gifts. This $250 gift minimum on top of all that is absurd!
Article continues below advertisement
This tweet made me walk around in a circle from pure confused rage. Just say that you met through a mutual friend! Don't get specific! Leave the ex you cheated on out of it completely! People are wild.
I can't stop watching this video. She mentioned in her vows the fact that he had faults, as every human being does, and his mother flipped out on her. Clearly, there was a lot of underlying rage there between them. I would not want to marry into that clearly very hostile situation.
Article continues below advertisement
If I attended a wedding where goldfish were dying around me all night, I would absolutely think it was an omen and I would want to get out of there as quickly as possible. That just seems like a total nightmare.
This. Is. Insane. I mean, I get that brides sometimes want their bridesmaids to match, which is fine, but making women dye their hair is extreme. Because it's not just a dress you can take off at the end of the day! Plus, it's probably expensive if you want it to look good!
Article continues below advertisement
I don't... I'm having a hard time computing. This wedding guest not only assumed she could bring her cats to the wedding (which, obviously no!!!!) but then also wanted to make sure the flowers the bride was using for her centerpieces weren't going to irritate her cats' allergies. I just have no words.
In case it's not clear, this couple ordered an UBER POOL to go to their OWN WEDDING and then got mad when someone else got into the UBER POOL that they ordered. You think you've seen it all, and then this.
Article continues below advertisement
Oh yeah, let's definitely hold up signs about how COVID-19 sucks and "Marriage Life Matters" (which, no!!!!!) while temporarily wearing masks and not social distancing at all at this 200-person wedding. Totally great! Wonderful. Everything about this is perfect.
You know what?! You don't have to come to Emma's wedding. In fact, why don't you just stop contacting Emma altogether? She doesn't deserve you in her life at all after a message like that. She deserves so much more.
Ahhhhhhhhhhhhhhhhhhhhhhhhhhhhhhhhhhhhhhhhhhhhhhhhhhhh.
And that's what I have to say about that.