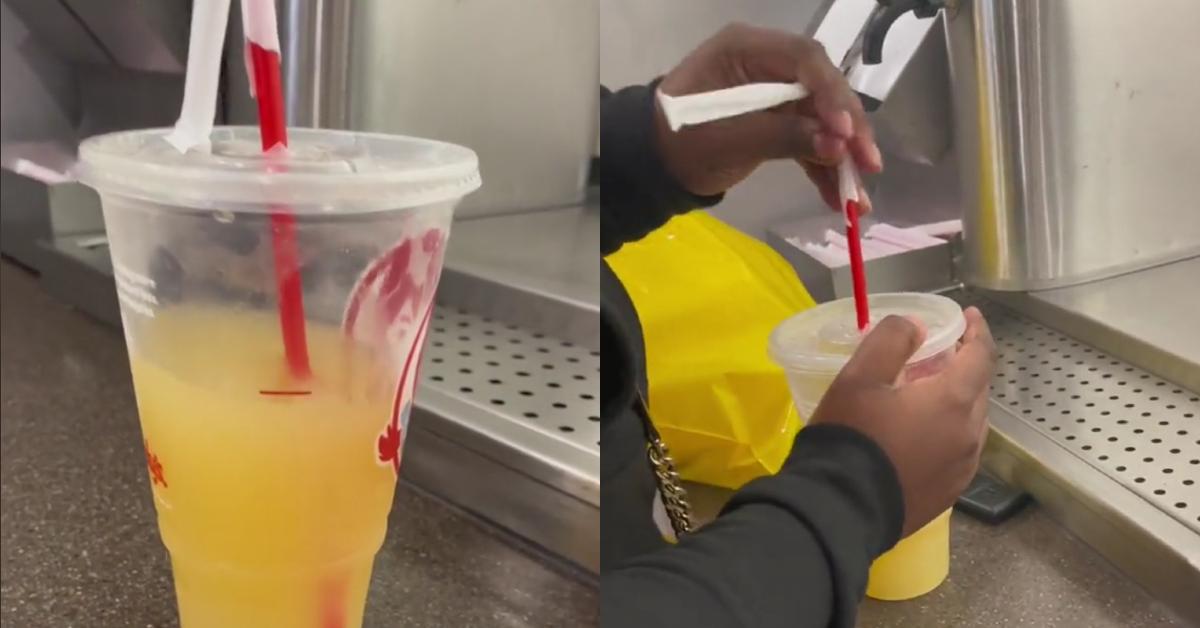 "Stingy" Wendy's Employee Only Fills Cup Halfway After Customer Asks for No Ice
A Wendy's employee is getting slammed on TikTok for being stingy with the franchise's lemonade on a "no ice" order request.
Fast food chain prices keep going up, and they're only expected to increase even further, according to the USDA.
For many, the whole point of fast food is that one is willing to forego a gourmet, "quality" food experience so they can get some quick and cheap grub that satisfies a particular craving.
Article continues below advertisement
So if you're spending more money on grub at these locations than ever before, you're probably going to want to ensure that you're getting the most bang for your buck. This is probably why so many folks are wigging out over this TikToker's post about the amount of lemonade they received during a recent trip they made to Wendy's.
Article continues below advertisement
"Look what Wendy's did when my friend asked for lemonade & no ice," Kay wrote in a text overlay of the viral clip.
In the video, a woman can be seen sticking a straw inside a plastic Wendy's beverage cup that is only filled about halfway.
Article continues below advertisement
The "no ice" request is a common one made by folks purchasing fountain drinks at fast food locations as it results in them getting more beverages for their buck.
No one wants to finish drinking their drink knowing that they could've gotten a few more gulps otherwise, or, having their beverage all watered down by ice, either.
Article continues below advertisement

Article continues below advertisement
However, employees of the popular coffee chain have clapped back stating that they're specifically instructed to give a certain measured amount of a drink to a customer — no more, no less.
These measured amounts take into consideration the amount of milk that's supposed to be used for each beverage, along with other accouterments like syrups, powders, and other fixings.
Article continues below advertisement

It's no secret, however, that items with some of the highest profit margins at restaurants at drinks. Mashed reports that businesses can earn up to a 90% profit margin on beverages that they serve customers.
Article continues below advertisement
It's easy to understand why and it's all down to the packets of flavored syrup utilized in fountain machines. A 50-gallon packet of Coca-Cola, for example, can yield a whopping 50 gallons of soda.
Article continues below advertisement

A large fountain drink at a fast food establishment is about 32 ounces. So, divide that up into 50 gallons, and you're looking at a $200 gross profit for each 5-gallon tub of syrup if the establishment sells its larges for $1. Wendy's, as of this writing, charges $2.69 per large soft drink: so their gross is around $538 (if everyone orders large drinks).
Article continues below advertisement
Prices of these syrup packets vary, and it's safe to assume that businesses like Wendy's and other fast food establishments get wholesale deals or one through the franchise itself, so their gross profits from beverages
Have you ever had a fast food employee shortchange you on the amount of drink you received in your beverage upon ordering it with no ice?