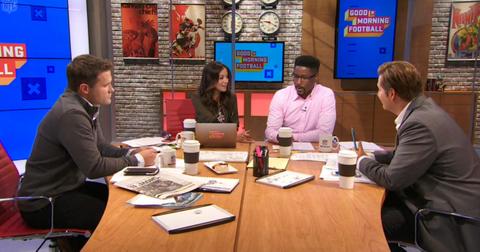 Don't Worry, 'Good Morning Football' Fans — the Show Is Returning!
By Gabrielle Bernardini

Updated
If you love hearing the latest news in sports, then you're probably a fan of the popular talk show Good Morning Football. The energetic team of hosts includes Kay Adams, Kyle Brandt, Nate Burleson, Peter Schrager, and also typically features celebrity guests or sports analysts.
Article continues below advertisement
Their fresh take on presenting the news has made Good Morning Football one of the top NFL programs at the moment. So, fans were confused when they noticed that new episodes were not airing during its typical 7 a.m. weekday timeslot.
What happened to 'Good Morning Football'?
As several productions have been shut down due to the current coronavirus pandemic (also known as COVID-19), fans started questioning why the sports show was off the air, especially after news broke that Kansas City Chiefs quarterback Patrick Mahomes just signed the biggest deal in NFL sports history.
Article continues below advertisement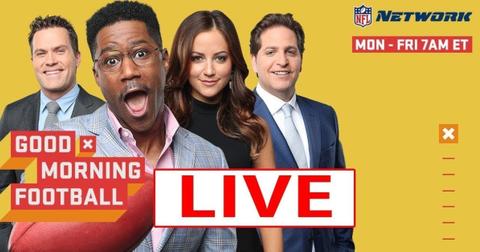 "Where are you guys??? I can live with a pandemic but not without KB and GMFB..." one fan tweeted. Adding, "Not to be dramatic; man crush and all jokes aside, you are a source of light in my life during a difficult time personally so thank you for what you do."
Article continues below advertisement
Another person posted, "Was @gmfb cancelled? I haven't seen it on tv in a while! #GoodMorningFootball."
But don't worry, GMFB has not been canceled! The team is just on a short break before the NFL seasons begins. On July 7, Kyle posted: "Brief summer break, dude. Fear not. We'll be back on Monday."
And, we're sure the foursome has a lot to talk about... aka Mahomes' new 10-year contract.
Article continues below advertisement
Patrick Mahomes signs $500 million deal with a few stipulations...
The reigning Super Bowl MVP locked in a contract that just so happened to be the sports deal of the decade. According to the Associated Press, the football star just signed a 10-year deal worth up to $503 million. However, for the 24-year-old, this deal was about more than just making a large sum of money; he's hoping to build a dynasty in Kansas City à la former New England Patriots quarterback Tom Brady.
"That's how I've always been built — to follow my passions and do things to the best of my ability," he said during a Zoom call with AP. "It's never been about money for me. I'm glad we have this done and I can go out and be the same player that I was and the same person that I was."
Article continues below advertisement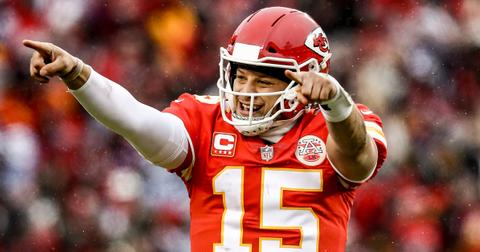 However, with the AFC organization investing a lot of money into their franchise quarterback, the team expects results from their star player, and have stipulated what he can and can't do moving forward. "I still don't think I'm allowed to play basketball," he revealed on 610 Sports Radio.
Mahomes continued, "I'm sure baseball is not going to be allowed as well. I know there's a lot of them. They have like everything from jet skiing to, I don't know what all the things are. I read a lot of them. It's pretty much every physical activity you could possibly do."
Adding, "I'll probably be sticking with football and video games for now."