A TikTok Prankster Broke Into a Stranger's Home as a Joke Which Is Definitely Not Comedy
A TikTok prankster who goes by the name of Mizzy walked into a stranger's home all while filming the experience. The response was not good.
The concept of pranking people is certainly not new. Take April Fools' Day for example. Its origins can be traced back to 1582 when France made the switch from the Julian calendar to the Gregorian calendar, per History.com. On the old calendar, the new year was celebrated the last week of March, but it was moved to Jan. 1 with the Gregorian calendar. Folks who didn't get the memo in time were referred to as April Fools because they were partying on the wrong day.
Article continues below advertisement
Nowadays, pranks have become a touch more cruel and are immortalized in shows like Candid Camera and Punk'd. The Impractical Jokers crew have made a living via their shenanigans, but their bits are still relatively pain-free. The rise of social media has birthed a new generation of pranksters that are barely using comedy anymore. One TikToker by the name of Mizzy has definitely taken things too far. What happened to Mizzy? It's not good.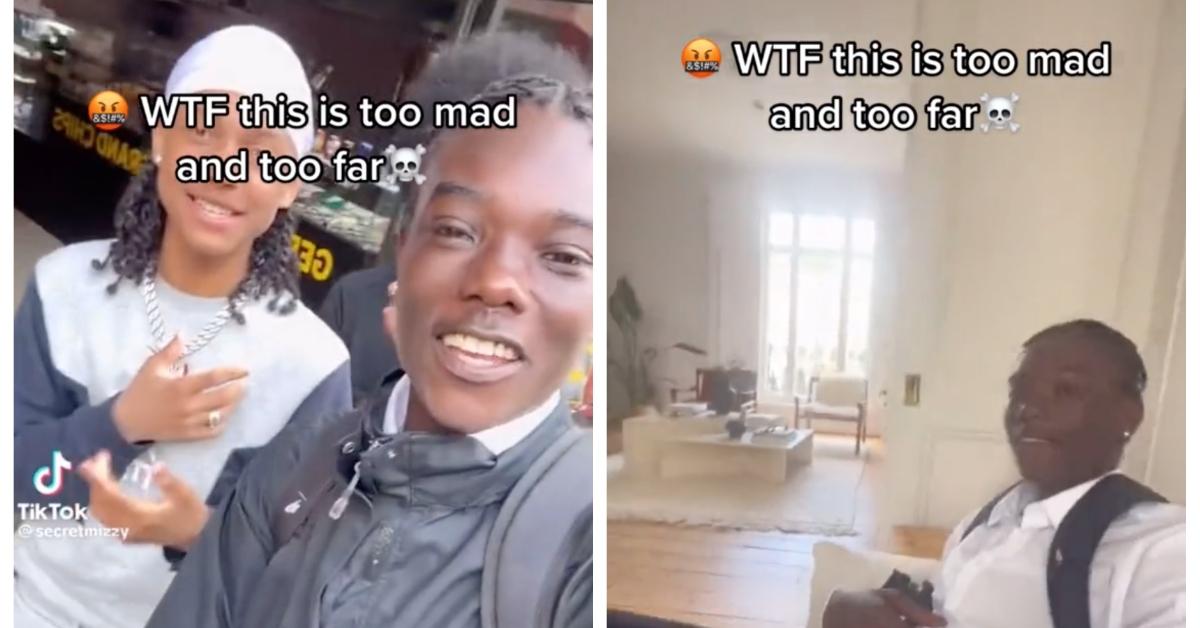 Article continues below advertisement
What happened to TikTok prankster Mizzy when one of his pranks went too far?
Let's not mince words here. Mizzy, whose real name is Bacari Ogarro, is not a comedian and he is certainly not a fun little jokester. What Mizzy does is abusive and, on occasion, pretty illegal. The self-proclaimed prankster has a history of being more terrifying than hilarious, as noted by a TikTok he made wherein he walks right into the home of a stranger.
As of this writing, all of Mizzy's social media networks have been shut down, but a TikToker snagged the home invasion video and reshared it. "Walking into random houses," reads the caption over video of a smiling Mizzy. He then approaches a home whose door is partially open. A woman is doing yard work out front.
Article continues below advertisement
She can be heard asking, "What are you doing?" while Mizzy walks right in. Behind him, two friends follow. The woman then calls for James, who we assume is her husband, and asks that he come to the front door. Mizzy also calls out for James in a manner that seems like taunting. As James ascends the stairs from a lower floor, a child next to him says "Daddy."
Article continues below advertisement
Mizzy asks if this is where the study group is. "No, no," replies James, who looks equal parts confused and a bit frightened. Mizzy turns and makes his way further into the house, briefly sitting on the couple's couch as if to say, look what I can do. Mizzy continues to pretend he is looking for a study group but it's clear no one is buying it. "We've got kids, man," says James as he gestures for Mizzy and his friends to leave. They do without issue, but that's not the point.
Mizzy has a history of deeply upsetting prank videos that aren't really pranks.
It's unclear as to why Mizzy categorizes what he does as "pranking people," when he mostly seems to spend his social media time tormenting folks. According to The Independent, the social media stinker was "previously arrested over clips that appeared to show him harassing Jewish people." In one upsetting TikTok, he steals a woman's dog.
Article continues below advertisement
Perhaps the most disturbing video to surface is of Mizzy threatening three girls waiting for a train at the Stoke Newington overground station in London. After repeatedly trying to touch one of them, Mizzy can be heard asking them if they "want to die." He does this several times.
Article continues below advertisement
Metropolitan police are looking into Mizzy's home invasion prank.
A spokesperson for Metropolitan Police told The Independent that "[t]he main individual who features in the footage — an 18-year-old man — has been identified by officers." They go on to say, "Attempts are currently being made by officers from the Central East Command Unit to locate the man so that he can be dealt with for a suspected breach of a Community Protection Notice issued last May."
The aforementioned Community Protection Notice prohibited Mizzy from "carrying out any act which will or is intended to cause harassment, alarm or distress." Many believe the home invasion video falls under the definition of harassment. Authorities are taking this very seriously.