Is Something Wrong With Aaron Rodgers's Eye?
Aaron Rodgers, quarterback of the Jets, was seen sporting an eye patch on 'The Pat McAfee Show.' What happened to his eye? We explain it all inside.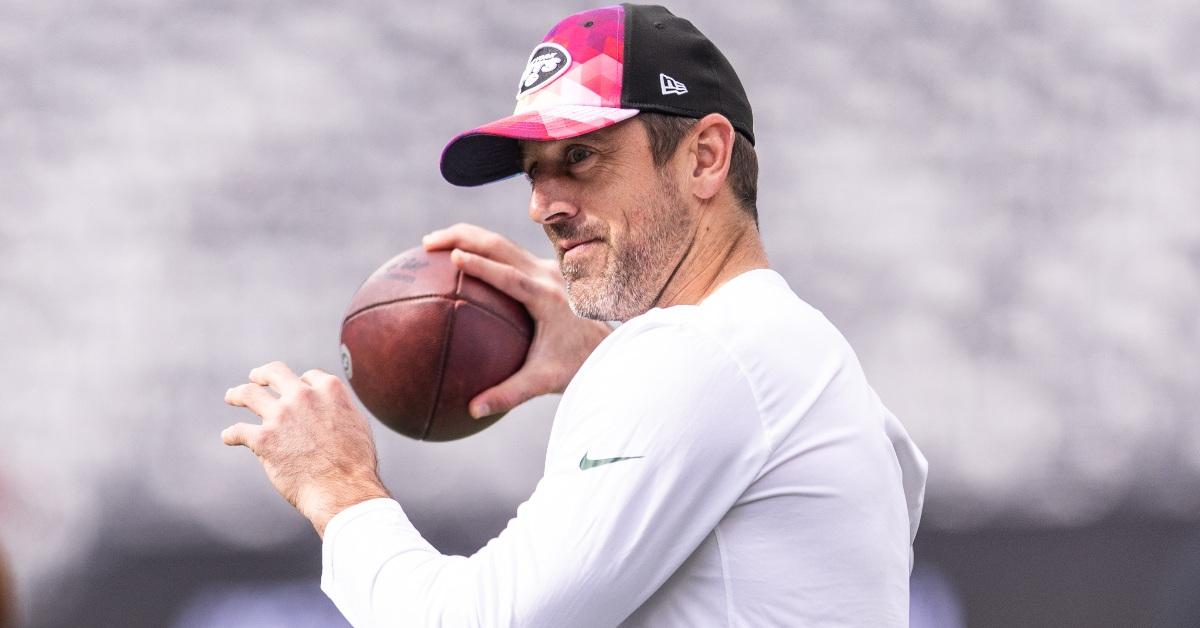 The Gist:
NFL quarterback Aaron Rodgers was seen sporting an eye patch on The Pat McAfee Show.
Aaron was playing on joke on former teammate, AJ Hawks.
Article continues below advertisement
The New York Jets haven't had the best of luck over the years, and this year is no different with their quarterback Aaron Rodgers tearing his Achilles tendon. With Aaron rumored to be coming back in mid-December, fans freaked out when they saw him with an eye patch.
That's right, folks. Aaron was a guest on the popular The Pat McAfee Show and was sporting an eye patch, which caused much concern with his fan base.
What happened to Aaron Rodgers's eye? We break down the details below.
Article continues below advertisement
What happened to Aaron Rodgers's eye?
Before all the Jets fans freak out, Aaron's eye is just fine. It was actually a joke on his former teammate AJ Hawk. AJ and Aaron played for the Green Bay Packers together.
AJ is an analyst on the Pat McAfee Show and has been seen wearing an eye patch and sunglasses. AJ explained that his son accidentally poked his eye with his thumb when AJ picked him up and caused AJ to lose a third of his cornea. Ouch.
Article continues below advertisement
Aaron appeared as a guest on The Pat McAfee Show on Nov. 14, 2023 and popped on the screen notably wearing an eye patch. Aaron said that he was doing it in "solidarity" with his friend AJ and said, "We just fashioned this together. Just now. Just for you buddy."
Aaron continued to poke the bear, joking that, "Injuries that happen at the house, there's always some mystery, some shrouds of mystery around them. So, I guess we have to take AJ's word for it on this one. But it could be a bedroom injury is all I'm saying."
Article continues below advertisement
Aaron explained that, "All I know is that him and Laura have four ... beautiful childrenm and the spark is still very strong and you never know what the actual cause of his injury could be. Blame it on the kids seems like a real low-hanging fruit."
As mentioned, during the Jets season opener, Aaron tore his Achilles tendon after being tackled. Aaron posted on Instagram the day after the tear, saying, "I'm completely heartbroken and moving through all of the emotions, but deeply touched and humbled by the support and love. Please keep me in your thoughts and prayers as I begin the healing process today."
Achilles tears usually take six to nine months to fully recover, but Aaron is rumored to be back to playing on the field in mid-December, which would only be about three months for recovery.
Get well soo,n Aaron. Sorry about your Achilles, but at least a kid didn't tear a third of your cornea out ... or so the rumor goes.