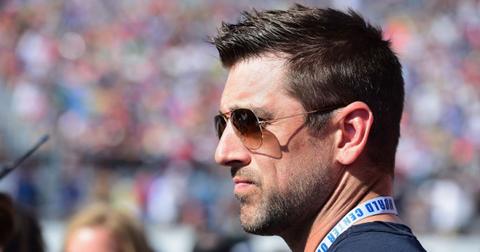 Is Aaron Rodgers Dating Actress Shailene Woodley?
By Pippa Raga

Updated
Fans of NFL quarterback Aaron Rodgers and former professional racing driver Danica Patrick were disappointed to learn that the couple had split after two years of dating.
The two called it quits after a lot of speculation about their imminent marriage, after Danica even had talked about a proposal on SiriusXM's The Jenny McCarthy Show back in November of last year.
Article continues below advertisement
But for anyone hoping to be Aaron's rebound, it seems the football star already has a new girlfriend. So, who is Aaron's new lady, and why did Aaron and Danica break up?
Keep scrolling to find out all the details about Aaron Rodgers' love life.
Article continues below advertisement
Who is Aaron Rodgers dating now?
Pretty much as soon as the news of his split from Danica Patrick hit the internet, Aaron Rodgers was spotted with Big Little Lies star Shailene Woodley, and many are speculating that the two are a couple.
Gossip site TerezOwens.com reported that the Divergent actress and NFL quarterback were spotted getting "cozy" in Lake Tahoe, while Aaron was there for a celebrity golf tournament, back in July.
According to an anonymous source, Danica was the one who introduced Shailene to Aaron, which led Danica to naturally be "devastated by the betrayal." However, while rumors about Aaron and Shailene are spreading, there's been no confirmation from either Aaron or Shailene that they are an official couple.
Article continues below advertisement
This doesn't necessarily mean that they aren't dating ... Aaron is known to keep his personal life extremely private, especially after his very public relationship with actress Olivia Munn ended in 2017.
Article continues below advertisement
Aaron has previously said how difficult it was to maintain a relationship in the public eye. And for the first few months of his relationship with Danica, the couple purposefully kept their relationship status under wraps.
Why did Aaron and Danica break up?
Neither Aaron nor Danica have come out to comment publicly on their split, or to give a reason for their breakup to their fans. In December of last year, a source told E! News that it was just a matter of when, not if, the couple would tie the knot. But based on the timing of their social media posts, it seems that the couple called it quits just a month or two later, some time in the spring.
Article continues below advertisement
Following the breakup, Danica has been extremely open about her journey to healing, posting about the many steps she's taken to move forward and get over Aaron. Without mentioning him specifically, Danica has referenced her split from Aaron in posts about her own personal growth and "emotional therapy" classes that she's been doing to cope with her feelings surrounding the changes she's going through.
She recently posted, "We all 'got' ourselves WAY more than we give ourselves credit for, that was the message for me today anyway. I mean..... we got this far didn't we friends?!!!!"
Sounds like Danica is well on the path to being emotionally healed from her breakup.