Fetty Wap's 4-Year-Old Daughter Has Tragically Passed Away
Fetty Wap's daughter Lauren Maxwell has passed away, but what actually happened to the musician's 4-year-old daughter? Everything we know.
In a world of constantly swirling internet rumors, it can be difficult to distinguish the truth from everything else that people are reacting to.
Article continues below advertisement
Earlier this summer, there were rumors that Fetty Wap's daughter, Lauren Maxwell, had passed and the heartbreaking news has just been confirmed by her mother, Turquoise Miami.
Article continues below advertisement
What happened to Fetty Wap's daughter?
In an Instagram post posted on July 31, Lauren's mother confirmed that the rapper's daughter did in fact pass away.
"This is my amazing, beautiful, funny, vibrant, loving, talented, smart and hardheaded princess mermaid Aquarius," Turquoise captioned a video of Lauren playing in the pool. "If you see this post scrolling by with her comment or just say to yourself 'I love you LAUREN' because they say that souls can feel your love."
Article continues below advertisement
While her cause of death has yet to be revealed, it is being reported that Lauren passed away sometime in June. According to People magazine, Fetty Wap did not comment on his daughter's death.
Turquoise also changed her IG bio to read, "Sorry, I will Not replying to dm's at this time."
Fetty Wap dedicated his Rolling Loud performance to Lauren.
After his performance at the Rolling Loud music festival over the weekend of July 24, 2021, Fetty Wap took to Instagram to share that appears to reference Lauren.
It featured a picture of him performing and the caption "LoLo daddy did that s--t for your last night baby girl."
Article continues below advertisement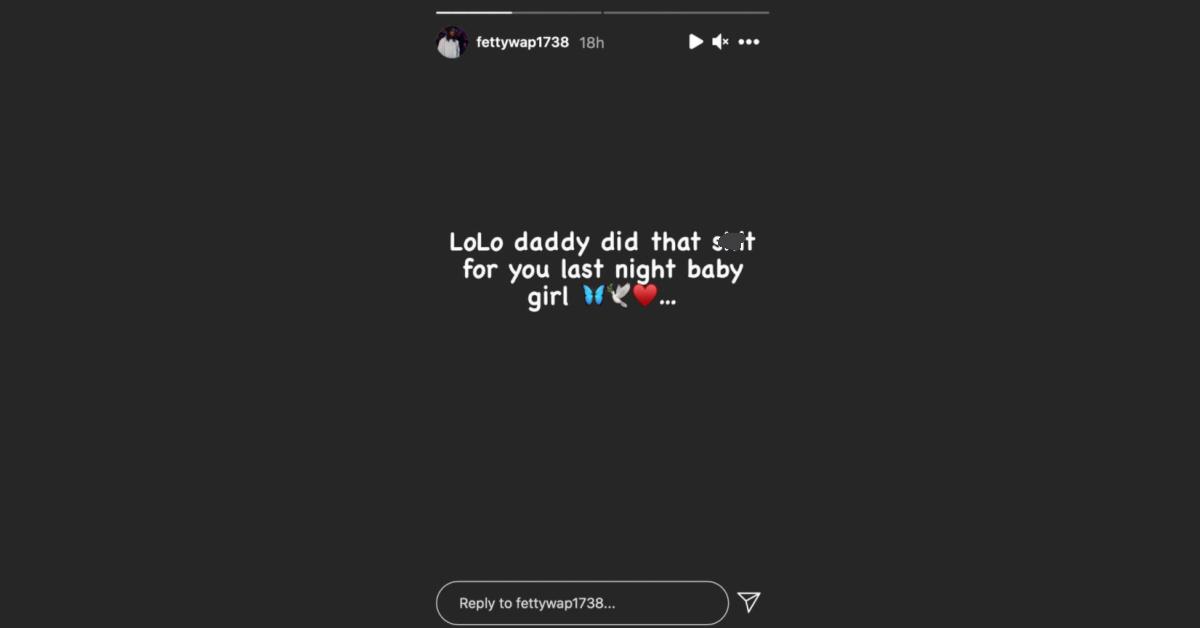 This death comes just a few months after Fetty's younger brother passed away this past October.
"Stop asking me am I ok…No TF I'm not OK," Fetty wrote at the time. "I done lost so many n— that s— was almost starting to feel normal…but lil brother man it feel like 2017 all over again this same feeling."
Article continues below advertisement
Turquoise previously called out Fetty Wap for his lack of support.
In 2018, Turquoise posted on Instagram, claiming that Fetty was not paying her the child support that he owed. "I am no longer going to beg a n---a to be a dad to do all the things a dad is supposed to do. I'm doing everything I am supposed to do as a mother, and I will pray for karma," she wrote. "I'm just not going to dog a n---a like I could."
Article continues below advertisement
Two years later, Turquoise posted again about how little Fetty was doing for Lauren.
"Y'all I'm finna book this flight so I can personally ask this n---a when he plans to pay child support or get his daughter cause it's been two years and I'm curious," she wrote.
Fetty never responded to either of the claims that Turquoise made.
Who are Fetty's other children?
In addition to Lauren, Fetty has five other children. His oldest daughter, Aydin, is 10, and he had her with his childhood girlfriend Ariel Reese.
The two decided to end their relationship in 2015, and Fetty then had another child, Zaviera, with Lezhae Zeona. Fetty had two more children, Amani and Khari, in 2016 with Elaynna Parker and Masika Kalysha, respectively.
His youngest child is Zyheir, who he had with Lezhae Zeona, was born 2018.
Our thoughts are with Fetty and Turquoise during this difficult time.