Jake O'Kane's Cliffhanger Moment Sparks Fear and Speculation on 'Survivor 45'
Jake O'Kane, a contestant on 'Survivor 45,' has fainted twice so far this season. Does he get medevaced? What happened to him?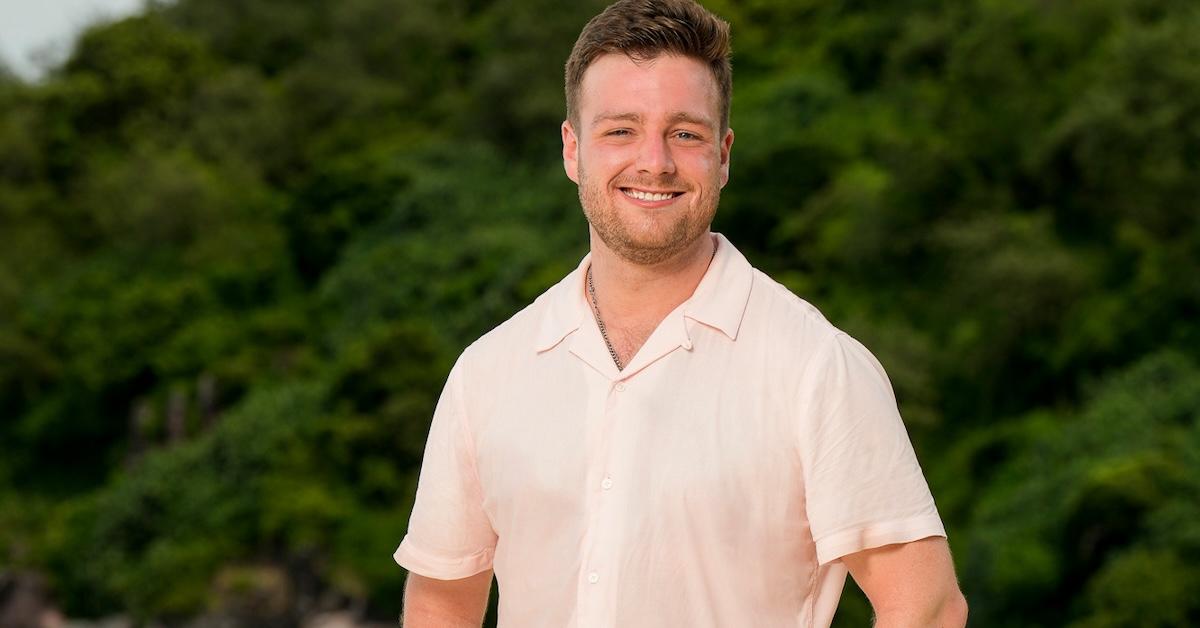 The Gist:
Survivor 45 contestant Jake O'Kane, has appeared to lose consciousness and seize for a few moments twice.
Speculation surrounds the nature of Jake's incidents, with suggestions of a seizure or fainting due to game conditions.
It is unlikely that Jake was medically evacuated, and fans hope he continues in the game, as CBS keeps viewers in suspense.
Article continues below advertisement
The only thing that keeps us more on edge than a cliffhanger ending is a "scenes from next week" teaser with a seemingly fatal outcome. Survivor is a dangerous game — 18 strangers are forced to live and work together in the wilderness to survive all while battling it out for a $1 million prize. Who can you trust? That's the ultimate dilemma of Survivor.
Survivor 45 is now the 45th iteration of the game. There are 18 new players (17 if you count Bruce Perrault as a returning player) and even more twists and turns. But something that will never be forgotten is the physical danger of the wilderness. Any season could result in a medical evacuation, or "medevac," as fans call it. In Episodes 3 and 5, contestant Jake O'Kane appears to be having a medical issue of some sort. Does he get medevaced?
Article continues below advertisement
What happened to Jake O'Kane on 'Survivor 45'?
In Episode 3 of Survivor, Jake took a sudden fall. He appeared to collapse as someone called his name in a worried tone. He snapped back to consciousness shortly thereafter and, while very confused, appeared to be fine.
Article continues below advertisement
However, in Episode 5, Jake experienced another similar episode, falling to the ground and convulsing while on his hands and knees for a few seconds. Luckily, fellow contestant Kellie — who is a nurse — reassured him and said that his experiences are likely due to the fact that the contestants are not eating much while a lot is required of them physically.
Article continues below advertisement
Some viewers speculate that Jake had a seizure. While this isn't common for people without epilepsy (and we doubt Jake would be allowed on the show if he did have epilepsy), it's possible. Fainting can also look a lot like a seizure. In Survivor, players often go days without proper nutrition, hydration, and sleep, so Jake's body could very easily shut down, causing him to faint or seize.
It's unlikely that Jake was medevaced from Season 45 of 'Survivor.'
Even though Jake seems to go down, if he just fainted, perhaps he just needs an IV and hydration. Typically when this happens, the medical team will get Jake back up and running, and assess him from there. Usually, a dehydrated player won't leave the game unless they severely overheat and need emergency hospitalization. While fainting is scary, it's not normally life-threatening.
Article continues below advertisement
In fact, some fans have speculated that Jake could go far in the game, with some even picking him as their potential winner. While this is all speculation based on rumors and pre-season talk, it seems unlikely that Jake goes out in Week 3 because of a medevac. Additionally, if there is a medevac in the upcoming episode, the preview typically shows the medical team but not the player so as to not spoil what happens.
CBS loves to leave us hanging, and showing a contestant's potential injury is a great way to play with our expectations and worry us. Of course, we're worried for Jake, our lovable musical theater baby lawyer! But we're confident that the medics on set are keeping a close eye on him.
New episodes of Survivor air every Wednesday at 8 p.m. EST on CBS.