Amazon's Lightning Deals Are Still Available — Just Not on the Home Page
Amazon shoppers noticed that Lightning Deals have disappeared from the site's home page. Don't worry, though — they're still available!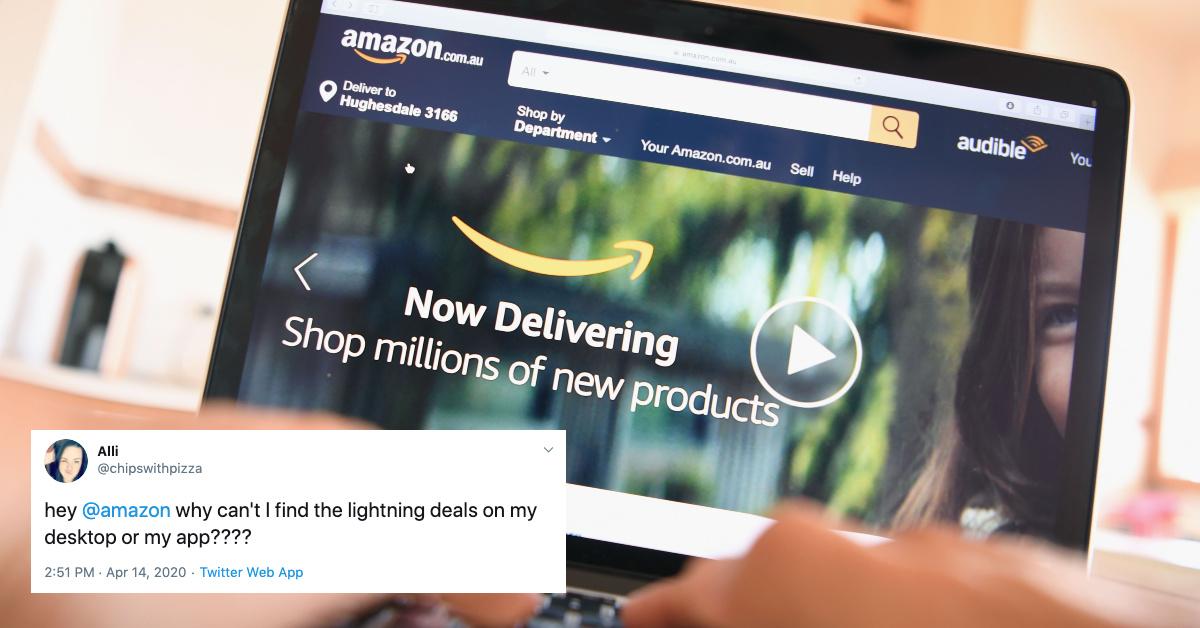 If you're a true bargain hunter, then you know where to find the best deals at all times. If you're in a store, you have coupons. You're not afraid to ask for a price match. If you're buying something online, you sign up for the newsletter to get that sweet, sweet 10 percent off your first purchase. And, of course, you always check the Lightning Deals on Amazon.
Article continues below advertisement
At least, you did always check the Lightning Deals on Amazon. That's where Amazon lists a bunch of stuff for surprisingly low prices that are only available for a limited time. Only, you may have noticed that recently, the Lightning Deals seem to have disappeared from Amazon. What happened to Lightning Deals on Amazon? Don't worry, it's not as bad as you think.

Article continues below advertisement
What happened to Lightning Deals on Amazon?
Most of the time, Amazon's Lightning Deals are one of the first things you see when you visit the shipping giant's website. They usually appear in a scrolling marquee near the top of your page. That way, if you're going to Amazon to stock up on dog food, you can also quickly check if you should maybe add a Bluetooth shower speaker or a fancy ring light to your order.
Right around the time that the COVID-19 pandemic started changing the world, the Lightning Deals marquee disappeared from the Amazon home page. Shortly after that, Amazon announced that it would be reprioritizing shipping so that essential items like masks, antibacterial wipes, and other cleaning supplies could be sent to hospitals and other essential businesses. So, did Lightning Deals get canceled because of coronavirus? Nope! They just moved.
Article continues below advertisement
While you won't see the typical Lightning Deals collection on your Amazon home page, you can still access Amazon's special deals. All you have to do is click the "Today's Deals" button near the top of your page. (Here's a direct link to Amazon's Today's Deals Page). Ta-da! Once you're there, you can scroll through Amazon's special deals just like the old days.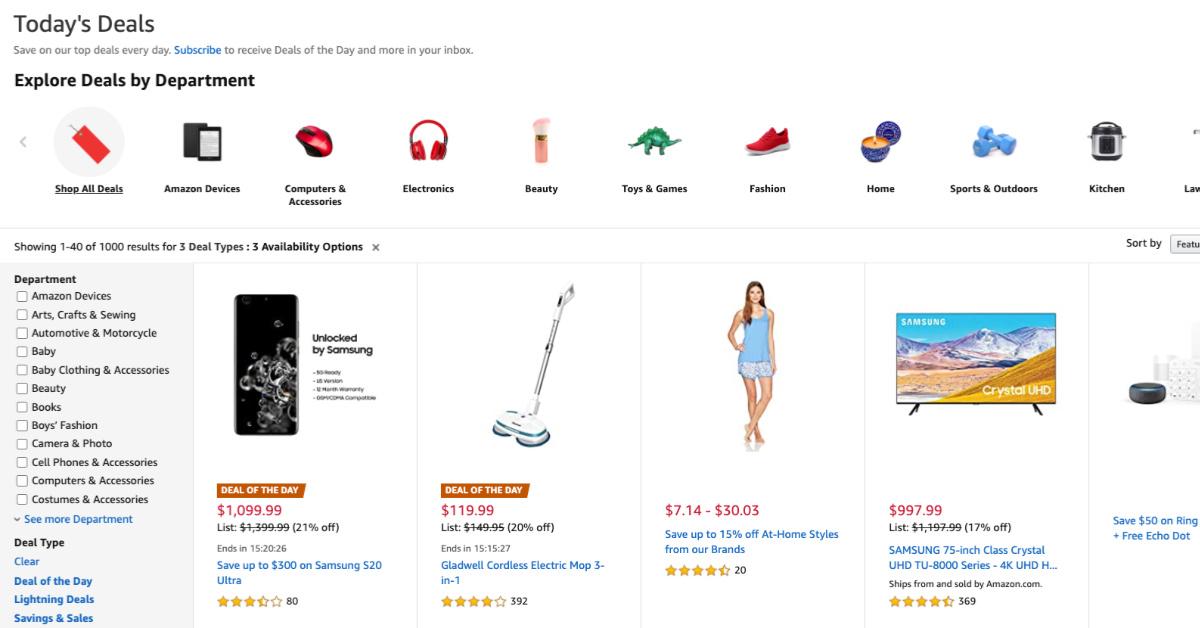 Article continues below advertisement
The Deals Page has a selection of Lightning Deals, Deals of the Day, and just regular ol' deals, but you can filter the items over on the left side of the page if you want to see just the Lightning Deals, for instance. You can tell something is available as a Lightning Deal because it will have a countdown timer and may also show the percentage of items that have been claimed — Lightning Deals are marked by being available for a limited amount of time and to a limited number of people.
If you do decide to bite the bullet and purchase your Bluetooth shower speaker (or whatever other Lightning Deal catches your eye), be aware that you might still experience shipping delays. Still, a great deal is sometimes worth waiting a little bit longer for, right?
Whether you're starting your holiday shopping super early, getting supplies for your household, or just doing a bit of the good old-fashioned retail therapy, you can still count on Amazon to provide those Lightning Deals (just not in the same place where they've always been before).