What Happened to Sarma Melngailis's Dog, Leon?
A true-crime series on Netflix revisits the harrowing story of Sarma Melngailis, an ambitious restaurateur whose ventures, Pure Food & Wine and One Lucky Duck, once helped popularize the raw food movement.
In four episodes, Bad Vegan: Fame. Fraud. Fugitives casts light on the complications Melngailis had to face after falling for Anthony Strangis (aka Shane Fox), a fast-food lover with a gambling addiction. Allegedly, Strangis told Melngailis that he would make her dog immortal. Did he succeed?
Article continues below advertisement
Sarma Melngailis said that Anthony Strangis promised immortality for her dog, Leon.
Melngailis and Strangis started talking on Twitter in 2011— shortly after she adopted a pit bull puppy, Leon.
During the turbulent relationship, which effectively ended in May 2018, Melngailis would reportedly be given "cosmic endurance tests," per Vanity Fair — strange challenges she was required to ace to receive rewards. Apparently, she believed that Strangis would be able to lift her in this way, influencing her to grow her brand further, eradicate factory farming, and achieve other goals.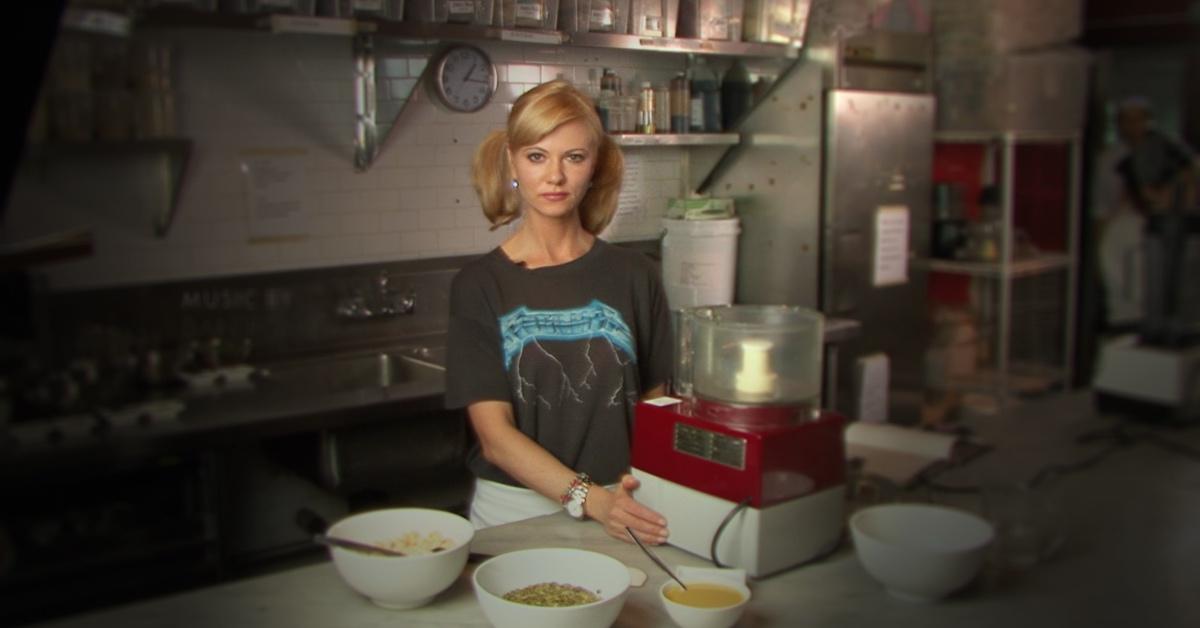 Article continues below advertisement
"He convinced me I'd be empowered in ways I couldn't imagine," Melngailis said, per Vanity Fair. "I would have access to unlimited resources so that I could grow my brand all over the world, make the documentary I always wanted to make — the one that would finally change people's ways and help eradicate factory farming."
Another dream Melngailis had pertained to life expectancy. Apparently, she had hoped that Strangis would make her and her dog, Leon, immortal.
Melngailis and Strangis's relationship began to change in the mid-2010s. It appears that Melngailis took an estimated $2 million from her restaurants, treating Strangis to European vacations, luxury watches, and an estimated $10,000 worth of Uber rides.
A young employee working for Melngailis who was put in charge of accounting told Vanity Fair he had to meet up with Strangis five times in 2014 to hand over Pure Food & Wine cash receipts ranging from $3,000 to $10,000.
Article continues below advertisement
Melngailis's employees suffered. In 2015, the servers and staff of Pure Food & Wine made the headlines by staging a walkout after their wages weren't paid. It's understood that Melngailis used at least some of the money to keep Strangis satisfied.
Article continues below advertisement
What happened to Sarma Melngailis's dog? Where is Leon now?
Melngailis was convicted in 2017 for grand larceny, tax fraud, and conspiracy to defraud investors. She was sentenced to three and a half months in jail. She reunited with her beloved pup, Leon, after her release from the Rikers Island jail in New York — and they have been inseparable ever since.
Melngailis stayed in New York afterward. In May 2019, she and Leon were living in Harlem. According to new reports, Melngailis may be living with friends now.
Article continues below advertisement
Either way, Melngailis likely gave up on the idea that Leon would live forever a while ago. She filed for divorce from Strangis in May 2019. She described the fallout as a rude awakening.
"Imagine suddenly realizing, My dog isn't going to live forever, I'm not eternally safe, all my dreams and visions that he promised me he'd make happen are not happening, and this colossal mess isn't all just going to be undone, like he always said it would be. It's like waking up into a nightmare," she said, per Vanity Fair.
Bad Vegan: Fame. Fraud. is available on Netflix now.