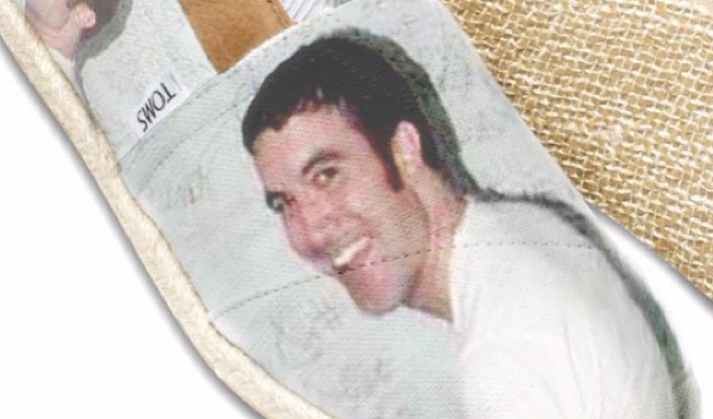 Don't Feel Bad for Myspace Founder Tom Anderson — He's Living a Pretty Charmed Life
For many folks, one of their first forays into social media was Myspace, and the first friend you ever received on the platform was a swell-looking, smiling dude by the name of Tom.
You see, Todd invented Myspace, which became a phenomenon for you and all of your Sidekick- and Razr-rocking friends.
It was pretty much the end-all-be-all when it came to social media platforms — until Zuckerberg and Facebook came along.
Article continues below advertisement
Here's what happened to Tom from Myspace: He appears to have luxuriated in the chillest life many people only dream of.
Tom sold Myspace for a whopping $580 million. Not all of that money went to him, but he still helped broker the massive deal. The man who popularized social media and effectively started Facebook before Facebook is now enjoying a fantasy retirement. He's taken up surfing, investing, and photography. Mostly he travels the world and ultimately lives a seemingly carefree existence.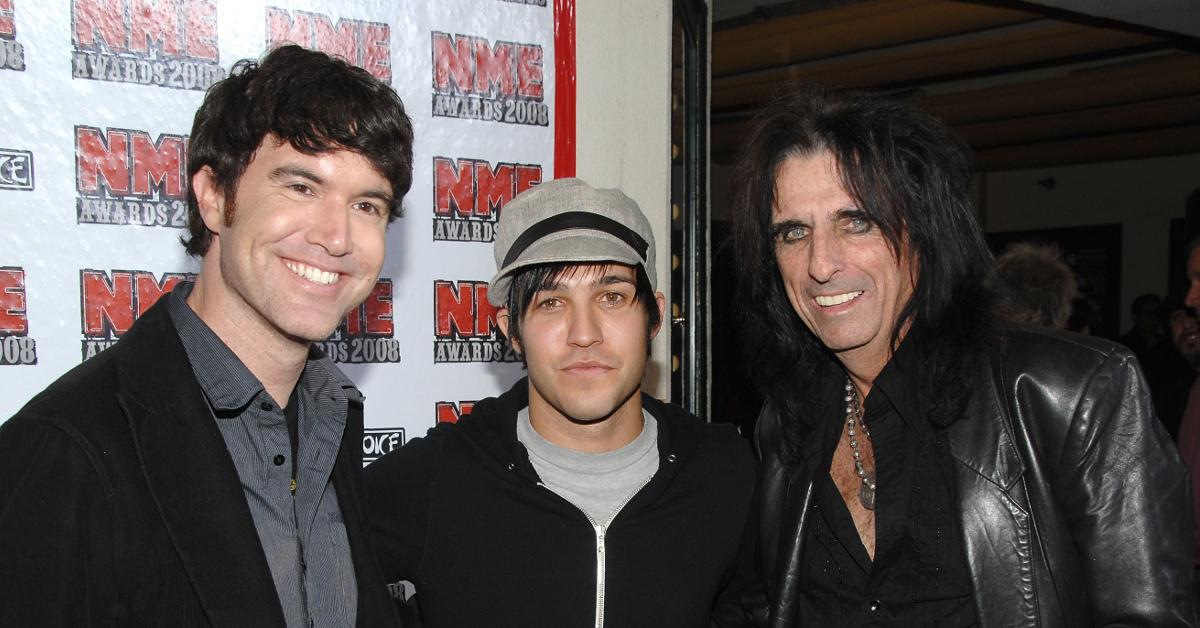 Article continues below advertisement
Tom made headlines in October of 2019 when pictures of him and his then-girlfriend surfaced online.
Tom's generally stayed out of the limelight, so whenever he surfaces with a new social media post or pops up in pictures, people take notice. His journeys have taken him to a lot of different Asian countries and his name started making the rounds online again after photos of him with a woman began popping up on online.
As of this writing, however, Tom is reportedly single.
Article continues below advertisement
"MySpace Tom" also became a hero after responding to a tweet about Facebook with just three emojis.
In the summer of 2020, he also went viral for showing some gratitude for a viral tweet that praised the Myspace founder penned by Twitter user @JackDMurphy: "Remember Tom? Remember how he just sold his $500m share in myspace and retired so he could have a nice life? He never sold our data, never tried to influence elections, never lobbied against privacy legislations... what a man. Myspace was just too pure for this world."
Article continues below advertisement
Tom, being a man of few words simply replied with three emojis that sent Twitter abuzz (no, not Google Buzz, let's just forget about that.) And had people wondering just what happened to the social network founder.
Tom's net worth is pretty darn high.
As of this writing, the man owns a sizable amount of wealth: $65 million. The San Diego native will be turning 51 this year, and according to his Instagram, he is now dedicated to helping others and engaging folks online.
From the looks of his IG account, however, it appears that a lot of time has been spent on capturing utterly breathtaking images and videos.
Seriously, just take a look at them — they're phenomenal!
Article continues below advertisement
Article continues below advertisement
What happened with MySpace after Tom sold it?
In 2005, Tom brokered a deal with Rupert Murdoch's News Corp. to sell Myspace for a whopping $580 million. Tom and his co-founder, Chris DeWolfe got some fat paychecks from the sale. While Myspace would go on to become utterly obsolete in just a few years, News Corp. would sell it to Viant for $35 million, who would then go on to sell it to Time for an amount that wasn't disclosed.
Yikes.
A few years ago when there was a ton of hate being piled on to Facebook for the way it handled user data and basically sold it off to advertisers, Tom had some laughs at Zuckerberg's platform's expense when Futurism tweeted a funny cartoon about the Myspace co-founder being "our only hope" when it came to a safe social media site. Tom had reportedly retweeted it.
Article continues below advertisement
He's also known to be a total globe-trotter, traveling to different hot spots and music festivals (he became hooked on photography after attending Burning Man in 2011), and is generally enjoying the millions that he made, but he also takes some time to troll people online who try to step to him.
Like this one individual who seemingly got under the entrepreneur's skin when Tom had some critiques for those who were upset over Instagram's changes.
Article continues below advertisement
To which one of his followers, Polo Tapia said, "@myspacetom says the guys that was not able to keep a social network alive"
Harsh words from the now-deleted account. Why was the account deleted, you ask? Well, because of this savage response Tom delivered to him: "Says the guy who sold MySpace in 2005 for $580 million while you slave away hoping for a half-day off."
Article continues below advertisement
Utterly. Brutal. There were screencaps of the entire event, but they're not of the highest resolution. You can see them below if you like.
Article continues below advertisement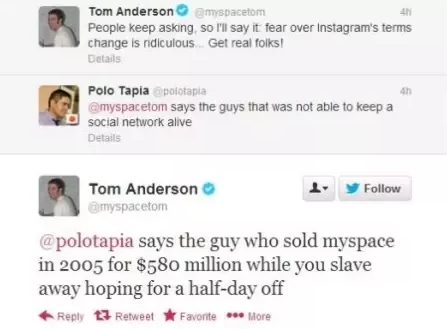 The social media mogul actually hasn't been posting to social media much as of late, however, we do know that he purchased a $3.8 million home in West Hollywood that used to belong to Drew Taggart from The Chainsmokers.
He hasn't trolled anyone in a while, which is likely just because he's probably too busy just enjoying his life. Seems like he doesn't have use for social media after getting everything he could out of it.
Article continues below advertisement
Also, if it wasn't for Myspace Tom, we wouldn't have Tom Hardy's Myspace page.
The Revenant star was once pretty active on Myspace and he would occasionally blog about his daily activities, like the time he rescued a kitten. He'd post photos that, depending on who you'd ask, would range from hilarious to cringe-inducing. But it's truly fascinating, especially considering the way his acting career absolutely took off.
Article continues below advertisement
Article continues below advertisement
And how could we forget his wonderfully long Myspace bio that is thankfully screen-capped and posted all over the internet for the world to see. Absolutely tremendous.