Buccaneers Right Tackle Tristan Wirfs Could Miss the Rest of the NFL Season
On Nov. 27, 2022, Tampa Bay Buccaneers offensive tackle Tristan Wirfs was carted off the field. So, what happened? Here's everything we know.
Despite only being in his third NFL season, right tackle Tristan Wirfs has quickly become one of the best players in the entire league. Not only did he help the Tampa Bay Buccaneers win Super Bowl LV as a rookie, but his impressive performance in the 2021-2022 season also earned him his first career Pro Bowl and first-team All-Pro honors.
Article continues below advertisement
Now, as we near the end of the 2022-23 season, fans are worried about the 23-year-old offensive lineman — why is that? Well, he was carted off the field during the Bucs' overtime loss to the Cleveland Browns on Sunday, Nov. 27, 2022. So, what happened to Tristan Wirfs? Keep reading to find out. Plus, stick around for updates regarding his injury.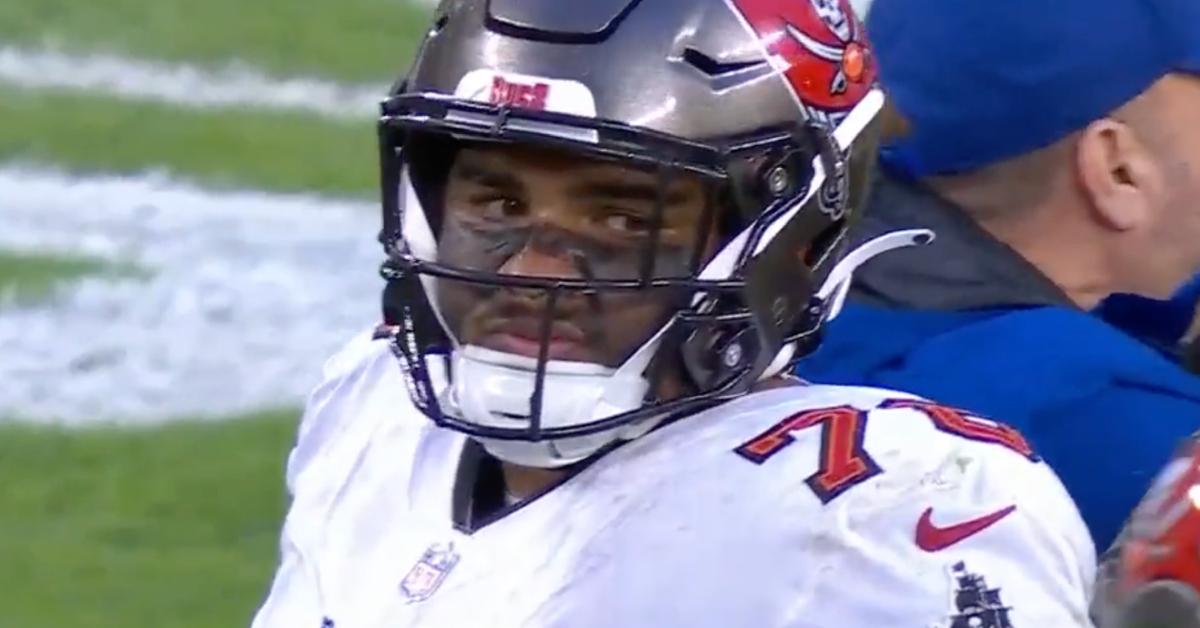 Article continues below advertisement
What happened to Tristan Wirfs?
During the Bucs' second drive in overtime, Tristan was blocking Browns defensive end Jadeveon Clowney from getting to record-breaking quarterback Tom Brady. While he did his job, Browns linebacker Jeremiah Owusu-Koramoah attempted to take down Bucs running back Ke'Shawn Vaughn. Ke'Shawn managed to get away scot-free, but he accidentally pushed Jeremiah into the back of Tristan's legs.
The two athletes fell into an awkward heap. After laying on the ground for several minutes, Tristan was ultimately carted off the field. FOX in-game analyst Jonathan Vilma declared the network would not show a replay, but he described the incident to the audience and revealed Tristan's injury was "serious" and "gruesome."
Article continues below advertisement
"It's tough seeing any one of our brothers out like that, getting carted off — it's tough to see," Bucs safety Mike Edwards told the media after the game, per ESPN. "Especially a guy like Tristan — one of the best offensive linemen in the league. He's definitely a big part of our team."
Article continues below advertisement
Bucs head coach Todd Bowles added that "it's tough" to lose Tristan.
"We know it's tough," he said. "When you lose a player like that — you say, 'It's part of the game' — but a lot of those guys are so close that it hurts a lot," Todd told the media. "The next man's got to step up, but hopefully it's not as bad as it looks and he gets a speedy recovery and we go from there. That's all you can do in this game. It's a tragedy to lose guys like that on a team, but at the same time, we've got to push on."
There's been an update regarding Tristan's scary injury.
Although many expected to hear Tristan suffered a season-ending injury, the initial reports about his condition are not as bad as anticipated. Following the Bucs' 23-17 loss to the Browns in overtime, reporters in the locker room saw Tristan walking around with a boot on his left foot without assistance.
Article continues below advertisement
A few hours after the game, Ian Rapoport of the NFL Network reported that the X-rays were negative — talk about great news! However, we don't want to get our hopes up too much because there are still more tests. In fact, NFL Network national reporter James Palmer stated that we would learn more once Tristan undergoes an MRI.
Let's hope for good news!