Buccaneers QB Tom Brady Continues to Wear a White Glove on His Left Hand
Why is Tom Brady wearing a glove? The Tampa Bay Buccaneers quarterback has been sporting a glove on his left hand, and fans are curious to know why.
Although superstar quarterback Tom Brady typically dominates the headlines during the NFL season, he's been the center of attention for several reasons this year. For starters, the seven-time Super Bowl champion and his wife of 13 years, Brazilian supermodel Gisele Bündchen, finalized their divorce on Oct. 28, 2022.
Article continues below advertisement
As for his behavior on the football field, Tom was seen chewing out the entire Tampa Bay Buccaneers offensive line multiple times throughout the start of the 2022-23 NFL season (it's good to mention that the Bucs currently have a 4-5 record). Now, the 45-year-old future Hall of Famer is turning heads due to the recent addition to his uniform — a white glove on his left hand.
On that note, why is Tom Brady wearing a glove? Let's investigate.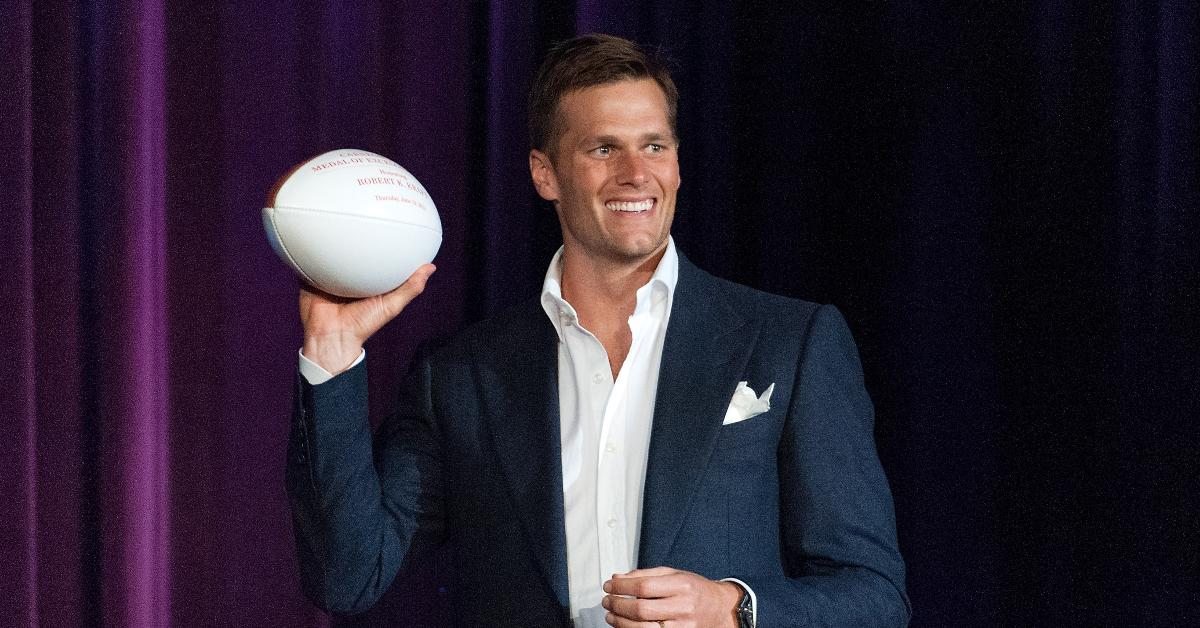 Article continues below advertisement
So, why is Tom Brady wearing a glove?
As of this writing, it's unclear why Tom Brady is wearing a glove. He doesn't appear to have injured his left hand, but once he took the glove off after the Oct. 27 matchup against the Baltimore Ravens, many noticed his left arm appeared to be heavily taped up.
It's also unknown whether the white glove is worn as a precautionary measure or due to an ongoing issue. Tom sported the accessory again during the Bucs game 16-13 win against the Los Angeles Rams on Sunday, Nov. 6, 2022. Of course, fans took notice of Tom's glove. While some expressed concern for the QB, others saw perfect meme potential.
Article continues below advertisement
Although a few compared Tom Brady's white glove to Thanos's infamous Infinity Gauntlet that wiped out half of the MCU's population, many found it more akin to the discontinued Nintendo Power Glove.
"Why is Tom Brady wearing the Power Glove tonight?" one fan asked while another added, "Tom Brady wearing a Nintendo Power glove is why he is the GOAT." If Nintendo sees this, maybe they'll rerelease the Power Glove!
Article continues below advertisement
This isn't the first time Tom Brady has worn a glove on the football field.
In 2018, the five-time Super Bowl MVP injured his right hand and required stitches just three days before the AFC title game.
Although there was much concern, Tom wore a protective glove during practice and press conferences. Luckily, the injury didn't affect his playing ability since he led the New England Patriots to victory against the Jacksonville Jaguars and helped secure their spot in the Super Bowl LII.
Article continues below advertisement
Ahead of the big game, Tom spoke with the media about his injury and revealed his Under Armour glove had "a lot of recovery in it." OK, it doesn't make sense that wearing a glove would help someone heal an injury, but the 15-time Pro Bowler continued to open up about what the glove did for him.
"They sent it to me a few weeks ago," Tom told reporters, per Eagles Wire. "It has this bioceramic technology in it that is great for recovery. I wear it even when I sleep. For me, obviously, my hand is very important, so the better it can feel, that's the way I want it to be when I am out there."