Here's How to Tell if You've Been Banned From 'Fortnite'
Having trouble logging in to play 'Fortnite'? There's a chance you could be temporarily banned from the game. Here's what happens with bans.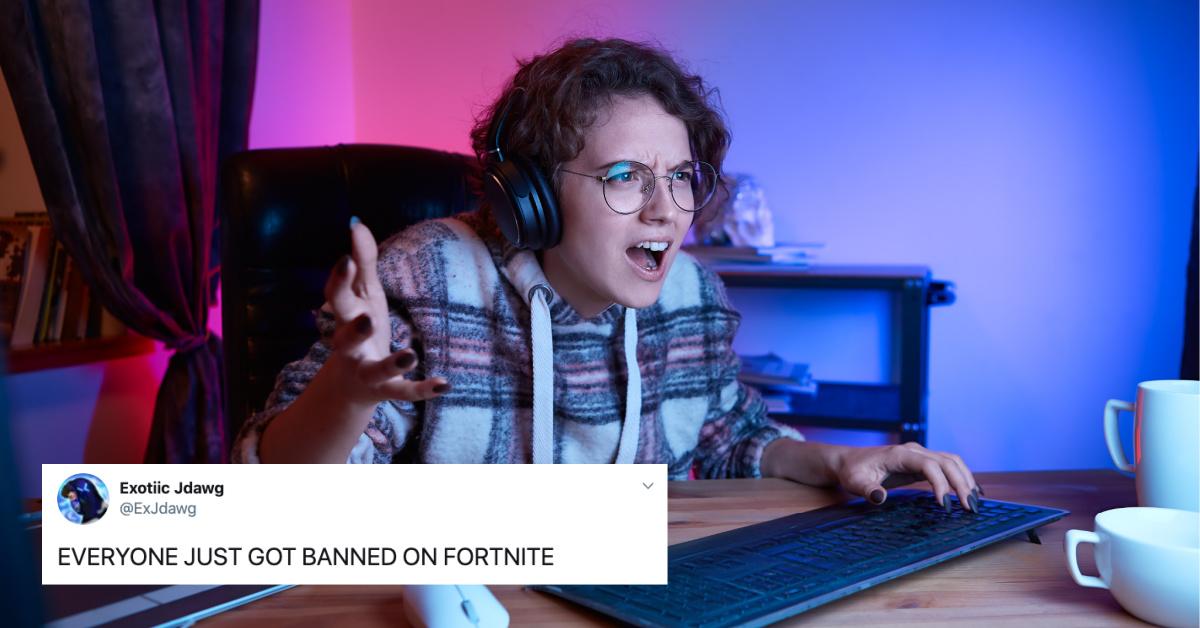 It's kind of wild to think about how long Epic Games' Fortnite has been such a huge part of gaming culture. It came out back in 2017 but is still one of the most popular games — both for professional gamers to stream and for regular 'ol people to play at home. Even in light of the recent controversy surrounding Apple and Fortnite, it still feels like the battle royale game is all over the place.
Article continues below advertisement
And that's why it's still such a big deal whenever players get banned on Fortnite. Being banned from a game with millions of players can have consequences beyond just eliminating one of your favorite ways to spend time — for streamers who earn money for their Fortnite streams, it can directly impact their income! Think you may have been banned? Here's how to tell for sure (it might just be a server issue!).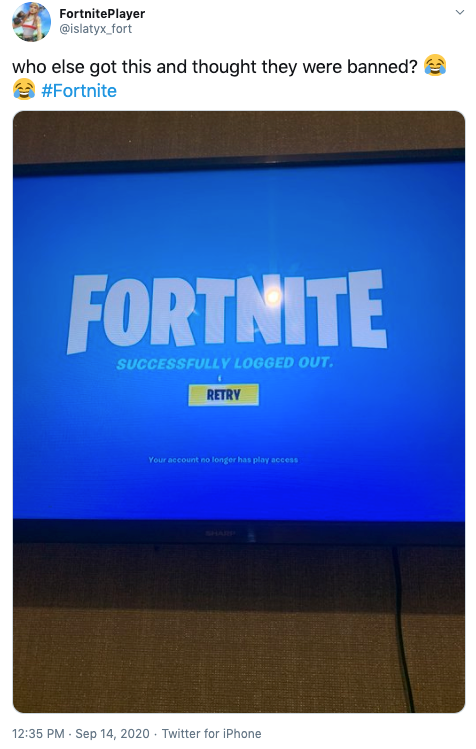 Article continues below advertisement
What happens when you get banned on 'Fortnite'?
Recently, many Fortnite fans booted up the game only to find that they were unable to play at all. Naturally, people started to assume that they had been banned from the game. Just like any online game, there are certain behaviors that can result in being either temporarily or permanently banned. According to Epic, players are temporarily banned if they do something against the Code of Conduct such as harassing other players, impersonating other users, or sharing others' personal information.
Temporary bans can last up to 30 days and will result in players being unable to board the Battle Bus until after the ban is lifted. These bans are also specific to Fortnite — players are still able to play other games from the Epic Games Store. Sometimes, Epic institutes permanent bans, which are exactly what they sound like: players are banned from Fortnite permanently. This can happen if players are caught cheating in the game.
Article continues below advertisement
That being said, if you suddenly find yourself unable to board the Battle Bus, it might not necessarily be due to a ban. On Monday, Sep. 14, a slew of Fortnite fans found themselves unable to play the game and were (understandably) confused. They also received ominous error messages saying, simply: "You do not have permission to play Fortnite."
Article continues below advertisement
Naturally, people assumed they had been banned and were sent into a bit of a panic. However, as it turns out, Epic did not suddenly institute a game-wide ban. In actuality, there were apparently some game-wide problems that required the company to institute some downtime in order to investigate and resolve the issues. The official Fortnite Status Twitter account assured players that they had not been banned, but not everyone saw that tweet.
In the future, players experiencing similar issues should definitely check out the Twitter account to see if there are any game-wide issues before freaking out and assuming they have been banned for breaking rules. Although, obviously, you shouldn't break rules in the first place (and you shouldn't need the threat of a ban to keep you on the straight and narrow!).