TikToks Claim You Can Get Rich off Selling Your Feet — But Is It a Scam?
You may have seen those viral videos about selling feet on FeetFinder on TikTok. Well, most of them were sponsored. Let's break down the tea.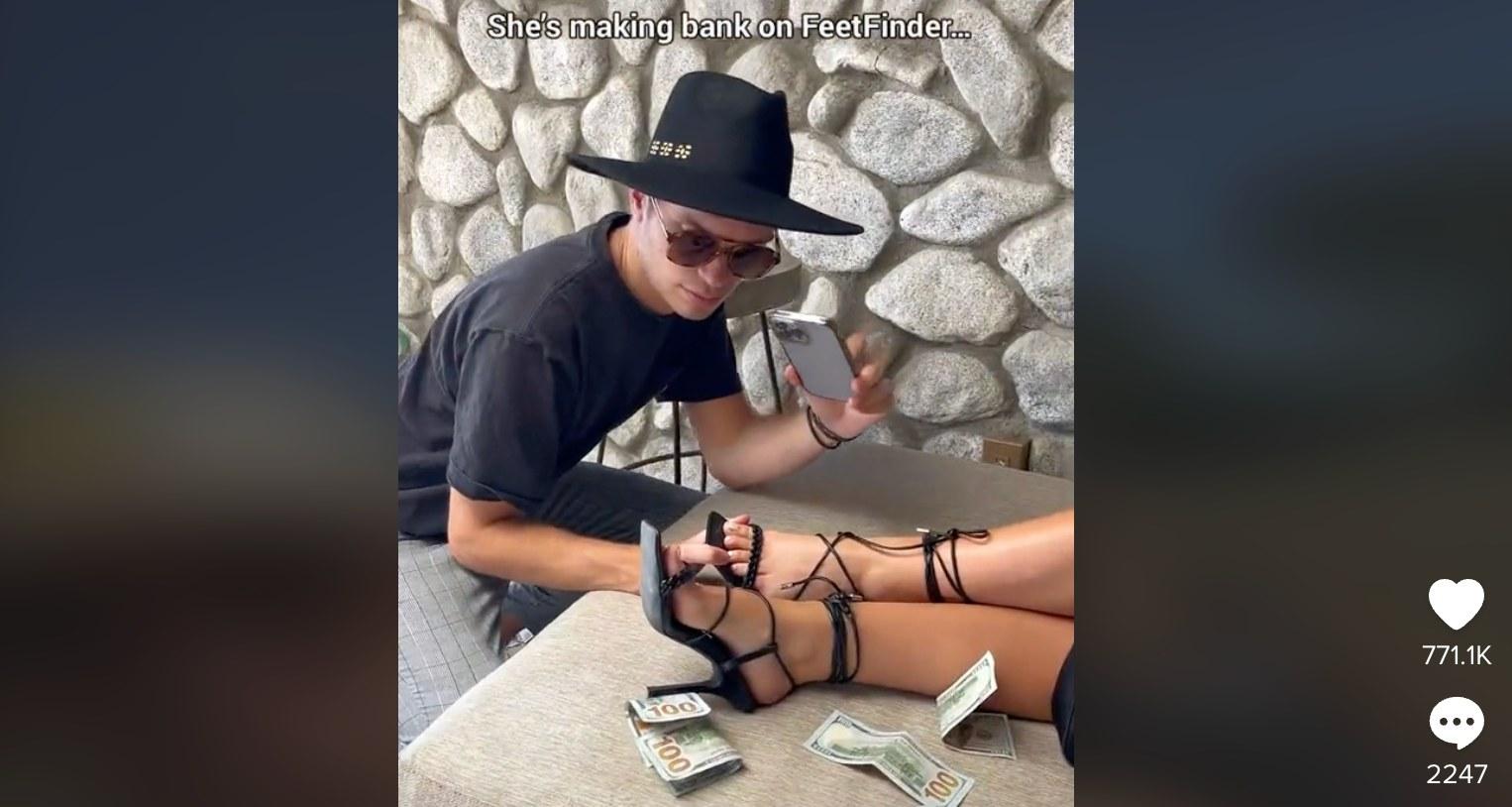 Listen, girlie pops — we've considered every side hustle there is, and with TikTok, everybody is out here telling us that they have THE key to becoming an influencer, a UGC creator, an Etsy shop owner, etc. People are even out here saying we gotta sell feet pics. And TBH we were never so close to selling feet pics than the time we were trying to get floor seats for Harry Styles Love on Tour.
We don't feel any type of way admitting this because we know you were also considering this, especially with those FeetFinder TikToks floating around.
Article continues below advertisement
If you weren't on #feetfinder TikTok and have no idea what we're talking about, let us explain.
Last spring, a slew of videos popped up of people saying they had made a lot of money by selling their feet on the app, which, you do you — this is a judgement free zone. The problem was that creators didn't make it clear that it was a sponsorship in the video.
Let's break it down even further...
Is FeetFinder real?
Yes! FeetFinder is a real website! According to them, it's "the safest, easiest, and most secure website for verified users to view, buy, and sell custom feet content [with] over 1,000,000 users uploading and buying content daily."
Article continues below advertisement
FeetFinder works similarly to Only Fans, where buyers can subscribe to creators' channels for a monthly fee, as well as purchase individual videos and photos. Buyers can also filter by feet category, photos, and videos, as well as search with specific keywords.
What happened with the FeetFinder videos on TikTok?
Last year, a bunch of videos by creators came out on TikTok explaining how people are getting rich on FeetFinder. In the above TikTok posted by @ayypatrick, Patrick and his girlfriend go to Los Angeles on a private jet so that she could buy a new car. She went with the Mercedes G63, which retails for $179,000. Patrick then takes us back to his girlfriend's beautiful beach house in Malibu and helps her take some feet pics, explaining that FeetFinder is how she can afford all of this.
Article continues below advertisement
Other videos posted had a pretty similar idea, i.e. someone made a lot of money on FeetFinder. This video posted by @tooturnttony shows how his sister lives in a mansion from her money made on FeetFinder.
The problem with all of this is that these videos were sponsored by FeetFinder itself, and these sponsorships weren't publicized. NBC News reported that, "some creators expressed concern that the ads misrepresented the reality of online sex work, and that the young audiences of those who promoted FeetFinder would be persuaded to pursue it without considering the risks involved."
Article continues below advertisement
FeetFinder's CEO, Patrick Nielson, told NBC News via email that, "We suggested the influencers use hashtags like #ad or #sponsored" at the beginning of the caption... Any influencers that posted a FeetFinder ad without these disclosures were suggested to remove/delete that video ASAP."
Legally, influencers have to disclose any material or financial connection with a brand, according to the Federal Trade Commission.
TikTok clearly took this issue very seriously because if you type in "FeetFinder," "#ffsponsorship," "FeetFinder TikTok," or anything similar into the search bar, no results come up. We had to hunt to find the couple of TikToks that weren't taken down.
And that's the tea! We definitely didn't know we had FeetFinder on our bingo card.