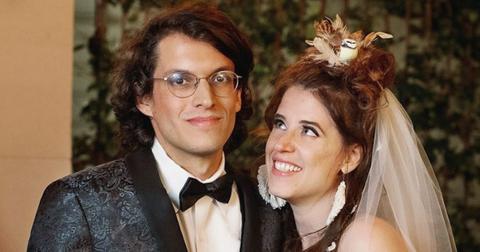 'Married at First Sight' Star Amelia Fatsi Is About to Start Her Medical Residency
By Leila Kozma

Updated
27-year-old Amelia Fatsi caused a great stir on a recent episode of Married at First Sight: New Orleans by revealing that she and her pre-selected partner, 28-year-old Bennett Kirschner, have already met.
The iconic scene left a lasting impact on fans, with many wanting to find out more about Amelia's personal life. Could she have met Bennett at work, maybe in her years of schooling? And for that matter, what kind of work does she do? What kind of doctor is she?
So, what kind of doctor is 'Married at First Sight' star Amelia Fatsi?
As Amelia explained in a previous interview with In Touch, she applied to Married at First Sight: New Orleans right after graduating from medical school.
With a few months to kill before her residency, she decided to embark on a new adventure. Little did she know that the experts would fix her up with Bennett, an artist she briefly chatted with at a party before.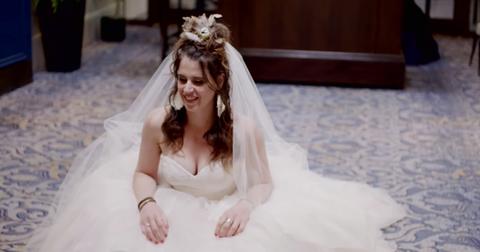 "I wanted to use this time to do something new and different and mostly thought it would be interesting to be on a reality show. Having to get married to a random dude seemed like a fairly small price to pay if you could have this awesome adventure and then get divorced at the end if it didn't work out," Amelia told In Touch Weekly.
As a resident, Amelia is likely to spend somewhere between three to seven years working under the supervision of a more experienced doctor. She won't be required to choose a specialism until this period comes to an end. What's more, some doctors go on to do fellowships before starting their careers.
Amelia and Bennett are about to face some tough decisions.
As a resident, Amelia will be working for a practice in Midlothian, Va., while Bennett is currently based in New Orleans, La. They have yet to arrive at a decision about the potential move.
"As soon as we were married, we had to [answer] the question of whether or not I'd be willing to leave the city that I've called home for six years," Bennett explained in a previous interview with In Touch Weekly.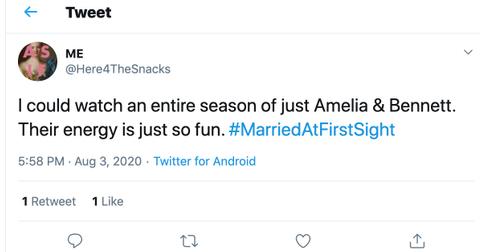 However, it seems unlikely that the forthcoming changes would bear a negative impact on their relationship.
"I wanted to be with someone who could make me laugh but also listen and share space with others. My ideal match would show me new sides of the world, while challenging me to unpack and investigate my own assumptions. I absolutely recognized these traits in my new partner," Bennett told In Touch Weekly.
Amelia feels the same way. Bennett turned out to be everything she had hoped for.
"I said I would like a partner who is fun and excited about life. Bennett is definitely that," she told the outlet.
Fans can't seem to get enough of the quirky couple.
"I am in LOVE with Amelia and Bennett. I simply CANNOT wait to watch their journey! #MarriedAtFirstSight #MAFS #MAFSNOLA" tweeted a person.
"Creating a petition for Amelia and Bennett to get their own show. #mafs #mafsnola #MarriedAtFirstSight," wrote someone else.
"I could watch an entire season of just Amelia & Bennett. Their energy is just so fun. #MarriedAtFirstSight," wrote another fan.
Catch new episodes of Married at First Sight: New Orleans every Wednesday at 8 p.m. ET on Lifetime.