YNW Melly's Release Date Could Come Soon as His Lawyers Seek a Case Dismissal
YNW Melly has been incarcerated since 2019 while awaiting trial for murder. His lawyers are now accusing prosecutors of obstruction of justice.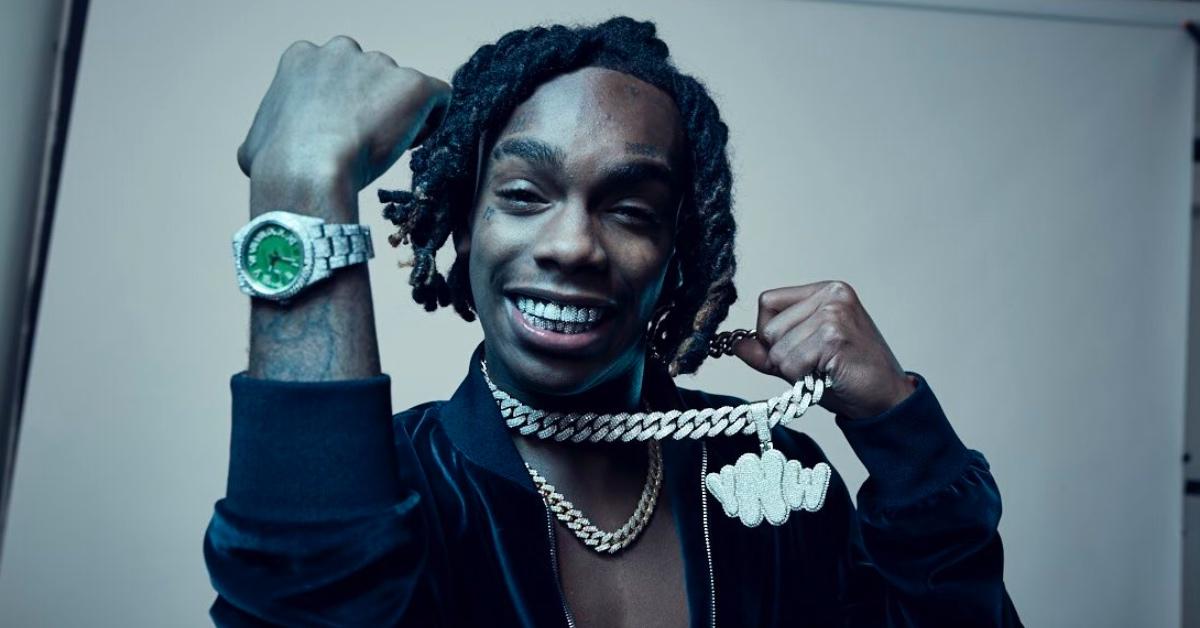 The gist:
YNW Melly has been in jail since Feb. 13, 2019.
The Florida rapper was charged with the murder of his two friends, YNW Juvy (Christopher Thomas Jr.) and YNW Sakchaser (Anthony Williams).
YNW Melly plead not guilty to the charges and his lawyers are now seeking to have the case dismissed.
From noted collaborator and friend of Kanye West to potentially facing the death penalty, Florida rapper YNW Melly's career in the music industry was cut short when he was arrested in 2019.
Article continues below advertisement
While he was incarcerated, his hit single "Murder on My Mind" went quadruple platinum, and his fan base has only swelled in size as time has gone on.
With so many people paying attention to his music, the question among his fans remains: What exactly happened to YNW Melly and when is he going to be free? Here's everything we know, including where YNW Melly is now.
Article continues below advertisement
YNW Melly was jailed in 2019 after being charged with two counts of first-degree murder.
Per Pitchfork, police arrested Melly on Feb. 13, 2019. He was charged on two counts of first-degree murder for killing two of his friends, YNW Juvy and YNW Sakchaser. He potentially faces the death penalty.
Another friend, YNW Bortlen, allegedly staged the incident to look like a drive-by shooting, where Bortlen and Melly were lucky to be alive.
In December 2018, a documentary about Melly and his friends was released on Melly's YouTube page. The text at the end of the documentary reads, "Four days after the completion of this film, YNW Melly and his friends were the targets of a drive-by shooting in Miami, Fla. YNW Juvy and YNW Sakchaser were killed."
Article continues below advertisement
Melly was charged with the murders of his two friends. The court charged Bortlen for staging the shooting as a drive-by. Melly reportedly shot both Juvy and Sakchaser in the car, and before police arrived, they allegedly shot the car on the outside to make it more believable.
Article continues below advertisement
Where is YNW Melly now?
After the charges were brought against Melly, he pleaded not guilty. At of the time of writing, he is in custody at Broward County Jail in Fort Lauderdale, Fla. while he awaits trial.
This wasn't YNW Melly's first arrest.
YNW Melly's first real run-in with law enforcement came in 2015 in his hometown of Gifford, Fla. Melly, who was 16, was charged with three counts of aggravated assault and firing a gun in front of three other students near a high school. He spent a year in jail.
Getting locked up was the inspiration for the 2017 single "Murder on My Mind" — a song which he would later claim was used against him by law enforcement.
Article continues below advertisement
On Melly's 18th birthday in 2017, he posted on Facebook, "I apologize to all my fans ... I'll be locked up in level 6 program for six months, I was sentenced on my 18th birthday May 1, 2017, due to negative music. Just know I did it for y'all I'll be back shortly." Almost two months later, he posted another message, telling followers, "Turning myself in today."
Melly later told Billboard that during this time, he was on probation and in and out of jail "at least six or seven times then." He said he was jailed for "little s--t" — but there were also reportedly gun and drug charges.
Article continues below advertisement
When will YNW Melly be free? Here's a case update.
Melly is still incarcerated in Florida and even fought off a case of COVID-19 behind bars, per Billboard. However, unlike other prisoners who were allowed to leave prison facilities due to COVID threats at the height of the pandemic, he was denied release.
Article continues below advertisement
Melly's case has had its fair share of ups and downs. In addition to multiple delays, the death penalty is now back on the table, that is if the case makes it to trial. Although the death penalty was initially dropped in July 2022, per XXL Magazine, it was proposed again a few months later.
While the death penalty is rarely used to punish an offender for their crimes (only 1,363 executions in the U.S. have been conducted through lethal injection since 1976), it's now more of a possibility in Melly's murder case.
Article continues below advertisement
On June 5, 2023, XXL Magazine confirmed that Broward Circuit Judge John Murphy voted in favor of implementing a new rule that allows juries to recommend the death penalty with an 8-4 vote. Previously, the court required that all 12 jurors agreed on the punishment. Florida Governor Ron DeSantis was one to back the statute following the verdict in Parkland High School shooter Nikolas Cruz's case.
Article continues below advertisement
While court proceedings have taken quite a while to come to fruition, it's clear that the rapper still believes he's innocent and thinks that he will be a free man by the end of 2023. In May 2023, Melly shared a photo of him appearing in court via Instagram with the hashtag #YnwMellyHome2023. The post received significant support from his fans and followers, many of which pleaded for his freedom, which might come sooner than later.
In October 2023, Melly's defense attorneys accused prosecutors of committing "felony obstruction of justice by not revealing that the lead detective in the rapper's double-murder case had been previously accused of being willing to lie as he gathered evidence," per AP News. Melly's lawyers are now seeking to have the case dismissed. In the meantime, jury selection, which was scheduled to happen during the second week of October, has been pushed back.