Your Life Is a Lie: Swedish Meatballs Probably Aren't Even Swedish at All
Where did Swedish meatballs originate? It might seem like a silly question given the nature of the food's name, but as it turns out ...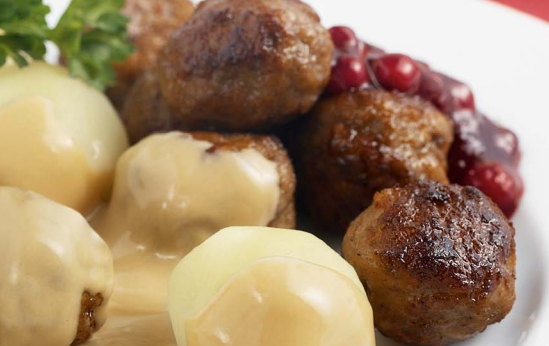 German Chocolate Cake. French Fries. The band Asia. What do all of these foods have in common? A penchant for being lying bastards when it comes to geography. There's nothing Deutsch about that cake, those delicious fried potatoes are actually Belgian, and the minds behind "Heat of the Moment" all hail from London, England. Just like apple pie.
Sadly, the same may go for Swedish meatballs. The question of "where did they originate?" is being posed by the country's official Twitter account.
Article continues below advertisement
Just where did Swedish Meatballs originate?
I'm going to let you take a guess, but the answer in cases like these almost always trace back to one country, especially when it comes to any kufta-style, ground-beef food in Europe. This answer is going to make a lot of Turkish people very, very happy, because as it turns out, the original recipe for Swedish meatballs seems to have originated from the Ottoman Empire.
Yes, the same Empire responsible for spawning countless Netflix shows/Pro-"Golden-Era" Islamic propaganda, the bad guys to the grandma in My Big Fat Greek Wedding, and no fewer than two iconic pieces of furniture, are responsible for one of the more iconic Swedish dishes.
King Charles XII brought home the means of preparing the delicious gravy-infused balls of red meat to Sweden and the rest is history.
Article continues below advertisement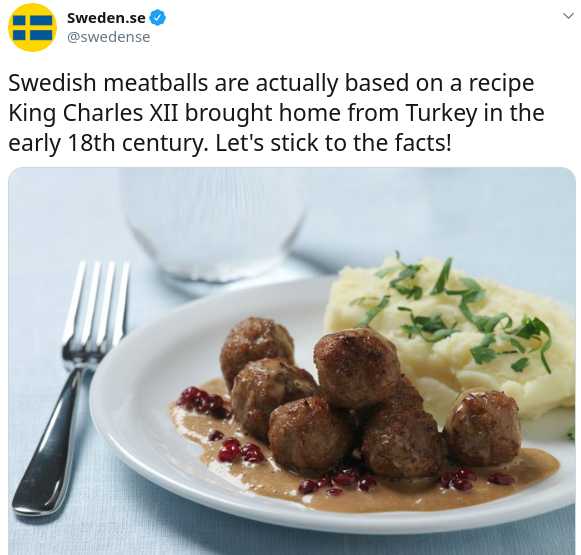 Charles XII also brought some other culinary masterpieces from the five years he spent in Turkey. For example: stuffed cabbage. Granted, there are tons of culture that create variations of this dish. Some fill the veggies up with rice and herbs, others, big gobs of meat, or a combination of both.
But the twelfth Charlie brought that little number back to Sweden, too.
Article continues below advertisement
Another popular beverage that didn't exist in Sweden before Charles' time in Turkey: coffee. They simply didn't have it. Turkish coffee is renowned worldwide and is basically an espresso with a busy mustache. And even though Turkish coffee's flavor is bolder, with a more viscous texture and grittier feel, it isn't as strong, caffeine wise, than its Italian counterpart.
Article continues below advertisement
Obviously just like Tex-Mex food did with Mexican cuisine, Swedish meatballs have evolved over time and become a different dish entirely than when Charles XII first brought it back to his native Scandinavian land. While the original Turkish meatballs were first predominantly made with ground lamb, Swedish meatballs substituted it with a pork and beef amalgam
So this means peasants weren't eating meatballs during the Morning Star rebellion.
The 1653 peasant uprising was named after the mace that functioned as a royal scepter of sorts for the leader of the rebels. Working class Swedes rallied against Swedish nobility, which was a huge turning point in the nation's history. What's this have to do with meatballs? Well, Swedish peasant food was much, much different than a lot of the cuisine we see coming out of the region today.
Article continues below advertisement
Harsh winters, coupled with a lack of proper refrigeration methods, meant that food needed to be preserved for the winter — which forced cultivators to come up with really creative ways of ensuring they had something to eat during the leaner months. Various pickling, salt, and curing methods were vital to maintaining a food's edibility, hence so many salted fish. Jams were also necessary to ensure fruits lasted longer and if properly sealed, could last for a very, very long time.
Article continues below advertisement
It's also why many dried and flat, crispy breads became such a big part of Swedish cuisine, again, to extend the food's lifespan. While there are tons of Swedish chefs defying people's expectations of what modern Scandinavian cuisine is, like Magnus Nilsson, it'd be a shame to not look at the historical and cultural significance surrounding the reasoning behind some of the region's more recognizable dishes.
It also helps to explain why Swedish meatballs has a stark flavor profile when compared to other traditional Swedish dishes — which did not afford folks living in the country fresh herbs and spices during the winter months. And now you know!