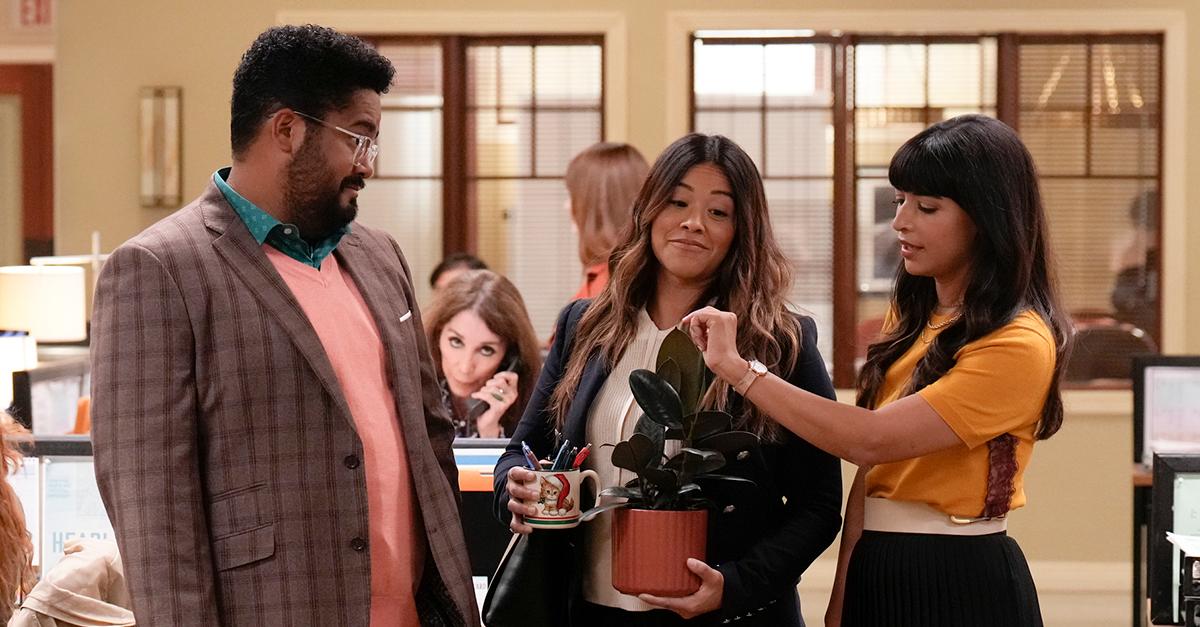 'Not Dead Yet' Is a New Supernatural Comedy Series on ABC — Where Was the Show Filmed?
If you're in the market for a new comedy series to watch, you may want to check out Not Dead Yet on ABC. The new series sees Gina Rodriguez (Jane the Virgin) return to the primetime slot in this quirky, slightly supernatural workplace sitcom.
Gina portrays Nell Stevens, a journalist who stepped away from her successful career to pursue romance only to end up single and broke. She returns home after a decade and finds difficulty fitting back into her old position.
Article continues below advertisement
With all of her preferred reporting beats taken, she is assigned to write up obituaries at work, much to her chagrin. However, she soon discovers her strange ability to see the spirits of the dead people she is assigned to write about. She is then inadvertently tasked with interacting with these spirits and writing obituaries based on what she can learn straight from the source in order to help them pass on.
The new series has quite a beautiful setting, but where was it filmed?
Article continues below advertisement
Where is 'Not Dead Yet' filmed? The new series takes place in a familiar sunny location.
Within the show's plot, Nell is initially based in California before she makes a considerably large relocation to London "for a man." Having fallen out of love and become all but penniless, she is forced to move back to the Golden State as she shares an apartment with an awkward roommate with whom she can never quite see eye to eye. She attempts to fit back into her old office but finds that the changes to her job have seemingly left her behind.
Sure enough, Not Dead Yet was actually filmed in California. According to The Cinemaholic, principal photography for the new series took place largely in Los Angeles. The pilot was reportedly filmed in April 2022 with the rest of the series soon following afterward.
Article continues below advertisement
Plenty of cast members have shared pics of their filming days for the series in the sunny state on their social media posts. Lauren Ash (Superstore), who plays Nell's boss Lexi, shared a selfie with Gina Rodriguez and fellow co-star Hannah Simone (New Girl). In the caption, she called the three of them a "power trio" and expressed how much she enjoyed working with "total dream humans."
Hannah also posted about her time in the first season, stating that she enjoyed working with "the most incredible, loving, funny, weird cast" of Not Dead Yet.
Back in December 2022, Gina herself posted that, aside from becoming a mother soon, she was "on one of the most incredible journeys of her life" while filming for the show.
Want to check out the new series for yourself? Not Dead Yet will hold its two-episode premiere tonight at 8:30 p.m. EST on ABC.