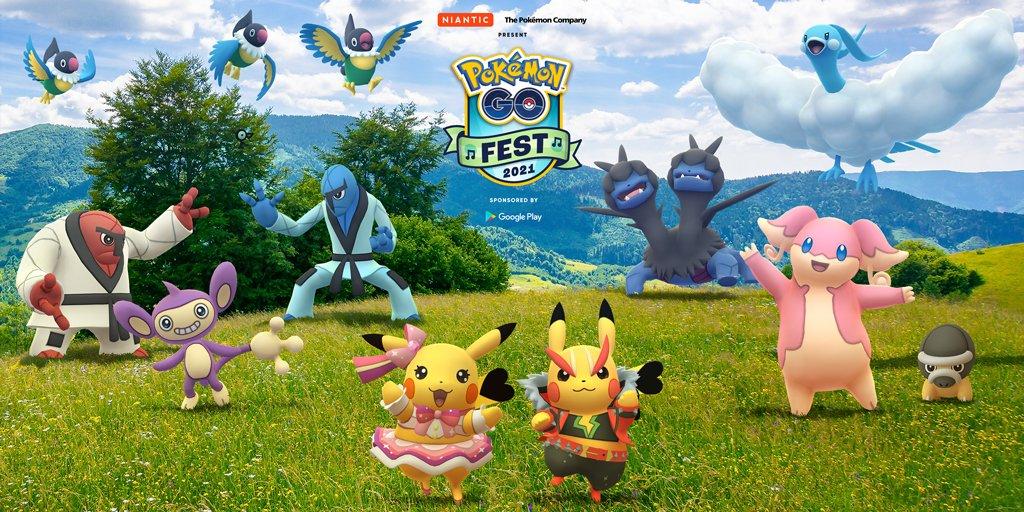 Players Can Join Pokémon GO Fest Virtually This Year
It's been five years since the popular mobile AR game Pokémon GO was released for Android and iOS. Encouraging people to get outside and explore their local geography, the game brings the world of Pokémon to life.
Following the COVID-19 pandemic bringing restrictions to public gatherings, last year the game adjusted its annual festival, the Pokémon GO Fest, to be more accessible to all players so gathering in large groups was not necessary to participate.
Article continues below advertisement
But with restrictions slowly being lifted across the country as the vaccine continues to roll out, where will the 2021 Pokémon GO Fest be held? Here's what you need to know about this upcoming festival.
Article continues below advertisement
What is Pokémon GO Fest?
This virtual festival is an annual event for Pokémon GO players where they can participate in extra events and challenges, earning extra XP and catching special Pokémon only available for the weekend. On July 17 and July 18 between 10 a.m. and 6 p.m. local time, the festival will unlock certain in-game features only available during these times.
This year's Pokémon GO Fest will feature hourly themed habitats, with certain rare Pokémon appearing more frequently in these habitats during that hour.
The Jungle habitat is confirmed to feature Scyther, Aipom, Froakie, among others, while the Desert Mountain habitat will feature Skarmory, Shieldon, Hippopotas, and others. The Ocean Beach habitat will feature Dratini, Swablu, Alomomola, and others, and the Cave habitat will have Roggenrola, Galarian Stunfisk, Deino, and more.
Other Pokémon, such as Hitmontop, Cranidos, Deino, Galarian Ponyta, and Galarian Zigzagoon, will also be returning to the game, appearing frequently during Saturday raids.
Article continues below advertisement
There will also be new Pokémon added to the game during this event, including Shiny Whismur, Chimecho, Audino, and Tympole. Players will be able to encounter them in the wild during this event.
Sunday is raid day, and all Pokémon will appear more frequently on this day. Unlike previous Pokémon GO Fests, this one will also have a concert portion, featuring music-related Pokémon like and Chimecho, Kricketot, Audino.
Article continues below advertisement
Where is Pokémon GO Fest?
Luckily, you don't have to travel anywhere to attend this festival. Since Pokémon GO is available worldwide, all players need to do is log into the app during the festival weekend to participate.
Buying a ticket to the festival will unlock extra features like customizing the concert portion of the event, as well as early access to a Mythical Pokémon, Collection Challenges based on the four habitats, extra XP for every raid battle you participate in, free bundles and items, and so much more.
Since it's the five-year anniversary of the mobile game, ticket prices have been reduced from $14.99 to $4.99, and you only need to buy one ticket to have access to all of these exclusive features for both days of the festival.
If you choose not to purchase a ticket, you can still participate in much of the Pokémon GO Fest activities, including access to the special costumed Pikachu in the wild, four rotating habitats, three-hour Lure Modules, and decreased incubation times for eggs!