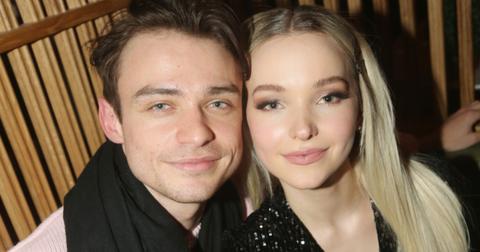 Are Dove Cameron and Thomas Doherty a Great Celebrity Couple, or the Greatest Celebrity Couple Ever?
By Abi Travis
Disney star Dove Cameron may have only become a household name over the past few years (you can thank the incredible popularity of Descendants for that), but now we're all just a little bit obsessed with her. Or maybe a lot obsessed with her. Either way. Naturally, we were wondering about the 24-year-old actress's dating life. Who is Dove Cameron dating? Read on to find out.
Who is Dove Cameron dating? She found love in a fellow Disney celebrity.
Dove has been dating Scottish actor (and fellow Descendants star) Thomas Doherty since December 2016, and it seems like things are going really, really well. She recently posted a glowing Instagram caption about Thomas after he set up a series of birthday surprises for her 24th birthday. And we have to admit, he really does seem to have knocked it out of the park:
"17 hours of cake, crepes, balloons, flowers, water sports on a private boat/lake, arcades, pizza, ice cream, a whole laser tag course to ourselves (surprising me with loads of my friends/family, some of which I hadn't seen in a year or more, all there to laser tag cause i f--king love it) finishing the day at my favorite little (secret) late night cafe for apple cider & pool." Whew. That's a lot of partying.
And, of course, a lot of love. Dove continued in the caption: "What i ever did to deserve this kinda love, i'll spend my whole life wondering." Say it with us, now: Awwwwwww!
Both Dove and Thomas appear to be in it for the long haul.
Back in April of 2018, Dove posted a video of Thomas dancing to Beyoncé's Coachella performance to Instagram. Someone commented, "Honestly marry him," to which Dove responded, "I'm gonna."
Thomas has also been pretty vocal about his plans for the future and the fact that they definitely contain Dove. During an interview with Entertainment Tonight, Thomas was asked whether Dove was "The One." He immediately got very smiley and agreed that she was.
He continued singing her praises, saying, "She is just the most incredible person I've ever met. I think people see her as so talented — because obviously that's her job, to perform and all the rest of it — but she's the most compassionate and the most patient and the most genuine, loving person I've ever met. And so kind and so generous. She's amazing. She really is."
Thomas isn't Dove's first celebrity boyfriend.
The actress started dating Liv and Maddie co-star Ryan McCartan in August 2013. The two announced their engagement in April of 2016 but broke things off in October of that same year. She and Thomas then started dating in December.
Apparently, Dove was initially quite hesitant to follow her heart after the breakup. In an interview with E! News, she revealed that she and Thomas first met when she was fresh out of her previous relationship. "I avoided him like the plague," she said, even though she was attracted to him right away. But Thomas was persistent. In fact, he told Dove that he was falling in love with her just a few weeks after they first met. And, obviously, things have worked out for the absolute best so far.