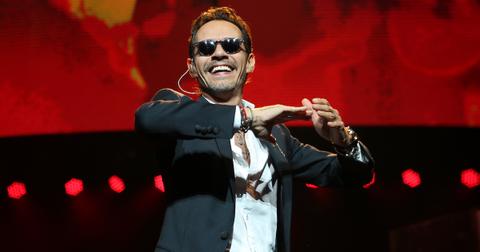 Marc Anthony's New Girlfriend Has Already Met His Kids, J.Lo, and A-Rod!
By Allison Cacich
It's safe to say that Jennifer Lopez and Marc Anthony have one of the best relationships in Hollywood — and they're not even married anymore!
The duo could teach a master class in co-parenting given how frequently they reunite for the sake of their children, 11-year-old twins Emme and Max — though they also just happen to be really good friends. Earlier this year, J.Lo's fiancé, Alex Rodriguez, even goofed around with Marc at one of the kid's school concerts.
But the 51-year-old is hardly a third wheel. He recently introduced his ex to the new woman in his life, and we foresee plenty of double dates in their future.
Who is Marc Anthony dating?
The singer is currently dating 28-year-old model Jessica Lynne Harris, also known as J Lynne. The pair joined J.Lo and A-Rod at one of Emme's track meets in September where they were photographed holding hands. The couple was later seen chatting with J.Lo next to a picnic table.