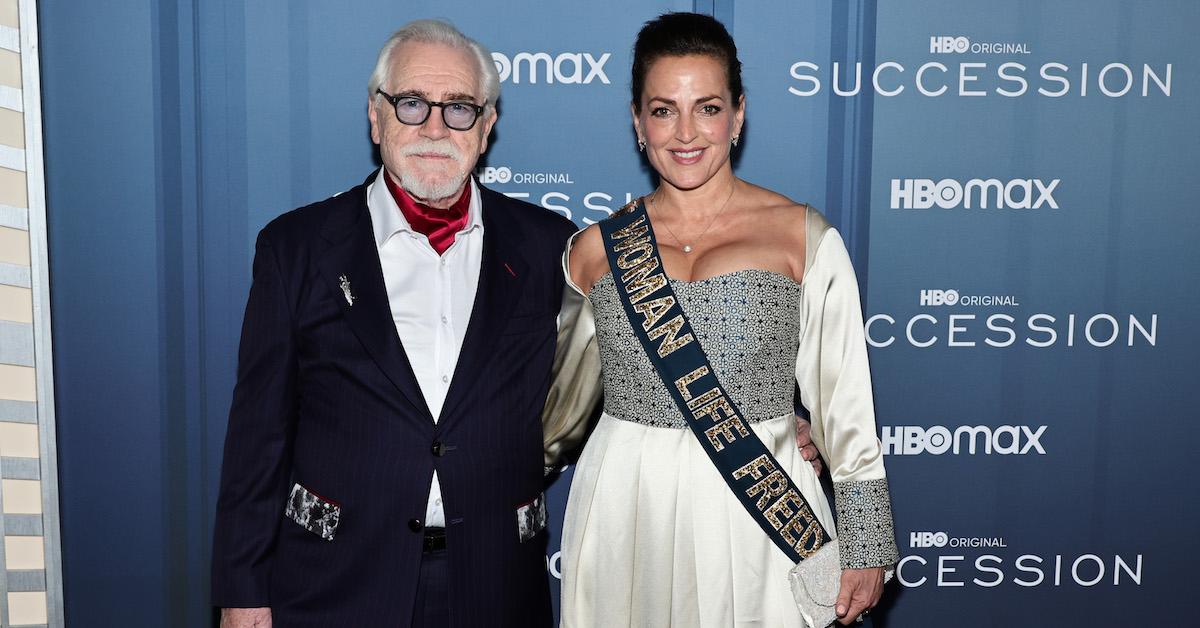 Brian Cox's Real-Life Wife Wreaks Havoc for the Roy Family in 'Succession'
Who is Sally Anne in 'Succession'? Logan Roy's wives and mistresses sit together in solidarity at his funeral, foreshadowing some feminism.
The many wives and women of Logan Roy could be an HBO series of its own. In Season 4, Episode 9 of Succession, titled "Church and State," we finally meet the infamous Sally Anne. Logan Roy's (Brian Cox) second wife, Caroline Collingwood, brings Sally Anne into the fold of Logan's ex-wives and mistresses at his funeral, and we're left looking at a row of women spurned by the same man, mourning his death.
Article continues below advertisement
But there's more to Sally Anne than what meets the eye. She has been mentioned before and was clearly significant to Logan. Perhaps, she was even significant to the events of Succession. So who is Sally Anne, and who were Logan's many wives and mistresses?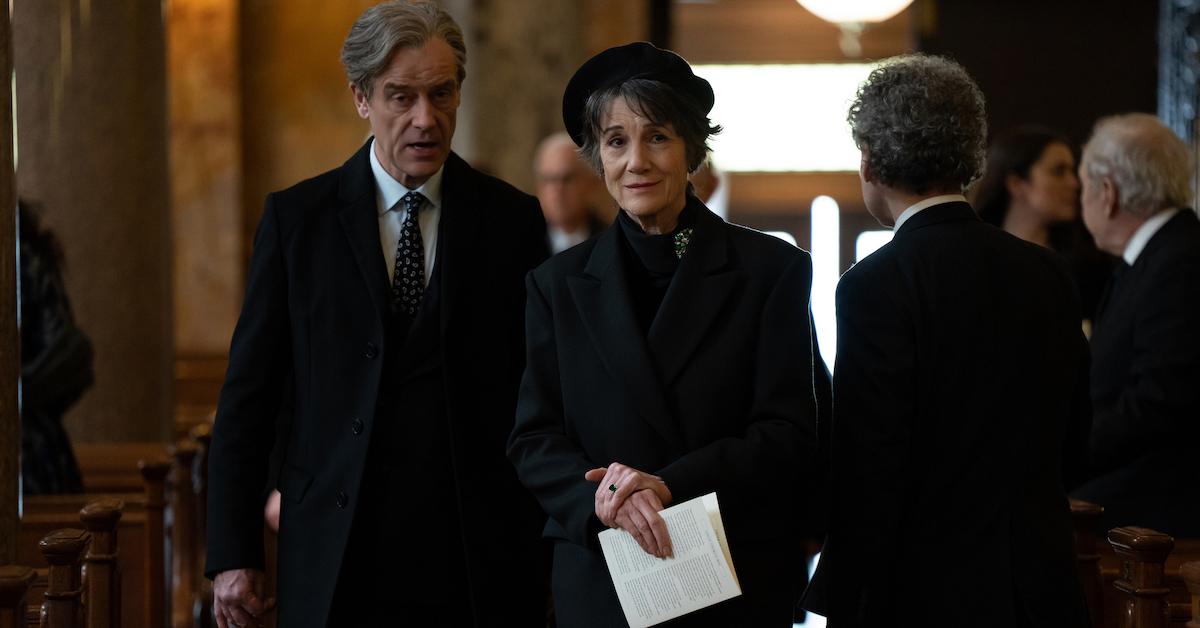 Article continues below advertisement
Sally Anne was Logan Roy's mistress when he was married to Caroline Collingwood.
In Season 4, Episode 9, Caroline introduces Sally Anne to Marcia and Kerry. She says, "Sally Anne was my Kerry." Oof. Watching these four women interact is like a gut punch knowing they all loved the same cruel man, now lying lifeless in a coffin. But in their shared grief, they come together — Marcia even takes Kerry's hand. While we know about Kerry, Marcia, and Caroline (Shiv, Kendall, and Roman's mother), we know less about Sally Anne.
But Sally Anne was actually mentioned before this episode. In the final episodes of Season 2 during Logan's rumored affair with Rhea Jharrell (Holly Hunter), she's referenced as "Sally Anne with the harp." Kendall and Roman remark that they haven't seen their father like this since "Sally Anne and the Summer of Horses." We don't know what exactly they're referring to, but it's obvious it was a significant affair they remember from their childhoods.
Article continues below advertisement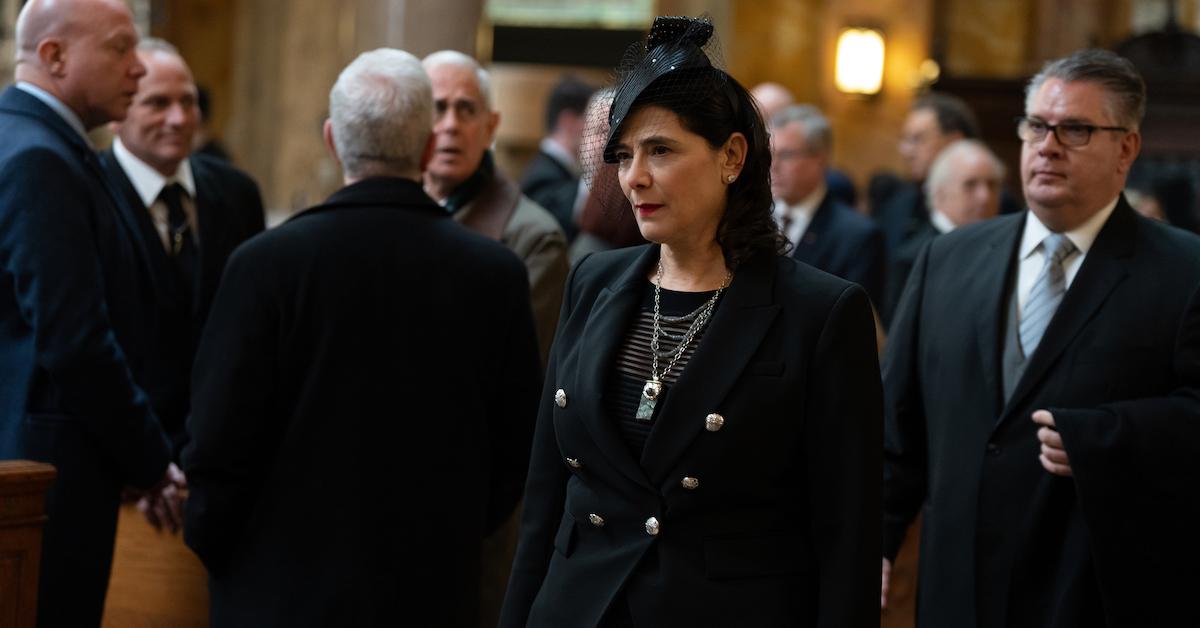 Then in early Season 3, Frank mentions all the worst crises to hit Waystar. "There were the tabloid suicides. When we nearly went kablooey because of Argentina. The Tiananmen accommodations. The black cloud after Sally Anne." There she is again!
Article continues below advertisement
Succession creator Jesse Armstrong actually shared with Variety, "Sally Anne was a relationship or an infatuation," he said. "I think he gets them, but it's sometimes romantic. Like, there seemed to be some romantic feelings with Rhea, with Holly Hunter's character."
Add in the fact that it was such a prominent past scandal, and it seems possible that Sally Anne, like Kerry and Rhea, could have worked with Logan in some capacity. We also learn in this episode that this Sally Anne is not the same one who appears in the "Argestes" Season 2 episode.
Article continues below advertisement
Logan Roy's wives and mistresses come together at his funeral.
During Logan's funeral, four of his wives and mistresses sit together in the front row after Caroline invites Kerry to sit with them. Kerry shares that she brought a lawyer friend just in case she was denied entry to the funeral, and she's still clearly distraught over Logan's death. Whoever thought Caroline would be the wife to offer the olive branch? Of course, she could simply be her drama-loving self.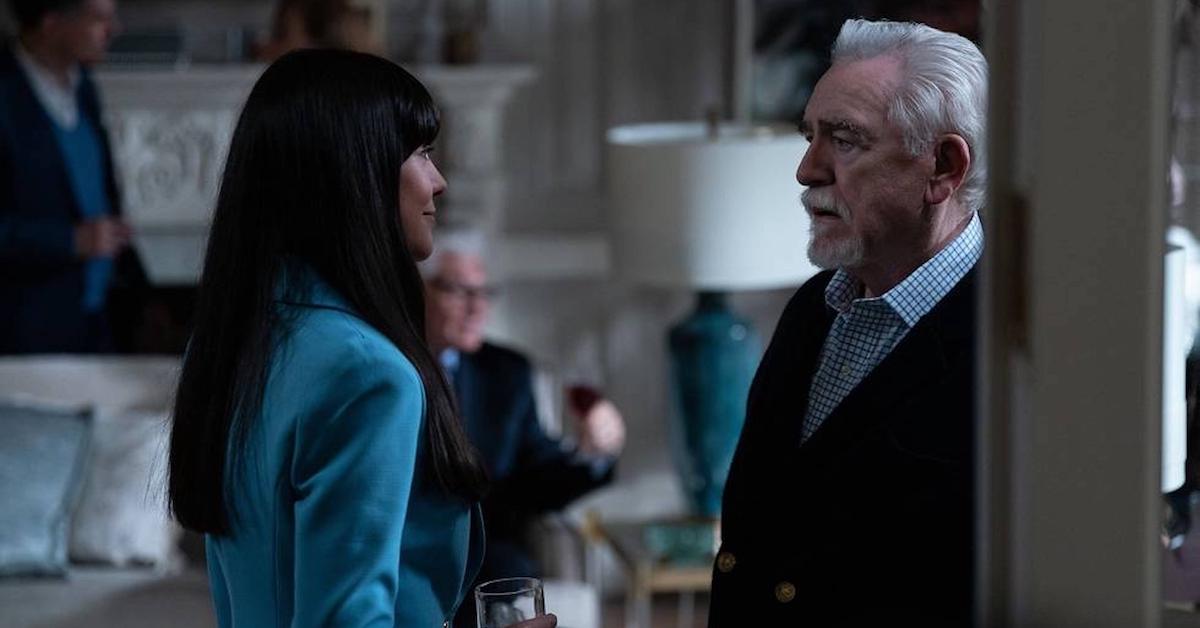 Article continues below advertisement
Regardless, we know Marcia as Logan's third wife. They never divorced before he died, but their relationship seemed to grow estranged after Logan's supposed affair with Rhea. Even still, Marcia said after the news of Logan's death that they continued to have frequent "intimate conversations" on the phone until the day he died. Rhea wasn't present, but Kerry was.
For those who don't remember, Kerry was Logan's assistant-turned-confidante until his death. At the end of Season 3, there were even rumors that Logan and Kerry were trying to get pregnant, so another Roy child isn't off the table if they were successful. Perhaps this could explain Kerry's immense show of grief.
However, Logan's first wife, Connor's mom, is nowhere to be seen. This is because it's hinted that she passed away a long time ago, perhaps from complications with mental illness.
Article continues below advertisement
Sally Anne is played by Brian Cox's real-life wife, Nicole Ansari Cox.
Fun fact! We may not have seen them side by side on Succession, but Brian Cox's real-life wife finally appears in this episode. Hilariously, Nicole Ansari Cox plays Sally Anne, one of Logan Roy's many mistresses, even though she's married to him in reality. While her role in Succession isn't her first acting job, she's originally from Germany, so it's taken some time for her to break into the native English-speaking film industry.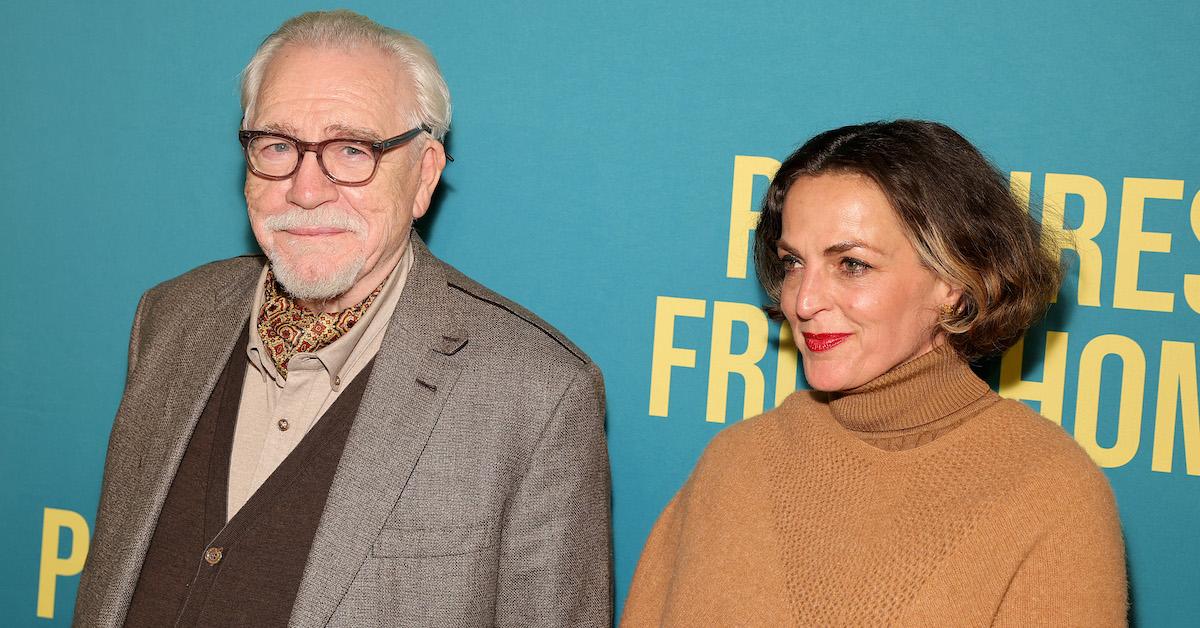 Article continues below advertisement
She has, however, appeared in episodes of Law & Order and FBI, and she starred in a German police procedural called Tatort. She and Brian Cox married in 2002, so it's only fitting that she finally plays one of his many love interests in Succession. Funnily enough, like his character, Brian has also had three wives. He had two children with his second wife, named Caroline (like his second wife in Succession), and two children with Nicole.
Another similarity between Logan and Brian? They have both married younger women. Nicole is just 54 years old, which makes her 22 years younger than Brian. But love is love! And we loved seeing Brian's real-life wife in Succession. Will she come back to claim his fortune? There's only one episode left to find out.
Tune into the Succession series finale on May 28 at 9 p.m. EST on HBO.