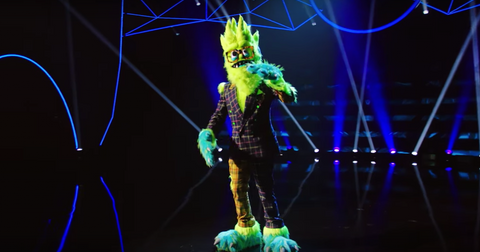 UPDATE: We Were All Wrong About Thingamajig on 'The Masked Singer'
By Shannon Raphael
Who is the Thingamajig on The Masked Singer?
Initially, clues had fans convinced it was Wayne Brady, but now [SPOILER ALERT] this NBA star is the top prediction.
Watch The Masked Singer on Wednesdays at 8 p.m. EST on FOX.
After the first episode of the hit reality singing competition The Masked Singer airs, fans can't help but wonder what celebrities are hiding behind the crazy costumes. Season 2 of the Fox show features a range of unique costumes, like a flower, an egg, a tree, a rottweiler, and a thingamajig.
Though we've only been given a few hints about the character so far, we're still ready to venture several guesses about the identities of these masked singers.
Who is Thingamajig on The Masked Singer?
Thingamajig immediately stole the judges (and audience's) attention because we, quite frankly, just don't know what a Thingamajig is. Measuring in at over 7 feet tall and with a neon green furry exterior and a mismatched plaid suit, the Thingamajig is certainly not like the other cast members, who chose more traditional identities.
And even more shocking? When the Thingamajig opened his big green mouth, he could really sing.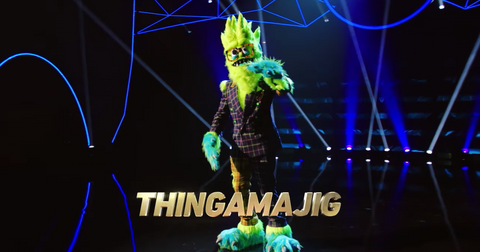 "I'm kind of a thing of a big deal," the Thingamajig shouted into a bullhorn while detailing his initial hints to the audience. "Welcome to my thingdom, where I will tower over the rest of the singers with my puzzling persona. I'm literally unlike anything you've ever seen or heard before. Don't call me Chewbacca, though we do celebrate together. "
Though his costume might be serving to throw people off the trail, fans are thinking that Thingamajig is comedian, actor, and singer Wayne Brady. Wayne is most known for his longtime role on the improv show, Whose Line Is It Anyway.
Interestingly, it's Wayne's Twitter bio that really has fans buzzing about his presence on the show. On the bio, it reads, "Guy who makes stuff up, pretends to be other people, and sings." His Instagram bio is similar: "I make stuff up and sang." If that doesn't sound like the concept of The Masked Singer, then we don't know what does.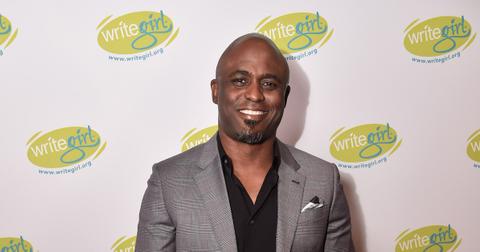 While most people are convinced that Thingamajig is Wayne purely based off of his impressive singing voice — which he showcased by singing Kacey Musgraves "Rainbow" — the clues he gave are not making much sense yet.
The puzzle hint could be because Wayne has hosted a multitude of game shows before, including Let's Make a Deal.
Other people think that John Boyega is Thingamajig for this one reason.
Videos of Wayne singing are matching up pretty perfectly with the performance that Thingamajig gave, but the clues about Star Wars don't really make sense yet. That's why some fans think that John Boyega, who starred in Star Wars: The Force Awakens might actually be the real Thingamajig.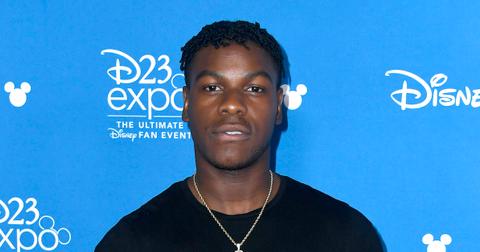 The line about celebrating with Chewbacca would make sense with John, as the two were co-stars of sorts. While John did just wrap filming on the next Star Wars film, he is reportedly in the process of filming an upcoming 2020 movie entitled, Naked Singularity. If he is filming the movie, then he likely wouldn't have time to be appearing on The Masked Singer.
For now, our best guess at Thingamajig is none other than Wayne Brady. But, we'll learn more about the frontrunner as the weeks go on. After his breakout performance on the premiere episode, we likely won't be finding out his identity very soon, as he'll likely stay on the show for a long time.
UPDATE: Look, we're willing to admit when we're wrong. After seeing the premiere of The Masked Singer, we're no longer convinced Thingamajig is Wayne Brady. The clues pointed us to a whole other profession: the NBA. And based on what we know now, we're prepared to make a completely different guess: Indiana Pacers point guard Victor Oladipo. Stay with us...
The new clues include a cupcake with the number 4 — which happens to be Victor's jersey number — and there were allusions to magic (as in the Orlando Magic?) and keeping "pace" — Pacers, anyone?
Plus, Victor even checks out for a past clue about celebrating with Chewbacca. Victor's birthday is May the 4th, AKA Star Wars Day.
Add to that his sidelining injury last season and the fact that he does in fact have a recording history, as evidenced by the video above, and it's not crazy to think he's contemplating a new career track. We're calling this one: Victor is Thingamajig.
The Masked Singer airs on Wednesdays at 8 p.m. on Fox.